Patriots
Bill Belichick praised Romeo Crennel for running 'the whole defense' in 2001
"We worked at the Patriots together, then another team, and then back with the Patriots in 2001."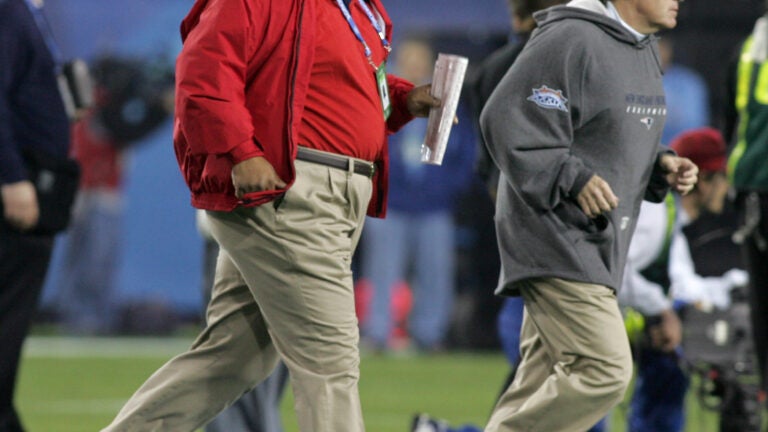 However you rank the 2001 Patriots against the other Super Bowl winning teams of the Bill Belichick era, it's clear that the original championship iteration has a special meaning for New England fans. It was the dynasty's first breakthrough, and it was a team given the least likely chance to succeed (given the then-unknown status of Tom Brady).
Yet the 2001 version won largely thanks to the performance of its defense. In that regard, Belichick recently revealed that he is apparently less responsible for the defense's masterful performance than many Patriots fans might believe. Speaking about former New England defensive coordinator Romeo Crennel ahead of another day of joint practices with the Texans (Crennel is Houston's defensive coordinator), Belichick provided some fascinating historical information:
Well, Romeo and I started together at the Giants in special teams, so he and I coached special teams together and then we coached defensively together through 1990. We worked at the Patriots together, then another team, and then back with the Patriots in 2001. I've relied on him through the years, both with our team when I worked with him, but even at times outside when we could help each other and it wasn't a conflict in competitiveness. He's helped me with a lot of things. I've learned a lot from the way he handles players, teaches, the fundamentals that he teaches, his preparation. Romeo works hard, he's very well prepared, a sound football coach. He doesn't necessarily try to out-scheme everybody, but his fundamentals and the basics and things you need to do to have a good football team and win are important.

When I was in New England in 2001 when Coach [Dick] Rehbein died in preseason, Charlie [Weiss] and I handled the offense and kind of handled the quarterbacks there. I turned the whole defense over to Romeo and that was a great year for us defensively in 2001. Examples like that where I've really leaned heavily on him and he always came through. [He's] a really good football coach, a good person and did a great job of bringing along some of our younger coaches, coaches like Josh McDaniels and Brian Daboll, guys like that, that were on our staff that he taught and helped teach to become great football coaches who have carried on his legacy and many of the fundamentals and beliefs he has have transferred to them.
The mystery team that Belichick alluded to in the years between working for the Patriots was, of course, the Jets.