Patriots
Get to know Tom Brady through his evolving Instagram follows
Brady follows Mark Wahlberg, two first ladies, and a whole lot of soccer players.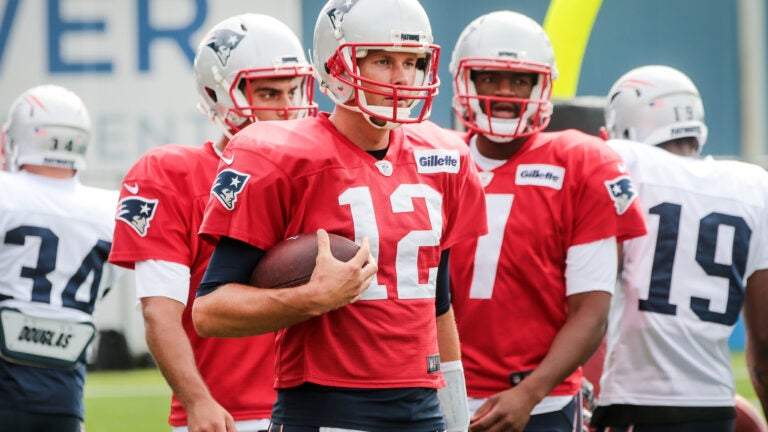 After a training camp practice in Foxborough, NFL Network analyst Willie McGinest called out his former teammate Tom Brady for allegedly not following him on Instagram.
"I'm fresh on Instagram, @williemcginest, and I did not see a follow by my brother," he told the five-time Super Bowl champ, who vehemently denied the claim.
It was later confirmed that McGinest is, in fact, one of the 122 accounts Brady follows on the social media platform. That number, however, was once just a fraction of what it is today. At the time of his 100th post in June, Brady was following 18 accounts. And back in February, he was following only six: his wife, Gisele Bündchen; his team, the New England Patriots; his personal brand, TB12; and three sponsors, Under Armour, TAG Heuer, and Beats by Dre.
Brady's feed has since evolved into quite the assortment of athletes and celebrities — with a few surprises. Here's a look at all 122:
His wife
Bündchen was Brady's very first follow on Instagram and has been featured in many of his photos — 17 to be exact. The couple, who married in February 2009, regularly leaves each other loving comments on their posts, including a rather cheeky one by the quarterback on a picture of the two from this year's Met Gala.
Given Bündchen's prestigious modeling career, it should come as no surprise her supportive husband also follows a pair of iconic fashion photographers: Mario Testino and Bruce Weber. Both have partnered with the Brazilian supermodel for countless magazine covers and ad campaigns throughout her reign as the highest-paid model in the world. Testino even shot what is reported to be Brady's favorite photo of his wife.
But Bündchen isn't the only one to strike a pose in front of the camera. Brady collaborated with Testino for a fierce fall cover of VMan magazine in 2012…
…and Weber was the photographer for his infamous GQ spread back in 2005. The reputable men's magazine — one of the two printed publications Brady follows (the other being Rolling Stone) — featured the G.O.A.T. holding none other than a baby goat.
Brady also follows Victoria Secret's chief marketing officer Ed Razek. Bündchen parted ways with the company after seven years as an "angel," but the two appear to remain on good terms. When Razek shared a photo of the couple for Brady's recent 40th birthday, she commented: "We love you Ed."
First Ladies
As someone who has become increasingly mum on the politics front, Brady doesn't follow president Donald Trump, nor does he follow former president Barack Obama. He does, however, follow both first lady Melania Trump and former first lady Michelle Obama. He also follows Michelle's archived account, which hasn't been updated since her husband Barack left the Oval Office in January.
Brady only follows one elected official, New York City mayor Michael Bloomberg, who once said "there's no question" he was going to root for the Jets in their Monday night contest against the Patriots.
Environmentalists
Despite lacking multiple legislators, Brady's list of follows still manages to make a political statement. Keeping in line with his wife's fervent views, the 40-year-old follows six accounts dedicated to promoting conservation, combating climate change, and protecting the planet.
Among them are Green Matters, a media company dedicated to sustainability; An Inconvenient Sequel, the follow-up film to Al Gore's An Inconvenient Truth; Paul Nicklen, a conservationist and National Geographic photographer; Sierra Club, a grassroots environmental organization; Bill Nye the Science Guy; and World Wildlife Fund. Brady also follows Banksy, an anonymous street artist known for his political and social commentary through graffiti.
Entrepreneurs
Brady follows a pair of elite business magnates: Elon Musk, founder of Tesla and The Boring Company, and Richard Branson, founder of the Virgin Group. Branson reportedly attended his first-ever NFL game at Gillette Stadium in 2012. A guest of Patriots owner Robert Kraft, the billionaire got to watch New England take down the Denver Broncos in a classic showdown between Brady and one of his longtime rivals, Peyton Manning.
There's no documentation of Musk at any Patriots games, but the quarterback might want to consider throwing him an invite. Seeing as Brady follows NASA, a pre- or post-game chat could make for the perfect opportunity for the two to discuss Musk's ardent pursuit of space travel.
Celebrities
Bostonians will likely rejoice at the fact that Brady follows Dorchester native Mark Wahlberg, and the duo appear to have cultivated quite a friendship over the years. Despite leaving Super Bowl LI early, Wahlberg was in Glendale, Arizona to deliver on-field congratulations after the New England's Super Bowl XLIX victory. Wahlberg, a diehard Patriots fan, also texted the quarterback amidst the Deflategate controversy, telling him to keep his head up.
In 2015, Wahlberg revealed on "The Tonight Show with Jimmy Fallon" he was behind Brady's "Ted 2" cameo.
Brady follows another actor Dwayne "The Rock" Johnson, who once roasted his on-screen delivery in a promotional video for his recovery sleepwear. Also on the list of celebs? Oprah Winfrey, magician David Blaine — who performed an in-house magic trick for his family — and Instagram meme artist Elliot Tebele.
After New England's thrilling Super Bowl LI comeback, Tebele posted an image of the quarterback seated on the sidelines with his head down and captioned it: "I need to know what prayer Brady said so I can use it later on in life."
But Brady ended up being the real comedian. He commented on the post, "Hey so remember that whole David Tyree thing from a few years ago…" — a reference to the improbable catch Tyree made with his helmet to crush the Patriots' dream of going 19-0 in 2007.
Brands
Brady sensibly not only follows a slew of his endorsements, Aston Martin, Beats 1, Beats by Dre, TAG Heuer, and Under Armour, but also subtly weaves them into many of his posts. He, of course, follows his personal brand, TB12, as well as Macy's.
Music artists
Despite claiming that Coldplay is one of his favorite bands, it appears Brady's music genres of choice are rap and R&B. He follows a number of hip hop artists, including Ice Cube, Kendrick Lamar, John Legend, Bruno Mars, Justin Timberlake, and Pharrell Williams. He also follows Roc Nation, which is rapper Jay Z's entertainment company.
Additionally, he follows Marshall Mathers — more commonly known as Eminem — who gave the Patriots a shoutout in his song, "No Favors," and Dr. Dre, who purchased Brady and Bündchen's $40 million Brentwood Estate in 2014.
Grammy-winning rock singer Elton John tops off the talented list.
As for how Brady listens to his tunes? Perhaps Apple Music.
Boxers and Mixed Martial Arts (MMA) fighters
In 2015, Brady almost stole the show at the highly-anticipated fight between Manny Pacquiao and Floyd Mayerweather.
Tom Brady looks like he went seven rounds with Gronk in a shot contest on the flight to Vegas. #PacquiaoMayweather pic.twitter.com/4dqjCsjg51

— John Breech (@johnbreech) May 3, 2015
While some claimed that he had no clue what was happening, it appears that that might not actually be the case. Brady follows the Ultimate Fighting Championship (UFC), as well as seven MMA fighters: Jon Bones Jones, Bruce Lee, Dana White, Conor McGregor, Sean Shelby, Anderson Silva, and Dana White. Plus, he follows two boxers: Anthony Joshua and Mayweather.
Prior to Mayweather's duel with Pacquiao, Brady FaceTimed the five-division world champion for good luck. Mayweather returned the favor when he called the quarterback before Super Bowl LI.
Outdoor recreation
Surfing has been one of Brady's more popular offseason activities, as he and his family often ride the waves in Costa Rica.
"I surf a little bit," Brady said, via Westwood One sports radio. "I'm not a very good surfer, but I love doing it. [Costa Rica's] a great place to do it, because of the warm water. There's no sharks. It's pretty safe, so it's a nice thing that I'm able to do. It actually keeps me in decent shape. I love being out there, especially with my kids. Seeing my kids get up on the surfboard, and my wife — there's nothing better than that. I've loved doing that over the last 10 years."
Accordingly, he follows World Surf League, Surfline, and Kookslams, which is an account dedicated to water sport wipe-outs.
Brady also follows Discovery Land Company — a real estate developer that's responsible for properties like the Yellowstone Club, which is another one of Brady's favorite vacation destinations — and Yosemite National Park.
Current and former teammates
Brady unsurprisingly follows the one and only NFL team he's ever played for, the New England Patriots, as well as a healthy portion of current and former members of the team. Among the ex-Patriots are LeGarrette Blount, Chandler Jones, McGinest, Randy Moss, and newly retired Rob Ninkovich.
The other 17 players, who are all still on the team, are his quarterback wolf pack, Jimmy Garoppolo and Jacoby Brissett; cornerback Malcolm Butler; fullback James Develin; linebacker Dont'a Hightower; offensive tackle Marcus Cannon; running backs Brandon Bolden, Dion Lewis, and James White; safeties Patrick Chung and Nate Ebner; tight end Rob Gronkowski; and wide receivers Danny Amendola, Brandin Cooks, Julian Edelman, Chris Hogan, and Malcolm Mitchell.
And no, head coach Bill Belichick still hasn't joined InstaFace.
Professional athletes
Outside of his own teammates, Brady follows a trio of active football players: Odell Beckham Jr. of the New York Giants, Cam Newton of the Carolina Panthers, and Richard Sherman of the Seattle Seahawks. He also follows both the NFL and the NFL Players Association (NFLPA).
Brady spreads the love to a number of athletes across other sports, including WTA legends Venus and Serena Williams, eight-time Wimbledon champion Roger Federer, 10-time French Open champion Rafael Nadal, Formula 1 driver Lewis Hamilton, Washington Nationals right fielder Bryce Harper, Olympic skier Lindsey Vonn, Cleveland Cavaliers forward LeBron James, retired Lakers shooting guard Kobe Bryant, Golden State Warriors point guard Steph Curry, and Boston Celtics point guard Isaiah Thomas.
As someone who frequently hits the links, Brady follows the PGA Tour as well as a few golfers: Rickie Fowler, Rory McIlroy, and Jordan Spieth.
The only sports media outlet Brady follows is Barstool Sports.
Soccer players
Brady's most concentrated sports following, however, is in European soccer. In addition to the UEFA Champions League, here's a breakdown of the individual clubs and players he follows:
Eight clubs: Atlético de Madrid, Chelsea FC, FC Barcelona, FC Bayern, Manchester City, Manchester United, Paris Saint-Germain, and Real Madrid
Thirteen players: David Beckham, Didier Drogba, Zlatan Ibrahimovic, Kaka, Harry Kane, Leo Messi, Neymar Jr., Paul Pogba, Ronaldinho, Cristiano Ronaldo, Wayne Rooney, Luis Suarez, and Marcelo Vieira Jr.
Just over half of the stars — Beckham, Drogba, Kaka, Kane, Neymar Jr., Ronaldo and Vieira Jr. — follow Brady back, with Beckham being the most active user of the group. He and Brady exchanged comments over video of a ski crash the quarterback posted during the offseason.
https://twitter.com/thattimwhelan/status/834835772142415873