Patriots
5 takeaways from the Patriots' preseason loss to the Texans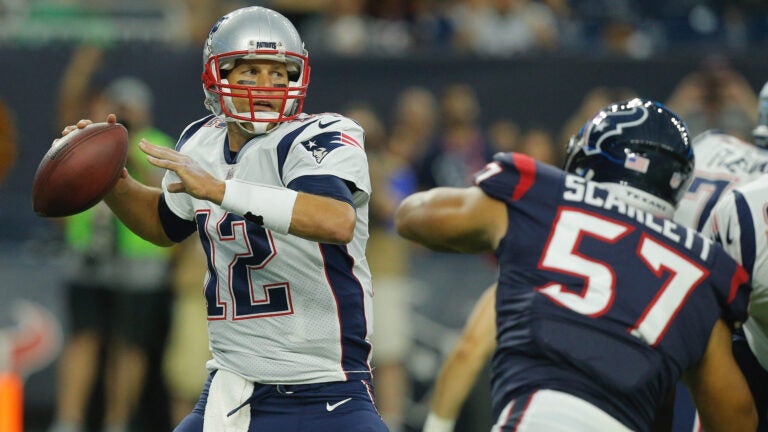 COMMENTARY
The Patriots returned to Houston fewer than 200 days after winning Super Bowl LI in NRG Stadium (even finding leftover confetti). This time, instead of a Super Bowl, New England was in town to face the Texans in both teams' second preseason game of 2017.
Here are a few takeaways from the Patriots' 27-23 preseason loss:
The Patriots' offensive starters are a work in progress
Tom Brady, Brandin Cooks, and many of the expected Patriots starters made their 2017 debuts against a capable Texans defense Saturday. Cooks, who was added in an offseason trade with the Saints, reeled in Brady's first completion for a modest seven-yard pickup. It turned out to be his only target of the night. Brady, meanwhile, went an efficient 6-9 for 67 yards and one touchdown. He threw what was originally ruled an interception on the first play of the second drive, but it was later ruled an incompletion.
Rob Gronkowski played in a preseason game for the first time since 2012. Though he wasn't targeted by Brady, the 28-year-old tight end showed no discernible signs of lingering injury issues, displaying customary strength as a run blocker.
The offensive line had an up-and-down night. With Nate Solder out, Cameron Fleming was given a chance to play left tackle. The jury is decidedly still out on both Fleming and the line as a whole. It's clear that the unit will need to collectively improve, as New England's opening drive ground to a halt after Brady was forced into an early throw on a 3rd and 4 in order to avoid the Texans' pass rush.
Malcolm Butler could have been better
The hero of Super Bowl XLIX had a night to forget against Houston's receiving corps. On the Texans' opening drive, Butler surrendered multiple completions, including a 37-yard jump-ball completion to Bruce Ellington. The Patriots' cornerback was in good position and appeared to be ready to make a play on the ball, but was unable to breakup the pass.
On the second drive, Butler again gave up multiple completions, with the second being a touchdown to Jaelen Strong.
In all, it was clearly not Butler's best game in a Patriots jersey. Still, one game (especially a preseason game) does not undo multiple years of quality play from the New England cornerback. He will use this as means of motivation.
Rex Burkhead made a statement of intent
With questions swirling over who what the running back pecking order will be in 2017, Rex Burkhead showcased his ability to be a focal point in the offense. Having arrived as a free agent signing, Burkhead's name was called early and often when the Patriots' starters were in the game against Houston.
Burkhead ran between the tackles and made himself available in the passing game. On the Patriots' second drive of the game, Burkhead got the ball on eight of 10 plays. He caught three passes for 50 yards, with the final one being a 22-yard touchdown.
The running back question remains far from settled. And the especially prominent void left by LeGarrette Blount's departure means that Burkhead and others are auditioning for the short-yardage role. In his performance on Saturday, the 27-year-old displayed a versatility that Bill Belichick will be pleased to see.
Stephen Gostkowski rebounded
The Patriots' kicker since 2006, Gostkowski has rarely faced serious pressure in his lengthy tenure. In 2017, his place in the team remains relatively safe, but his critics have grown. This was not helped in the short term by his 1-2 effort against the Jaguars.
Against the Texans, Gostkowski responded with the kind of efficiency that once made him one of the highest regarded kickers in the league. He went 3-3 in field goal attempts, including one from 51 yards. It was a reassuring performance at the perfect time.
Cyrus Jones is still far from out of the woods
Against the Jaguars, Jones got burned for a long touchdown. Already short on confidence, it was not the start to 2017 that the former second round pick was hoping for.
In New England's second preseason game, Jones showed a better side of his game. He returned four punts for 58 yards, including an impressive 32-yard gallop. He also returned a kickoff for 17 yards. In his cornerback responsibilities, Jones was solid, avoiding any repeat of his ignominious play from a week ago.
That said, he was shut down on one of his punt returns for a loss of three yards, and failed to achieve a breakthrough performance. While he will be able to take a measure of newfound confidence away from the game, Jones still has a long road in front of him if he hopes to make an impact in the regular season.