Patriots
Tom Brady Sr. went to counseling for two months when his son left for college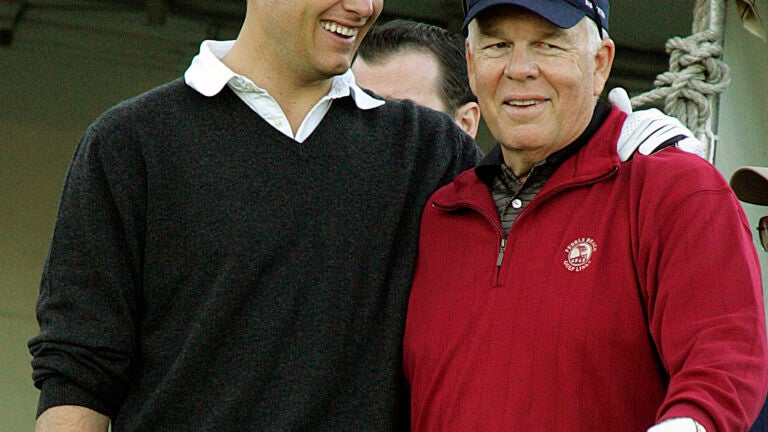 If Tom Brady Sr. had it his way back when a teenage Tom Brady was deciding where he wanted to go to college, the father of four would have had his son go to Cal-Berkeley over Michigan.
Berkeley was very close to their hometown of San Mateo, so Brady Sr. assumed that he could watch his son play football on Saturday and then they could golf together on Sundays—a tradition they had established throughout high school. In fact, the younger Brady revealed he never wanted to stay out too late on the weekends so he would be able to get up early and hit the links with his dad the next day.
"I would go in to wake him up in the morning so we could go play," Brady Sr. recalled."It was always the greatest joy for me that he wanted to play golf with me."
But despite his strong desire to have his son close, Brady Sr. kept his preferences private, because he didn't want to be culpable should he influence his son to pick a school and have it not work out. Even though he would support his son in either location, that didn't mean he wasn't distraught when Brady revealed that he would be attending the institution that was nearly 2,000 miles away.
"It literally broke my heart," Brady Sr. said.
Following Brady's departure to Ann Arbor, Brady Sr. attended eight weeks of psychological counseling in order to cope with the separation anxiety. He and his wife, Galynn, would go on to attend 90% of Brady's games while at Michigan, including ones when the quarterback was on the bench.
"I love every minute I can spend with my son," Brady Sr. said.
This trend continued throughout their son's career in the NFL. For Brady's first four seasons, his parents attended every one of his games before adjusting their schedule to just the home games. So the fact that Brady Sr. was only able to attend one regular-season game last season was a rarity.
However, both Brady Sr. and Galynn were able to make it to Houston for Super Bowl LI. While there, a seven-year-old boy asked Tom Brady who his hero was.
"Who's my hero?" the quarterback said. "Well, I think my dad's my hero because he's someone I look up to everyday."
As tears welled in his eyes, an emotional Brady looked like he wanted to elaborate on his relationship with his father but paused to collect himself before reiterating that his dad is his hero.
"He was just a great example for me, and he was always someone who supported me in everything I did. To come home at night and bring me out, hit ground balls and fly balls … I loved baseball growing up," Brady said. "And to have a chance to go to the 49ers game on the weekend with him and my mom and throw the ball in the parking lot before the games, those are memories that I'll have forever."
Gary Myers' newest book, My First Coach: Inspiring Stories of NFL Quarterbacks, explores the many dimensions of that unique bond and how it can impact both the players and their families. In Brady's case, Myers said he thinks the lesson is an overt display of affection is completely acceptable.
"It's OK for a father and son to be so outward in their affection for one another," Myers told Boston.com. "Their relationship is a good model for parents with kids who are 11 or 12 years old. The Bradys prove how important it is to be nurturing and complementary."
Quotes from the MY FIRST COACH: INSPIRING STORIES OF NFL QUARTERBACKS AND THEIR DADS by Gary Myers. Copyright © 2017 by Gary Myers. Reprinted with permission of Grand Central Publishing. All rights reserved.