Patriots
Bill Belichick says he has watched every NFL preseason game so far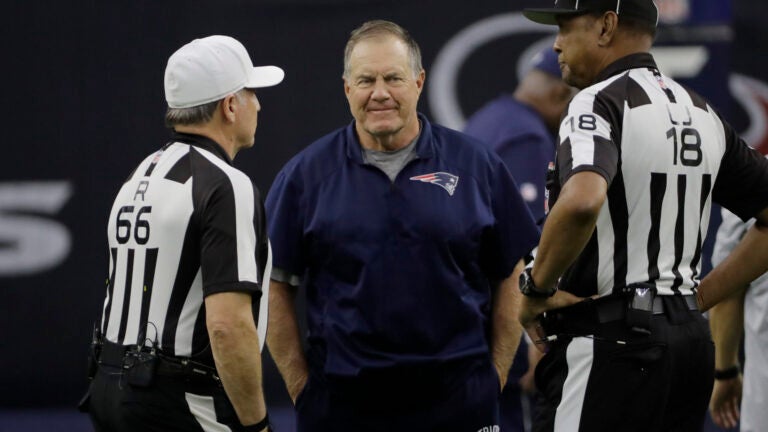 FOXBOROUGH — It doesn't take long to identify a Bill Belichick-run practice due to the wide range of unusual drills he incorporates.
In several recent sessions, the linebackers worked on keeping fumbles inbounds after shuffling through step-over dummies. Last week, players purposely allowed oncoming passes to go through their hands in order to block the nearby defensive back's vision to intercept the ball. One of the most entertaining drills has been watching the linemen field kickoffs.
"I think one of the things that not a lot of people talk about [regarding Belichick] is preparing for every single situation,'' defensive end Trey Flowers said. "So when it comes up in the game, he already went through it, we already planned for it, and we are prepared.''
For years, those who have game-planned against Belichick have lauded his meticulousness. Coaches in other sports, including former Indiana University basketball coach Tom Crean, have also praised his attention to detail.
"It would be hard to imagine something missing his radar, or the people who are around him, and I think that is the sign of a great leader,'' said Crean, who attended joint practices with the Texans two weeks ago.
Even in camp, Belichick's preparation is in midseason form.
In an interview with WEEI on Monday, Belichick said he has watched every 2017 preseason game, which equates to 49 games. He explained that teams use their basic plays while avoiding digging deep into the playbook during these tuneup contests.
For Belichick, there is still plenty to dissect.
He said he uses the preseason games to evaluate rookies and young players devoid of much NFL experience. Belichick has studied how coaches and coordinators in new systems deploy certain players, and whether similarities exist between present and past.
As the regular season looms closer, he has shifted his focus to New England's upcoming opponents. Last week, he said it would be "irresponsible'' not to actively prepare for the Chiefs, New England's first regular-season opponent, throughout the preseason.
"We're focused on the team we play and the teams that we cross over with,'' Belichick said Tuesday morning. "In this case, Kansas City, the teams that they've played, obviously, we'll see them. But two teams that aren't on our schedule that played each other last week, generally, we wouldn't be pouring over that film unless there was some particular reason.''
His extensive research may help explain why he has habitually acquired unsung guys and turned them into key cogs on winning teams.
One of those potential players could be running back Rex Burkhead, who was acquired from the Bengals in March. In his four-year career, Burkhead has recorded only three rushing touchdowns, serving mostly as a third-down back.
About two weeks into camp, Belichick was asked about Burkhead's increased repetitions in goal-line situations. Belichick chronicled back to Burkhead's college success at Nebraska, where he played his final game in 2012, to explain his answer.
More than a week later, Belichick was asked to elaborate on the importance of Burkhead's Week 17 performance in Cincinnati — when he amassed 144 total yards and two touchdowns — in his evaluation. He retorted in typical Belichickian fashion.
"Like all players in the league, we followed him out of college and then every year in the league,'' Belichick said. "I wouldn't say the evaluation was made on one play or one series or anything like that. We had quite a bit of information on this player.''
There are numerous times Belichick has outprepared an opponent. One obvious example came last year in the week preceding the Patriots matchup with the Rams. While opposing head coach Jeff Fisher struggled to identify the Patriots' running backs — somehow confusing former Patriot Danny Woodhead and current receiver Danny Amendola — on the same day Belichick dissected the Rams' roster from top to bottom.
Entering his 43rd year as an NFL coach, Belichick still impresses those around him on a daily basis.
"The main thing [I noticed] when I got over here is seeing how organized everything is,'' said offensive tackle LaAdrian Waddle, who played more than two seasons with the Lions before joining the Patriots in December 2015.
"How detailed the preparation is, how much emphasis they put on the little stuff, pretty much how they go about business. Everything is a little more detail-oriented and fine-tuned.''