Patriots
Patriots' Super Bowl comeback astounded even NFL Films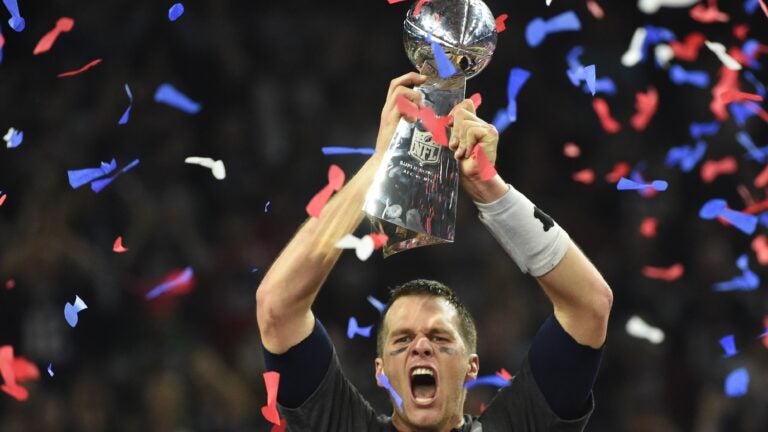 NFL Films producer Ken Rodgers spent the entire 2009 season embedded with the Patriots, producing Bill Belichick's "A Football Life.'' Rodgers also produced several other Patriots documentaries, including the popular "Do Your Job'' and "Three Games to Glory,'' which chronicled their past two Super Bowl victories.
Yet Belichick and the Patriots coaches found new ways to astound Rodgers as he produced "Do Your Job, Part 2,'' NFL Films's in-depth look at the incredible comeback victory over the Falcons in Super Bowl LI.
"It's amazing to me how many plays were thought about beforehand,'' Rodgers said. "What schemes were thought about beforehand, situations that were thought about, in a way I'm not sure I've seen a staff think about a game, in the history of the National Football League.
"When you follow their thought process of going through this comeback, and see how all of the tumblers had to fit perfectly in order for the comeback to happen, you're really left with a viewpoint on a collective genius.''
Patriots fans will want to clear space on their DVRs next week for the introduction of three documentaries by NFL Films.
"Do Your Job, Part 2'' premieres Sunday night at 7 on NBC, and features interviews with Belichick, Josh McDaniels, Matt Patricia, Robert Kraft, Ernie Adams, and the entire coaching staff, giving inside information about the playoff run and improbable comeback.
And next Wednesday (Sept. 6), NFL Network will have a Patriots marathon. "Do Your Job, Part 2'' will air at 8 p.m., followed by "America's Game: 2016 Patriots,'' featuring interviews with Julian Edelman, Dont'a Hightower, and LeGarrette Blount at 9 p.m., and "NFL Top 10: Tom Brady Games'' at 10 p.m.
"We actually make the joke in the show that a few more years here and we can just do a 'Top 10: Brady Super Bowl' show,'' said Rob Gill, the producer of "Top 10.''
We saw an advance screening of "Do Your Job, Part 2,'' and it's not just for Patriots fans (although Patriots fans will absolutely love it). Narrated by actor Edward Norton, the film is a football coach's dream, as Belichick and his staff detail their intricate preparation for the Falcons and how certain decisions were made throughout the course of the game.
Any football fan can appreciate the amount of work the Patriots put into their preparation (well, maybe not Falcons fans).
Watch the trailer for "Do Your Job, Part 2'':
[fragment number=0]
NFL Films gathered more than 20 hours of interviews in two days at Gillette Stadium in May, including almost four hours from Belichick himself.
"I think it will provide a whole new level of appreciation for the comeback, and I think help extend its legacy of the greatest comeback maybe the league has ever seen,'' said Rodgers, who produced the film with Joseph Zucco.
"It's not just Coach Belichick. It's the genius of preparation and thinking through situations ahead of time that allowed that whole thing to happen. And it's amazing when I watch it, and thought, 'Geez, how many things had to go right?' ''
"Do Your Job, Part 2'' offers up plenty of juicy details. Without giving much away, we learn about the following:
■  The meaning of the numbers 47 and 111.
■  A mystery injury to a key member of the Patriots in the week of practice in Foxborough before the Super Bowl that galvanized the team.
■  How they schemed up a touchdown for Dion Lewis against the Texans in the divisional round, and how the Chris Hogan flea-flicker touchdown against the Steelers came to be (and how Edelman was the real key to the play).
■  Intricate game-planning details for the Super Bowl, including Julio Jones's injured foot, Devonta Freeman's poor pass protection, and Jake Matthews's propensity for holding.
■  Why Patricia dialed up pass rushes on what appeared to be running downs late in the fourth quarter, and how Hightower's strip-sack came to be.
■  How the Patriots installed extra 2-point conversions for the Super Bowl.
■  How one of the game's key plays didn't go well in practice (but of course was executed perfectly in the game).
The documentary takes us inside the Patriot coaches' dinner in May and the team's ring ceremony in June. It gives us another rare look at Adams — Mr. "Pink Stripes'' himself — and an interesting profile of Nick Caserio and all of the different hats he wears.
"I don't think many people realize that his role is bigger on game day than any other GM in the league, and that's going to be a real revelation to fans,'' Rodgers said.
We also watched an advance copy of "America's Game,'' which is similar to "Do Your Job, Part 2'' but offers the players' perspective. Edelman, Hightower, and Blount were all miked up for the Super Bowl, and then provided interviews this spring to break it all down.
This film, narrated by actor and Sudbury native Chris Evans, offers more of a full-season breakdown. It
centers around a children's book written by Edelman, featuring Jules the Squirrel, Tom the Goat, and the wise old owl who wears a hoodie and a headset. (Where Edelman came up with the motivation for these characters is anyone's guess.)
In this film, we get:
■  Secret details on how the players welcomed back Brady from his suspension.
■  The players' reaction to the midseason trade of Jamie Collins.
■  How Blount matured and earned the respect of his teammates and coaches, which was apparent on the sideline during the Super Bowl.
■  Never-before-heard audio from the field.
"When you have those players wired, you get to go places that as a viewer you don't get to go anywhere else, and that's part of the charm of this one,'' said producer Chris Barlow.
Watch the trailer for "America's Game: 2016 Patriots'':
[fragment number=1]
And Patriots fans wanting to relive 17 years of glory will enjoy "Top 10: Tom Brady Games,'' which was already in the works before the Super Bowl. Most of the interviews for this were completed in the week leading up to the game, and the producers had to schedule extra interviews after the Super Bowl, because the list had a new No. 1.
Gill jokes that Brady probably doesn't agree that Super Bowl LI was his best game, considering he threw a pick-6 in the first half.
"But he did not do an interview for the show, so he has no say,'' Gill said.