Patriots
The man behind 70,000 Roger Goodell clown towels: Dave Portnoy explains his issue with the NFL commissioner
The Barstool Sports founder explains his issue with the NFL commissioner.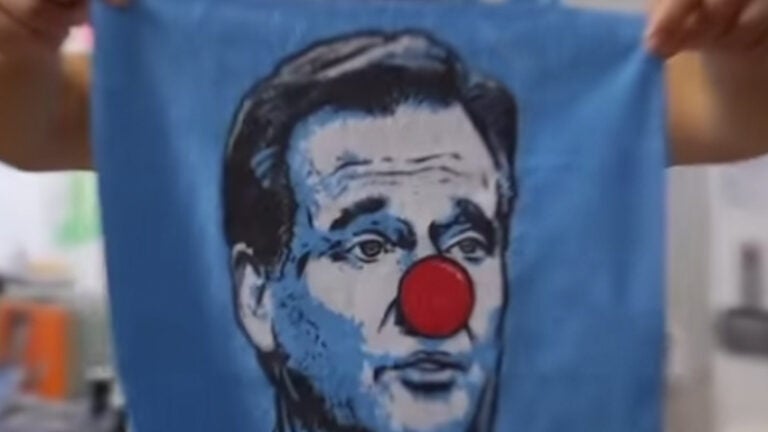 To say Barstool Sports founder Dave Portnoy doesn't like NFL commissioner Roger Goodell would be a vast understatement. Portnoy, a Swampscott native, has not been shy about expressing his hatred for Goodell ever since the Deflategate controversy began in January 2015.
From protesting Patriots quarterback Tom Brady's punishment at the league's New York headquarters to heckling Goodell at Brady's final court hearing, Portnoy has been active in his pursuits to bash and torment Goodell. So what does he have in store for this year's NFL kick-off game?
Operation Clown Face.
Portnoy has ordered 70,000 turquoise rally towels that feature Goodell's face with a red clown nose and plans to distribute them to fans attending Thursday night's Patriots-Chiefs contest at Gillette Stadium. The image, which originated as a Barstool T-shirt, has reportedly annoyed the commissioner in past, so Portnoy wants to capitalize on the opportunity and continue to provoke that irritation.
Goodell unexpectedly attended the Patriots' preseason home opener for his first appearance at Gillette Stadium since January 2015, and he plans to return to Foxborough for the first regular-season game as well. According to the Patriots, he will not be watching from team owner Robert Kraft's box.
Portnoy spoke with Boston.com about his thoughts on opening night, Goodell, and the relationship between Barstool and New England sports controversies.
How long have you been planning this event? 
DP: We started planning when we heard the story, about a month, month and a half ago, that Roger Goodell was still mad about the clown shirt that Matt Patricia wore. It still bothered him. So when that came out again, a lot of people thought that we had to do something, to get either the shirts or something to opening night.
That's when it started. We probably ordered the towels right around then.
What do you hope to see from the kickoff game? What's your goal with these towels? Are you hoping to get a reaction out of Goodell? 
DP: No, I don't think we'll get a reaction out of him. I don't think we'll see a reaction. I'm sure they're not going to put him on the jumbotron, but I'm basing it all on the fact that I know it bothers him. That's something that's been said so many times.
I hope we have 70 percent of the stadium with the towels, waving them. Just a sea of turquoise. And that's good enough for me. I don't think it's gonna get on TV. Well, I don't know if they'll mention it on TV. It's not a publicity stunt in terms of trying to create more PR for Barstool.
It's not only myself, but we have so many volunteers. We literally have thousands of volunteers, and that's not an exaggeration. Thousands. I just talked to our guy who's handing them out. We could start handing them out today at the storage facility that we have. We start at 5, and he showed up at 4 o'clock, and there's a line of 300 people already waiting to get the towels.
Army of Volunteers. #OperationClownFace #thenorthremembers 🤡🤡 pic.twitter.com/yWwdrDq4r9

— Dave Portnoy (@stoolpresidente) September 6, 2017
Patriots fans hate him so much, so everybody wants the same thing. We want a sea of turquoise because we know he'll see it, and we know it'll bother him.
Barstool will be at Rodman Ford in Foxborough at 4 p.m. on Thursday to distribute the remaining 10,000 towels. 
60k towels have been given to volunteers. Barstool Rv will be @RodmanFord at 430pm with remaining 10k. 1 per person with game ticket pic.twitter.com/tYDU5ATJlc

— Dave Portnoy (@stoolpresidente) September 6, 2017
How would you feel if you saw Goodell wearing a clown shirt? 
DP: I'd probably like it. I heard a rumor that he's going to try and dispel it by wearing a clown shirt. There's no way I could ever see him doing that. I don't think he's nearly that funny enough. I've never seen him make fun of himself once or take anything with any degree of humor, so I just — I would be stunned if he did that.
I would actually like it if he did because I think it would actually bother him. He'd be doing it to try and diffuse the situation, but anybody who's still complaining about the clown shirt, months after the fact, he's clearly bothered by it. So I did hear that rumor, but based on everything I've seen from Roger Goodell over the past couple of years, I don't think there's any way that happens.
If he reached out to you and wanted to do an interview with you, would you agree to that? 
DP: Absolutely, but I'm not going to agree to his rules. Like, he's never been interviewed by someone who asks tough questions. I don't think the guy has been asked a tough question his entire life. He only takes softball questions with softball reporters. So, yes, I would love to do that. I would love to do a no-holds-barred interview, without a doubt.
What types of things would you ask him? 
DP: I'd stick probably to Patriots controversies, even though there's a lot of controversies you could ask him about. But there are so many things he lied about during Deflategate. I'd ask him about every single one of them.
He still says that Ted Wells was an independent investigation. He said that he didn't know about the Colts' complaints about Deflategate until after the fact, even though there are facts that he did know about it. I mean, those would be some of the major ones. During the course of the investigation, the cellphone thing with Brady: how he said that he didn't want the cellphone or need the cellphone, Brady offered him the logs of the cellphone, and then that was what he blamed the whole thing on.
There are a million lies he's told, and I just specifically have questions for every single one of those.
Would you like to see Goodell be replaced?
DP: Yes. Do I think that's going to happen? No, obviously. Clearly. But yes, I would.
Ideally, who would you like to replace him?
DP: Oh, I don't know. I don't have somebody in mind.
As damaging as some of the New England sports controversies have been to the teams, they have — in a way — been a great opportunity for Barstool. Is there a part of you that relishes in, not the scandals per se, but the drama of the "New England vs. Roger Goodell" or the different subplots that these scandals have created?
DP: Yeah, I mean, we've certainly benefitted from it. It's not like we love when it when they happen, but it's certainly good for Barstool. It rallies everybody around us.
I mean, even this Goodell clown face thing, it's not something that we pre-planned or were thinking of doing. He's just such a thin-skinned guy. He just couldn't let it go. We really didn't plan on doing this, but when he kept getting quoted saying that the clown shirt really bothered him. That fell in our laps, to a degree.
So yes, it's been good. I don't know if relish is the right word. I guess we take advantage of it.
Do you think certain successes of Barstool are in a way tied to the outrage of Patriots fans feeling persecuted? 
DP: It certainly ties Barstool more to the Patriots fans, and that's obviously a good thing. We're a Boston-based company, I'm a huge Patriots fan and all that. But at this point, I don't think it matters. I think we've gotten big enough where it doesn't really matter. It's just something that people rally around.
Our core business and Barstool's success is not going to change from a Patriots controversy.
What are your expectations from the upcoming Patriots season? 
DP: 19-0. Undefeated season. That would be cool.
What would you like to see from Roger Goodell this upcoming season?
DP: He is what he is. I've kind of come to grips with the fact that he's not going anywhere. He makes more money than, like, any of the players, and he's a punching bag for the owners. So it'd be naive to think that he's leaving after he's survived all these controversies, not only the Patriots, but Ray Rice, Bountygate, the new one with Ezekiel Elliott.
He's there for life, or as long as he wants it to be. I think he could kill somebody and not get thrown out, so I've kind of come to terms with the fact that if he hasn't gotten kicked of office yet, he's never going to be.
Do you believe he's telling the truth when he says his relationship with Robert Kraft was "never strained" after Deflategate? 
DP: I don't. I mean, almost everything Roger Goodell says is a lie. So no, he is a pathological liar. I absolutely don't believe anything he's said.
What did you make of that preseason photo of Goodell with some Patriots fans on the ramps of Gillette Stadium?
DP: That made me puke. That was a tough look. I don't know who those Patriots fans are. One of the guys who actually gave the fan his ticket was even disgusted. I don't know why anybody would pose for that photo. It's certainly not representative of what 99.9 percent of Patriots fans think. I would say those people are not Patriots fans, and they should never be allowed back in Gillette Stadium for the rest of their life.
If you swapped places with them, and an NFL PR guy came up to you and asked if you wanted to take a photo with Goodell, what would you say or do? 
DP: Knowing me, I'd probably say yes and try to flip the bird in his face and then have one of my guys take a photo while I was doing it. Something to that effect. I wouldn't smile happily. No, I wouldn't just smile happily.
If you could go back to the very beginning of Barstool, what advice, if any, would you give to a younger Dave Portnoy? 
DP: Do exactly what you're doing. However we got to wherever we are, keep doing whatever it is. Go with your gut.