Patriots
Here's what Matt Patricia thinks about Drew Brees and the Saints offense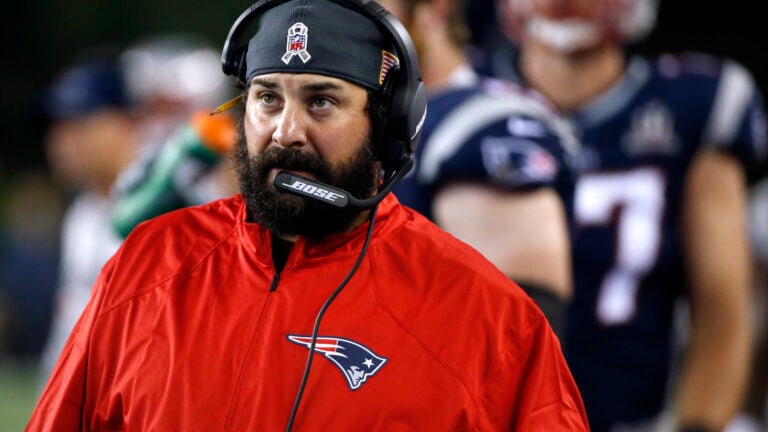 After the Chiefs racked up 537 total yards against the Patriots on Thursday night, New England's defense came under fire for its apparent inability to effectively cover Kansas City's offense. During the season opener, Matt Patricia's squad gave up two scoring drives of 90 and 92 yards, along with a few catastrophic individual plays to their opponent's wide receivers.
Following the game, head coach Bill Belichick characterized the game as"bad defense, bad coaching, bad playing, [and] bad football." As the Patriots begin their preparations for Week 2's contest against New Orleans, Patricia is readying his group to bounce back and take on the Saints' fast-paced offense.
"Obviously everyone is trying to work hard to improve and get better," he told reporters in a conference call on Tuesday. "Hopefully we can get that done. We're obviously gearing up here for the Saints. We've got a huge challenge in front of us, with some young guys playing, and going down to their place in that environment is going to be a huge challenge, too."
Here's what else the defensive coordinator had to say about New England's upcoming opponent:
On the Saints rushing game: You know, they have three outstanding backs. I think you got to see a good look at them last night. Then obviously the fullback, he's out there quite a bit too, John Kuhn. So you'll see him out there also. I think they use the backs in a variety of different ways.
I think Coach [Sean] Payton and Coach [Pete] Carmichael do a good job of packaging them into roles they feel could give the defense the most trouble. Then they'll also run complimentary plays with them. There were a couple of packages where you might have two running backs in the game at the same time, some different looks there along with the fullback. So they really create a problem, and they really try to identify a mismatch, whether it's a linebacker or something in the run game where they can out-leverage the defense with these guys. I think they do a great job with it.
On running back Adrian Peterson: Adrian Peterson obviously is a great player — big, strong runner who does an excellent job of really pressing the line of scrimmage before he gets his cuts and gets downhill into the line of scrimmage. I think a guy like this is a guy that can take the ball anywhere. He can go inside, he can go outside, he can cut it all the way back … does a great job in space. He can jump cut out into that space and does a good job with the stiff arm and running through arm tackles and really does a good job of taking minimal opportunities and try to make them into big plays.
On matching up with the Saints personnel groupings versus sticking to the fundamentals: Like I said, Coach Payton and Coach Carmichael do a great job of mixing and matching personnel groups in. We see it quite a bit week in week out from a lot of different offenses. I would say these guys do it quite a bit, so you'll see different groups out there whether it's multiple running backs in the game or different wide receivers.
The mixing and matching of those skill players – occasionally they'll throw an extra lineman in the game, the fullback. So the constant turning of that personnel is something they do an excellent job with and really have mastered the ability to kind of work in and out of those groups at a very quick pace. The pace of the offense here is very fast. They do a good job of getting in and out of the huddle. You know, then playing down there in their home stadium is where they're going to be able to communicate the best so we're going to have to do a great job of just really trying to get out there and play sound, play good fundamental defense. I think that's what we're trying to get done and we're trying to obviously play a heck of a lot better than we did last week and just go out and try to make sure we're more improving in those areas.
On the Saints receiving game: They have a great wide receiver corps — Ted Ginn who just got there, you know, [Brandon] Coleman, [Michael] Thomas, guys that can rotate in and out. You're going to see a lot of different tight ends in the games. Obviously, [Coby] Fleener, who is in his second year there who's really starting to master this offense and be very productive. Josh Hill, who's another guy that will mix in there at the tight end position and really kind of does everything for them and then obviously Hoo-man [Michael Hoomanawanui], who we've got a lot of familiarity with, will be out there too.
They've done a good job of getting skill players that have what we call 'big catch radiuses' or guys that can go up and [get it]. Along with this offense that does a great job of stressing you from a horizontal standpoint, they do a good job of pushing the ball down the field.
On quarterback Drew Brees: I think the big key is obviously the quarterback. Drew Brees is outstanding. He's an excellent quarterback not only in the cerebral sense and his ability to get into the proper play and change and audible and do all that stuff at the line of scrimmage, but when he throws the ball and he can get it downfield or he can really put the ball away from a defender, I think the big targets that he has allows him to place the ball away from maybe the coverage or the leverage or whatever the case may be. I think he does a really good job of finding those spaces and getting the ball to those guys.
Having receivers that are longer and guys that can go make those sort of completions. You know, you saw [Coby] Fleener make one last night and throughout the course of whether you look at last year's tape or a couple years ago or through the preseason, their receivers have been able to make those catches. So it really allows the quarterback the opportunity to throw the ball up to them and gives those guys a chance to go up and get the ball.
On tight end Coby Fleener: I mean, obviously he's an outstanding player. We've played against him here in the past, and we have the utmost respect for him from those games that we've played. I think one of the things you see from the Saints standpoint, and a lot of it has to do with him in the system now and really understanding the concepts of what they do, but also the trust with the quarterback.
I think the quarterback is definitely in a position where he's going to give him the ball and trust him to go up and make a good play whether it's tight coverage or situationally, certainly in the red area. And he is a big target. He has great speed. He runs good routes. I think the concept of what they're trying to do from an offensive standpoint is something that now they've been able to put him in good positions to make those plays.
I think they kind of just keep expanding what they're doing with him and they'll move him around quite a bit. You're going to see him in there in a couple different personnel groups, different alignments. He's not always in one spot. He might be in there with a couple of the other tight ends. You've got to try and figure out his alignment from that standpoint. Or he might even be removed from the formation. You know, maybe in a position where they can motion him in or try to get him across the ball whether it's pre-snap or post-snap. So they've just kind of expanded all of those different roles that they've given him and he has been able to come through and make some plays for them and just kind of build his repertoire within that offense.