Patriots
3 pivotal plays from the Patriots' victory in New Orleans
The Patriots scored a decisive road win in New Orleans on Sunday. The game was highlighted by several key plays in the 36-20 victory, including a signature Rob Gronkowski catch and run for a score.
Here's a quick look at three of the pivotal plays in New England's first win of the 2017 season.
Improvisation leads to a big (Gronk) play
Facing a third down in their own territory during the first quarter, the Patriots turned what appeared to be a failed play into a reassuring showcase of Gronkowski's unique talent. Facing pressure, Tom Brady calmly stepped up in the pocket, holding off the grip of a Saints lineman. He lofted a pass that appeared to be doomed at first glance on the television broadcast.
Of course, once it became apparent what Brady saw – and what he was throwing at – his throw made perfect sense. Having waited for Gronkowski to come open on a crossing route against a linebacker, Brady now found the athletic tight end in open field. Remarkably, he made the throw before Gronkowski had even turned upfield. Both players instinctually knew where the pass needed to go, and where the receiver needed to be:
GET. OFF. HIM.

Oh my goodness, @robgronkowski. #GoPats #NEvsNO pic.twitter.com/dEcwEUWVC1

— NFL (@NFL) September 17, 2017
Jonathan Jones saves a touchdown in coverage
Brady and the Patriots offense chalked up three touchdowns in the game's opening period, but the Saints finally got on track in the second quarter. With the score 20-10, Drew Brees had the Saints in position to close within three.
On a 3rd and 8 at the Patriots' 16-yard line, Brees made what looked like a perfect throw to receiver Ted Ginn Jr. Yet what should have been a touchdown was denied by Patriots' cornerback Jonathan Jones. The 23-year-old waited until the perfect moment before swatting the ball out of Ginn's hands. The Saints kicked a field goal, but the comeback momentum was stalled.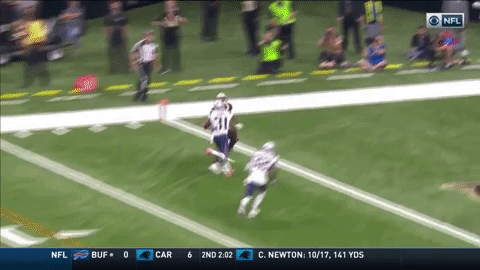 Deatrich Wise ends the Saints' second half drive
While the rookie edge defender had a standout day all around (including five quarterback hits), his best play also arrived at a critical juncture. The Saints began the second half by moving the ball to the New England 35-yard line. With the score 30-13, it was a drive that New Orleans certainly needed to put points on the board.
On 3rd and 7, Brees scanned his receivers for an open man, but was sacked by Wise before he could make it through his progressions. The play ended the Saints' drive, and in many respects, any hope of a comeback.
https://twitter.com/petemrogers/status/909490766669664256