Patriots
Morning sports update: Tom Brady opens up about having 'the best parents'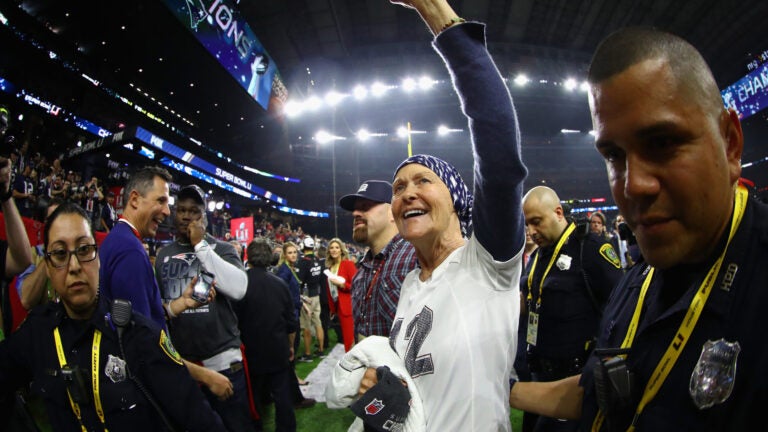 The Revolution fired their head coach, the Red Sox once again won in extra innings, and the Tom Brady's book is coming out tomorrow.
Tom Brady talks about the presence of his father and the inspiration of his mother: In his interview with CBS This Morning co-host Norah O'Donnell, Tom Brady expressed overwhelming gratitude for the parental support he's received through the years.
"Your father famously promoted your career from early on," O'Donnell said. "How much credit do you give him for your success?"
"So much," Brady responded.
"When I grew up, I had three sisters, and I adored my sisters, but I was always the baby brother," he continued. "My dad, being his only son, he was always like, 'Hey, let's hit some golf balls," and I was always tagging along. He was someone I always looked up to—I still do today—and he's been such a supportive person in my life for my entire career."
The quarterback recalled how his father used to travel across the country in order to watch him play football. The separation was not easy for Tom Brady Sr., who attended psychological counseling for eight weeks following his son's departure for college, but the thousands of miles in between them didn't strain their relationship.
"He has made so many efforts," Brady said. "Think about it, you grow up in California, and I had a couple schools in California recruit me to play in college, but I chose Michigan. So here he was flying to the east coast to watch me play. And then to get drafted by the Patriots, he has to fly further east. He's racked up a lot of frequent flyers miles, he and my mom, traveling to watch me play."
Brady is extremely appreciative to have his parents at his games: "When they see me come off the field, and hug me and give me a kiss and tell me that they love me… I just have the best parents and have been able to share so many great seasons with them."
The 40-year-old also shared a brief update on his mom, Galynn, who recently finished her cancer treatments this summer.
"She's doing good. she's doing really good. What a battle she's fought," he said. "Inspiration comes in many ways, and she's been a big inspiration for me. She's the most loving, caring, sweet person in the world. So many people in the world were there to support her when she really needed it. And I'm happy she's doing really great."
Benintendi's single in 11th sends Red Sox over Orioles 10-8: After three walks — one intentional — off Miguel Castro (3-2) loaded the bases in the 11th, Benintendi hit a grounder past diving second baseman Jonathan Schoop to give Boston its major-league leading 14th extra-inning win against three defeats. (Boston.com, via AP)
Clutch Benny with the game-winner and it only took 11 innings tonight! #WINDANCEREPEAT pic.twitter.com/9l3DY3QAdE

— Red Sox (@RedSox) September 19, 2017
Dustin Pedroia leaves game after bruising nose with foul ball to the face: Pedroia fouled a pitch off the plate, and the ball bounced up and struck him in the nose. He held a towel to his face to stop the bleeding, but was in no condition to continue. The Red Sox listed him as day to day. (Boston.com, via AP)
Dustin Pedroia leaves the game after fouling ball off his face. #RedSox pic.twitter.com/1oi0kE2Ksg

— Andrew Tashian (@Tashville401) September 19, 2017
Eduardo Nunez says he "would like to come back" to Boston: Nunez, who was traded to the Red Sox in July, told WEEI's Rob Bradford that he would like to stay with his new team, provided that management feels similarly.
"You have to ask the GM if they want me to come back," he said prior to Boston's Monday night contest against the Orioles. "If they don't want to sign me, it doesn't matter. It has to be a mutual goal. But, yeah, I would like to come back."
As for why he wants to stay, the infielder expressed his appreciation for the organization's culture as well as the opportunity to compete in the postseason.
"When you're here and you see the culture and they care about you and they try to protect you, you love it. It's different," he said. "Every year you have a chance to go to the playoffs, so that's a gift."
Despite missing the last eight games due to a right knee sprain, the 30-year-old has prove his worth during his first month and a half with the team. With a .319 batting average, Nunez has appeared in 37 games, hit eight home runs, and knocked in 27 RBI. His timetable for return has not be announced.
Gronk on groin injury: 'It's nothing serious and I'm just day to day.':"The reports say out there that it was my groin and, yes, it is my groin," the oft-injured New England star tight end said Monday of the injury that caused him to leave Sunday's 36-20 Patriots victory over the Saints. "It's nothing serious and I'm just day to day." (Boston.com, via AP)
Revolution fire coach Jay Heaps after ugly road losses: New England Revolution head coach Jay Heaps, among the longest-service members of the organization, has been fired, according to multiple sources. The Revolution made the move after the team returned from a two-game road trip, sustaining its worst defeat ever, 7-0, at Atlanta United on Wednesday and falling, 3-1, to Sporting Kansas City on Saturday. (The Boston Globe)