Patriots
Watch the Patriots' comeback in 4 nerve-wracking plays
The game-winning drive had some scary moments before the euphoric finale.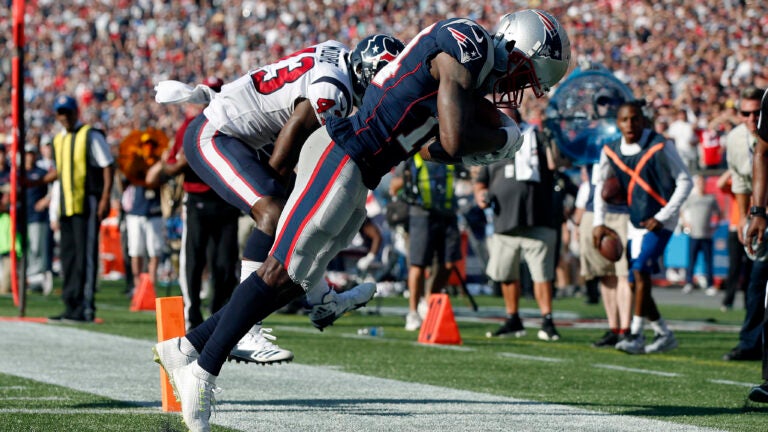 Trailing 33-28 with just over two minutes to play Sunday, a truly eventful drive separated the Patriots from a comeback victory over the Texans. What occurred in between Houston kicker Ka'imi Fairbairn's touchback and Brandin Cooks' two-point conversion was a stunning combination of masterful play from several Patriots (including Tom Brady) as well as undeniable luck.
Brady marched the Patriots' offense 75 yards in eight plays, culminating with a game-winning touchdown to Cooks with only 23 seconds remaining. Yet that description only tells part of the story.
In reality, New England can consider itself fortunate that the visiting Texnas were unable to capitalize on two straight opportunities to secure a game-ending turnover. In a cruel twist of fate, Brady only needed two more plays afterward to finish off Houston's bid to secure what would have been an impressive road win.
The Non-Fumble
Having moved the ball from New England's own 25-yard line out to midfield, Brady dropped back to pass on 1st and 10 at Houston's 44-yard line. Unknown to him, blitzing safety Marcus Gilchrist closed quickly on Brady's blindside and extended to strip the ball. Gilchrist succeeded in causing a fumble:
https://giphy.com/gifs/9430Iu0DO5z1u
Luckily for the Patriots, lineman David Andrews was placed perfectly and recovered the ball. A turnover was avoided, though the loss of yardage meant it was now 2nd and long.
The Non-Interception
On 2nd and 18, Brady tried to go deep to Cooks. He nearly found the speedy receiver, but Texans safety Corey Moore was in position to intercept the pass instead.
As he descended from his leap, Moore had the ball – and a probable Texans win – in his possession. But he was unable to keep control as he went to the ground:
https://giphy.com/gifs/Qrj9qBRsgV3Da
The play was ruled an incomplete pass, giving Brady and the Patriots a second break in as many plays. As he has done so often in his career, Brady made Houston pay for the missed chances.
The Conversion
Now 3rd and 18, the Patriots finally found a completion. Only a few plays after getting rocked by Texans safety Andre Hal, Danny Amendola came up with one of the most clutch catches of the Patriots' season so far.
Brady barely escaped the clutches of J.J. Watt and found Amendola for a vital first down:
JJ Watt almost – almost – prevented huge 3rd down completion to Danny Amendola. Works off Gronk and by Waddle. So close… pic.twitter.com/iN1qxr7KN0

— Mike Giardi (@MikeGiardi) September 25, 2017
The Touchdown
Bill Belichick elected not to use the team's final timeout after Amendola's catch, instead letting the clock run. Brady ended up not needing it, as he passed for what proved the game-winning score on the very next play.
Two plays after nearly coming down with the decisive interception, Texans safety Corey Moore was once again centrally involved. He was a fraction late on arriving in the corner of the end zone to break up the touchdown pass to Cooks.
On such narrow margins, the Patriots emerged with the lead, and (eventually) the win:
https://twitter.com/NFL/status/912053462149369856