Patriots
Comeback thrills aside, nobody in the NFL has been worse defensively than the Patriots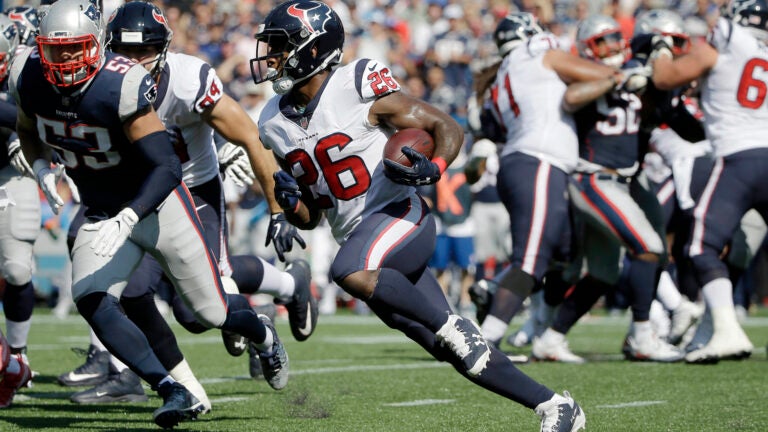 COMMENTARY
After Houston Texans rookie quarterback Deshaun Watson torched the Patriots on Sunday for 301 yards passing, 41 more on the ground, and two touchdown passes in only his second professional start, New England cornerback Malcolm Butler likened his performance to one of the league's most dynamic performers behind center.
"That's an upcoming Cam Newton," Butler said after the Patriots' dramatic 36-33 comeback win over the Texans, a game during which the New England defense surrendered 417 net yards to a Houston team that came into the game having scored only 20 points total over its first two games. "He's a handful, running around, people diving at him, missing him."
In other words, don't expect much to change one weekend later.
If the overwhelmed Patriots defensive unit had difficulty in containing Baby Newton, it's any wonder what adjustments can be made in order to limit the prime time version on Sunday when the Newton-led Carolina Panthers appear at Gillette Stadium. For lost in the shuffle of everything that happened on a thoroughly entertaining Sunday in Foxborough, from players protesting the national anthem to yet, another, sublime comeback victory off the arm of Tom Brady, was this team's fly in the ointment; a defense that has already helped insert quarterbacks Alex Smith and Watson into the (very) early discussion for league MVP.
It's been such a dreadful start for Matt Patricia's defense that NFL commissioner Roger Goodell could probably sport his own clown-nosed caricature of the Patriots defensive coordinator to hushed blowback in New England.
Over their first three games, the 2-1 Patriots have surrendered an average of 461 yards per performance, dead-last in the NFL. The defense has allowed an average of 330.7 passing yards per game. Worst in the NFL. It has allowed 130.3 rushing yards per game, only seventh-worst in the league.
The Patriots have given up 95 total points to the Kansas City Chiefs, New Orleans Saints, and Texans. That's a category in which they are followed by the Indianapolis Colts (90), Saints (78), Cleveland Browns (76), and San Francisco 49ers (76).
Or a group better realized as some of the worst defenses in professional football.
It is the Patriots, however, who have been THE worst.
"It's just a constant work in progress," Patriots defensive back Devin McCourty said. "It's always going to be something new, so I think today, obviously, was a tough test with Watson, but it doesn't get easier next week with Cam Newton. So, I think the good thing is we'll get to break this film down and we have to be highly critical of how we played against Watson because we're going to see something similar next Sunday."
Well, there's a red flag.
It isn't necessarily difficult to discover some roots of the defensive problems, born specifically from Dont'a Hightower's absence as the linebacker recovers from a knee injury he suffered in the season-opening loss to the Chiefs. Cassius Marsh, the former Seattle Seahawk who looked more comfortable on Sunday, appeared as if he had solely watched tape of the embattled Cyrus Jones before suiting up for his first game as a Patriot against Kansas City. Butler played only 75 percent of the snaps last weekend against the Saints, and was run out of town by midweek thanks to sports radio's conclusion that he was riding the Jamie Collins Express in time for next month's trading deadline.
Butler played the entire game against Houston and had some memorable one-on-one battles with Texans receiver DeAndre Hopkins (seven catches on the day for 76 yards). But high-priced free agent addition Stephon Gilmore only appeared 84.5 percent of the time, and did add his first interception to the proceedings as well.
But the secondary has been abysmal. On Sunday, the Texans had five passing plays of 20 yards or more, something the Patriots have allowed 14 times now this season. Only the Saints (19) and Colts (20) have been worse in giving up big plays. But attach the names of a game-manager like Alex Smith and a rookie like Watson to the Patriots' shortcomings, and the secondary's "Check Engine" light has been a primary nuisance so far.
"Houston gives you a lot of problems," Patriots head coach Bill Belichick said. "They have a lot of good players. We'll see another athletic quarterback again this week. We'll just have to keep working at it, keep grinding it out. I thought it was a good team win today. It was warm. The players went the whole 60 minutes, played hard, competed well and made enough plays at the end. Just barely, but made enough plays at the end to win."
Barely.
This isn't really anything new with a Belichick-led squad. New England defenses normally tend to adjust to year-to-year based on personnel, injuries, and matchups. After all, it was only back in 2014 that New England allowed 33 points to the Miami Dolphins in their season-opening loss, then 41 to the Chiefs three weeks later, hovering atop the AFC East with a 2-2 record that seemed all but teetering on the negative due in large part to poor defensive presence.
The team wouldn't lose again until the final game of the regular season, en route to a Super Bowl victory over Seattle.
"We got a lot of work to do," Gilmore said. "We can get better, watch the film and learn from our mistakes."
There were plenty of those on Sunday.
"It's pretty much like that every week in the National Football League in at least half of the games," Belichick said.
Maybe. But it's a heck of a drop from the much-ballyhooed potential of 19-0 to showcasing the worst defense in the league only three weeks later.
It'll get better though. No questions asked.
It always does.