Patriots
Even this week, Bill Belichick is sticking to sports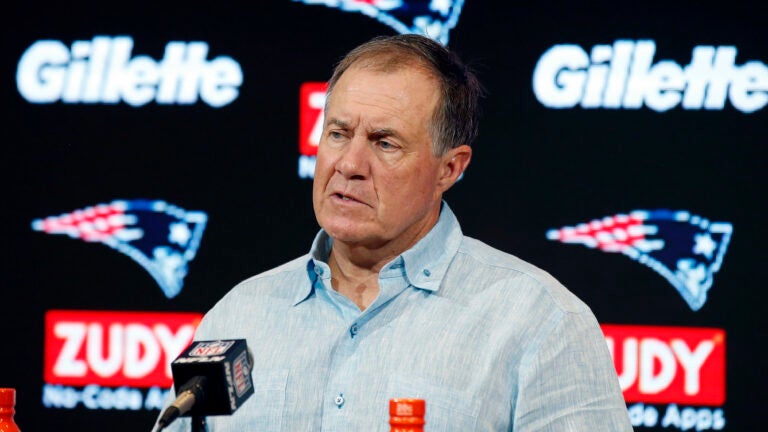 "I'm not a political person."
That's what Bill Belichick told reporters last year on Election Day. The statement came after the Patriots coach wrote a supportive letter to President Donald Trump, which the then-candidate read aloud at a campaign rally. After finishing his statement, Belichick stonewalled all follow-up questions by repeating the name of the Patriots' next opponent: "Seattle. Seattle. Seattle."
He's been stonewalling those questions ever since.
Since Trump's election, politics has increasingly permeated nearly every corner of American life, including — and perhaps particularly — sports. At no time was this been more true than this past week, when Trump went head-to-head with not one but two professional sports leagues. The president's continued attacks on the NFL made for a particularly awkward situation for the Patriots, whose ties to Trump may be closer than any other team in the league.
Patriots owner Robert Kraft and quarterback Tom Brady — both of whom are close to Trump — ultimately rebuked the president's comments. Belichick, another "good friend" of Trump, has however strained to remain neutral.
During a radio interview prior to Sunday's game against the Houston Texans, Belichick declined to get into the news that was currently consuming the rest of the league.
"We handle all those things internally and we'll continue to do that," Belichick said when asked how the Patriots would respond Sunday.
In an intended message of unity, more than a dozen players would go on to kneel during the national anthem. During a press conference after the game, the Patriots coach was asked about how his team responded.
Q: There was a lot of attention today on how teams handled the national anthem.What was your reaction?

Belichick: Yeah, I'm just going to talk about the game. I'll deal with that later.

After fielding two football-related questions, he was again pressed on the subject.
Q: About a third of the team taking a knee during the national anthem, how does that affect the unity of a team?

BB: Yeah, I just answered that.
During a media conference call Monday morning, several reporters said they were informed beforehand by Patriots staff that Belichick would only be taking football questions.
Conference call with Bill Belichick. Patriots PR opens by saying that BB will take football questions only.

— Kevin Duffy (@KevinRDuffy) September 25, 2017
Patriots announce Bill Belichick will only address football matters on today's conference call. Other topics will be addressed later.

— Doug Kyed (@DougKyed) September 25, 2017
They were reportedly informed that Belichick would address other topics later.
That afternoon, the team released a somewhat perfunctory statement from Belichick, in which the coach he respected his players and that the team had a "variety of perspectives and opinions on many topics."
"Discussions occur between myself, individual players, groups and the entire team on an ongoing basis," he said. "They concern the team and other issues surrounding the team."
The statement did not mention Trump, the demonstrations during the national anthem, or any details about any discussions Belichick had with the team about their response.
And so the subject arose again the following day. During a press conference Tuesday morning, Belichick was asked if he talked to any players about kneeling during the anthem.
Q: Were you made aware before the game that some players would be kneeling during the national anthem? Did any players approach you about that issue?

Belichick: I don't have any other comment on that. We're really focused on getting ready for Carolina. Last week is last week. This week is what's ahead of us and that's where our focus and attention will be.
And again the next day. Asked if he would entertain the idea of writing another letter to Trump if asked by one of his players, Belichick refused to even entertain the hypothetical.
"Yeah, right now my thoughts are about getting ready for Carolina," he said.
A growing number of professional athletes and coaches have decided to use their platforms to try to affect social change over the past few years. Even San Antonio Spurs coach Gregg Popovich — who is often compared to Belichick in terms of success and demeanor — has spoken at lengths about his distaste of Trump's conduct.
Belichick has also repeatedly declined to answer questions about the dangers of head injuries in the NFL, though he will go on forever if asked about punters or time management.
Some have claimed the era (if there ever was one) of "Stick to Sports" is over. Apparently not in Foxborough.