Patriots
The Buccaneers are dangerous. Here's why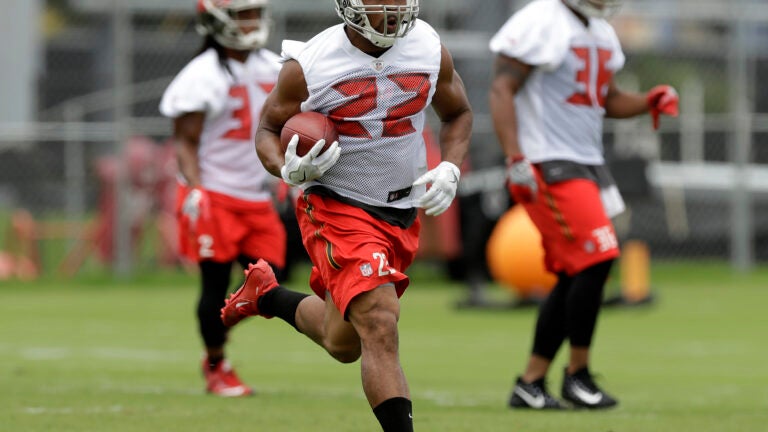 The Tampa Bay Buccaneers are coming off a walkoff, 25-23 win over the New York Giants and sit at 2-1 after their season opener was postponed.
Now in Week 5 on Thursday Night Football, Tampa Bay hosts New England for the first time in 20 years. (The Bucs were the home team in 2009, but the teams played in London.) Tom Brady has never played in Tampa as a professional. Bill Belichick has never beaten the Bucs in Tampa, as a head coach or assistant. And the Patriots are reeling after being upset by the Carolina Panthers as their defense continued to struggle, while the Buccaneers look like a team on the rise.
As the Bucs aim to hand the Patriots back-to-back losses for the first time since the end of the 2015 season, here are five players who make the Buccaneers dangerous:
Doug Martin
The running back returns from suspension this week.
When he entered the Bucs locker room for work this week, he was greeted warmly.
"Doug!'' defensive lineman Gerald McCoy exclaimed while picking up Martin for a big hug. "You're back!''
Martin, who is well-liked and well-regarded among his teammates, has developed a reputation of posting his best performances only when he is playing for something; in his rookie year in 2012, he rushed for 1,454 yards and 11 touchdowns. In 2015, when the Bucs did not pick up his option, Martin put up 1,402 yards and scored six touchdowns. Now, he is coming off a suspension.
"Now Doug Martin is playing for his entire career,'' the Tampa Bay Times's Rick Stroud said on a podcast Monday. "When he's motivated, when he's in shape . . . he's a very good running back, and they're counting on that.''
Although it is unclear how much he will be used in his first game back, he knows one thing he brings this week.
"Fresh legs,'' he said.
The Bucs' ground game ranks 26th in the league at 84.7 yards per game, 31st in the league in total carries (66), and 25th in attempts per game (22). They are averaging just 3.85 yards per carry, 19th in the league. In Martin's stead, Jacquizz Rodgers, Peyton Barber, and Charles Sims have split the carries, with Rodgers getting the bulk of the work at 40 carries for 165 yards and a touchdown.
"Ah, man. I'm happy to have Doug back!'' quarterback Jameis Winston said. "You know, I've been texting him after games just to tell him, 'One more, one more. Hey Doug, you're going to be back this week. We're going to be happy to see No. 22 running around.''
Cameron Brate
Tight end Cameron Brate was undrafted out of Harvard in 2014, but worked his way up to eight touchdown catches a year ago, tied for most in the league by a tight end.
Brate, who is 6 feet 5 inches and 245 pounds, is known in the Bucs facility for coming in early for extra film study and staying late after practice to log more red zone work.
"Who is the hardest-working guy who receives, that catches the ball? Who is that? That's Cam Brate,'' Winston said. "He's the cream of the crop. This guy's been working his whole life.''
Through three games, Brate has 137 yards on 10 catches, two of which have been for touchdowns. His 13.7 average per catch ranks third in the league among tight ends with at least 10 catches. His 76.9 catch percentage is second on the Bucs among players who have been targeted at least five times. And both of his touchdown receptions have been in the red zone.
"In the red zone, those throws are so tight and the areas are so small because the field is compressed,'' Brate said. "It really comes down to timing and ball placement. The only way to get better at that is working on that, so that's what we do.''
Mike Evans
The big-bodied receiver (6-5, 225) has a vast catch radius and uses his size to outmuscle and outjump defenders to pluck the ball out of the air. He leads the Bucs in receiving with 19 catches for 227 yards and two touchdowns, both of which have come in the red zone.
"[He] knows that he cannot be stopped, especially down [in the red zone],'' Winston said of his favorite target. (Winston has thrown to Evans 32 times in three games, 12 more times than any other pass catcher.)
Considering the Patriots just faced two bigger receivers in Kelvin Benjamin and Devin Funchess who combined for 11 catches, 174 yards, and two touchdowns, Evans presents a similar challenge for the league's worst defense.
Brent Grimes
The cornerback returned from a shoulder injury in Week 4, and, at 34 years old, had success when matched up against the Giants' Odell Beckham Jr., allowing just two catches on seven targets for 10 yards, according to Pro Football Focus. He finished the game with three pass breakups and five tackles.
Grimes's return to the lineup was a boost; without him against Minnesota in Week 3, Tampa Bay allowed 369 passing yards, the most in the league that week.
"That's the best corner in the league,'' fellow Bucs cornerback Vernon Hargreaves said. "I've been saying that. That's what he does.''
In three seasons in Miami, Grimes grew familiar with Brady and the Patriots' offense. Although Grimes has 30 career interceptions, he has yet to pick off Brady, but the Patriots and Dolphins did split the six contests while Grimes was in teal and orange.
And for a Bucs team that has recorded just one sack this season, it needs all the coverage help it can get while it works out its pass-rushing struggles.
"When you are having a hard time generating a pass rush, you better cover,'' coach Dirk Koetter said after Sunday's win over New York. "Brent led the charge on that.''
Bryan Anger
Through four weeks, the Patriots have faced two punters who are in the top six in the league in yards per punt: Houston's Shane Lechler (second, 50.6) and New Orleans's Thomas Morstead (sixth, 48.6).
This week, they face Tampa Bay's Bryan Anger, who ranks 13th in yards per punt. Although he has attempted the second-fewest punts in the league, the Bucs have played just three games because their season opener was postponed. Anger has booted it 11 times, averaging 46.2 yards per (45.3 net) and pinning three inside the 20-yard line. His coverage unit has yielded five fair catches and just two returns for 10 yards.
Although the Patriots have returned the second-fewest punts in the league this season (four returns on 14 punts), they average 15.3 yards per return, second-best in the league. (Danny Amendola returned two punts against the Texans for 53 yards, accounting for nearly all of New England's 61 yards on punt returns this season.) Nine of the punts against the Patriots have been pinned inside the 20-yard line, and they have waved for a fair catch eight times.
The Patriots' top-flight offense has proven hard to slow, and getting an edge in starting field position — even if it's only slight — will go a long way for a Bucs' defense that is struggling in the pass rush (one sack) and ranks 30th in yards per game (394.3).
A few leftover notes on the Bucs
DeSean Jackson has not crossed the 10-catch mark for the season yet. His nine catches catches on 20 targets makes for the lowest catch percentage (45) on the Bucs. Jackson expressed his frustration on the sideline against the Giants in Week 4, yelling and throwing his gloves on the ground after Winston missed him on a two-point conversion. Winston and Koetter both acknowledged that he is right to be frustrated. Winston took responsibility for not being more accurate on his throws. "That's on me,'' Winston said. "That comes with my development of being able to throw the ball down the field and get him the football. I had three opportunities and I over-shot him. I under-shot him on one. So it's a work in progress.''
■ The Bucs have just one sack on 127 dropbacks through three games. They also do not have a takeaway since their first game. Meanwhile, Brady has been sacked 13 times, tied for seventh-most in the league, and hit 28 times through four contests.
■ Injury watch: Linebacker Lavonte David (ankle), linebacker Kwon Alexander (hamstring), and safety T.J. Ward (hip) missed Sunday's game against the Giants and did not practice Monday. David and Alexander also did not practice Tuesday while Ward was limited.
[fragment number=0]