Patriots
Tom Brady on Wes Welker's infamous 'feet' presser: 'Who cares if it got him in trouble?'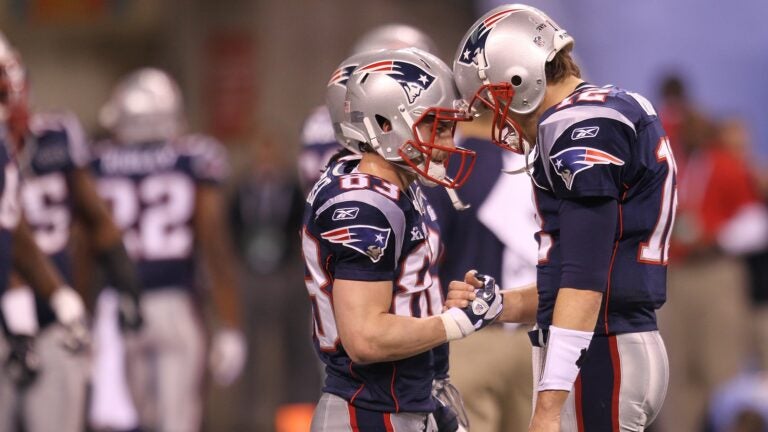 A fair share of harmless pranks take place behind the closed doors of the Patriots locker room, but in 2011, Wes Welker took his antics public.
During a pregame press conference for New England's divisional playoff contest against the New York Jets, Welker made a pointed effort to tie his answers back to a specific body part: feet. Why feet? Well, less than a month prior, videos had emerged of then-head coach of the Jets, Rex Ryan, exhibiting an apparent foot fetish.
"Wes had called dad and told him he was going to do it," Welker's brother Lee told NFL Network. "I was like, 'No you are not. Surely not.'"
Surely yes. The former wide receiver successfully wove 10 references to feet into his responses to reporters' questions.
"I guess I just got tired of like him being the guy that talked trash the whole time," Welker said of the incident in his episode of NFL Network's A Football Life. "So I was like OK, fine. I'm going to do it."
His tomfoolery caused Patriots head coach Bill Belichick to sideline him for part of the team's first postseason game, which New England ultimately lost. Nearly seven years later, quarterback Tom Brady, a prankster in his own right, still remembers his former teammate's shenanigans.
"Wes always brought a lot of life to things and he had a great personality, always keeping things light for everybody," Brady said. "Who cares if it got him in trouble? Nobody really gives a sh– about that."
Watch Welker's full presser below.
But if you're just looking for the foot references, here's a condensed version.
https://www.youtube.com/watch?v=0WCb17psf8A