Patriots
In response to book criticism, Tom Brady says no one 'can tell me what my experiences have been'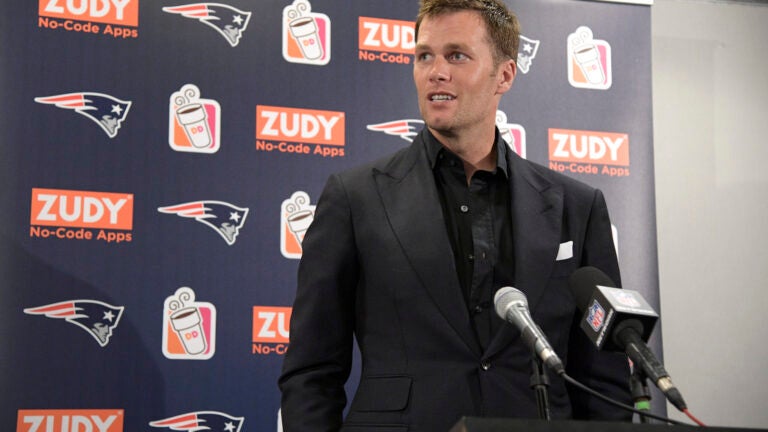 Tom Brady is standing by the health claims, which have been questioned by some, in his new book "The TB12 Method."
"It's really my experience, so I don't think anyone can tell me what my experiences have been," Brady said in a radio interview Monday morning, according to WEEI.
Brady said he had been following his regimented routine for a long time.
"I really have a great feeling of what I believe works and doesn't work," he said. "Everyone has their own belief systems I think with everything, especially in the sense of health and wellness."
In his recently released wellness book, Brady said the copious amounts of water he drinks on a daily basis prevents him from getting sunburned. Medical experts have said the claim is "definitely incorrect" and baseless.
Dr. Caroline Kim, a dermatologist at Beth Israel Deaconess Medical Center, recently told Boston.com that while hydration can help with recovering from a bad sunburn,  there is no basis to believe water consumption would help prevent a sunburn.
"There is no scientific evidence that level of hydration would protect someone from getting damage from ultraviolet radiation," Kim said. "We know that the best methods of protection really are clothing and sunblock."
Some experts have criticized the quarterback's book for presenting his trademarked method as "proven fact."
Brady said Monday that there is a lot of confusing information circulating about health and wellness and that the goal of his book was to provide people with a "very simple, plain, easy to understand" (and expensive) way to be more "holistic" in their approach.
"I think I really achieved that, just based on things that I have experienced and that have worked for me," Brady said. "People were interested that it could really work for them too."