Patriots
Patriots linebacker Harvey Langi and wife hospitalized after car crash in Foxborough
"They are torn up but very lucky to be alive."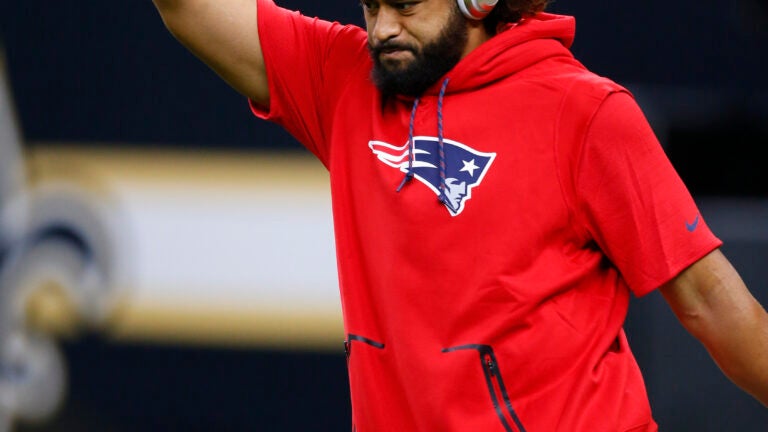 Patriots rookie linebacker Harvey Langi and a passenger were hospitalized after their car was involved in a crash at a traffic light Friday night in Foxborough, according to the New England Patriots.
"We are aware of the traffic accident involving Harvey Langi and a passenger last night in Foxborough. The two were stopped at a traffic light when they were rear ended by another vehicle," the Patriots said in a statement Saturday afternoon. "They were both transported to a local hospital with injuries and are receiving medical attention. Our thoughts are with Harvey, the Langi family and those who sustained injuries in last night's accident."
Langi's wife, Cassidy Lynn Langi, tweeted Sunday morning that she was the passenger in the car. She thanked everyone for their "love and support" and said she and her husband are "both focused on recovering from this."
Harvey Langi and "a passenger"…. that's me ???Thanks to everyone for the love and support! We are both focused on recovering from this. https://t.co/MMWEdTr3V2

— Cassidy Lynn Langi (@CLangi10) October 15, 2017
NESN's Doug Kyed first reported Langi's passenger was his wife, and that their injuries are considered "serious but not life-threatening."
Langi's father-in-law, Rick Wahlin, told the Utah-based Deseret News that the 25-year-old rookie out of BYU was being treated for neck and head injuries. Langi's wife, Cassidy, suffered fractures to both hips and broken ribs, and is being evaluated for possible internal bleeding and injuries to her liver and spleen, he said.
"They are torn up but very lucky to be alive," Wahlin said. "All Harvey has cared about is how Cassie is doing, that's been his biggest concern, and we are grateful for him and all the prayers that have been directed toward our families."
As Kyed reported, the crash happened at the intersection of Fisher and Commercial streets. Local emergency responders posted photos of mangled cars at the scene on social media. According to the Foxborough fire department, the 9:30 p.m. accident involved three vehicles and resulted in five people being taken to the hospital
3 car MVA commercial @ Fisher st. shortly before 2130 hrs this evening, 5 total pt's transported, jaws used to free one occupant pic.twitter.com/aw86kC7JNm

— FoxboroughFire2252 (@FoxboroughFire) October 14, 2017
According to the Deseret News, Langi's car had stopped to make a left turn and was hit from behind by a vehicle "traveling at a high rate of speed." Crews reportedly had to cut off the top of Langi's car to extract him and his wife.
"They are hurt but they are alive and that's a blessing we are grateful for," Wahlin, who flew with his wife from Provo, Utah to Boston to help, told the paper.
NBC Boston and WCVB reported Saturday night that Langi was released from hospital.
Langi's teammate David Jones tweeted his support Saturday afternoon:
Praying for my brother @LANGI21 quick recovery for you and your wife ??

— David Jones ™ (@the_davidjones) October 14, 2017
The Patriots ruled Langi out of Sunday's game against the New York Jets due to a back injury.