Patriots
Stephon Gilmore ruled out for Patriots-Jets game with concussion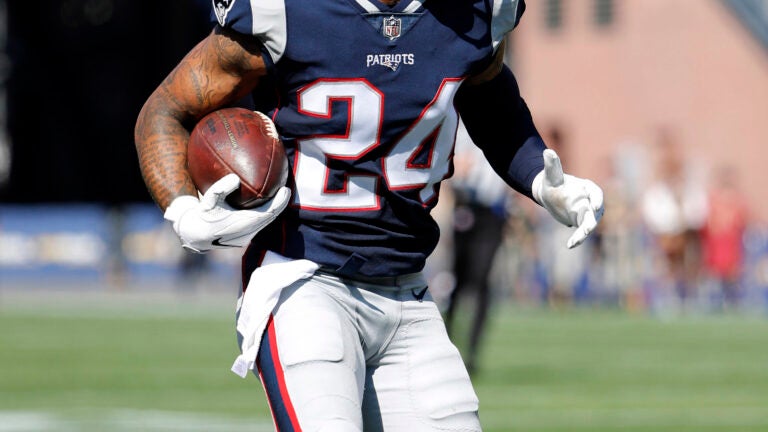 FOXBOROUGH — Patriots cornerback Stephon Gilmore is a surprise scratch from Sunday's game with a concussion, the team announced Saturday.
Gilmore had been listed on the practice report with an ankle injury during the last week, but was removed from it Friday and listed as a full participant. It's unclear when he suffered the concussion.
In addition to Gilmore, the Patriots also downgraded Langi and running back Rex Burkhead (ribs) to out. Cornerback Eric Rowe (groin) previously was declared out.
Talking the talk
"Communication'' was the buzzword as the Patriots' defense struggled out of the gates.
Players, coaches, and pundits pointed to poor communication or a lack of communication as reasons the team gave up an average of 32 points through the first four weeks. Better communication was largely thought of as the first step in fixing what ailed Matt Patricia's crew.
The communication improved in the Week 5 win over the Buccaneers, but not to the point where anyone thinks the problems are a thing of the past.
"When you see progress like that you're happy,'' said linebacker Dont'a Hightower. "We came a short way but we've got a longer way to go. The season is a lot longer. There were things that we liked and things that we didn't like. At the end of the day, that's football. Hopefully, [we're] just going to build on last week.''
The six-year veteran said improvement in communication on the field starts with improved communication in the classroom.
"Even today watching film I got the new guys right around me so we're all talking and communicating and we're trying to progress as a defense,'' he said. "It's not a one-man thing. We're not depending on one person or anything like that. We're only as good as our weakest link so we're just trying to keep everybody as sharp as we can.''
Hightower, who had been playing mainly on the perimeter before the Buccaneers game, showed his versatility in his return, playing end and in the middle. No matter where he's lined up, he feels responsible for getting everyone on the same page.
"I think communication is on me whether I'm on the ball or not, but it's definitely a lot easier being in the middle,'' he said.
Another reason for the improvement has been an increased workload for Hightower, who suffered a strained right MCL in Week 1 and missed two games. He returned for the loss to the Panthers but played just 37 of 63 snaps. Just four days later in Tampa, Hightower played with energy and enthusiasm and was on the field for 62 of 72 snaps. Despite the increase in snaps, Hightower doesn't feel he's fully up to speed.
"I mean, just missing time like that is time that I'm not going to get back, time that I missed on the field with my teammates, that chemistry that I missed, but my experience in the defense helps me a little bit more than most,'' he said.
Allen adjusting
Tight end Dwayne Allen is the first to acknowledge he "hasn't played up to my potential.''
Acquired from the Colts in the offseason to help offset the departure of Martellus Bennett, Allen has yet to record a catch on six targets. He has had solid contributions as an in-line blocker and played a season-high 50 snaps against the Buccaneers with Rob Gronkowski (thigh) sidelined.
"It's kind of hard. The role that I'm in right now, I don't get many passing opportunities, but that's part of the game,'' Allen said. "You own up to your role, you embrace it, and you continue to get better. It's all about the team winning at the end of the day.''
Allen, who had 35 catches last season, said getting up to speed in the Patriots' offense has been a longer-than-expected process.
"A lot goes into every offense, especially this one,'' he said.
Asked what's been the most difficult part, Allen said, "The nonverbal communication between the quarterback and receivers, certain things Tom [Brady] expects, when you're not able to execute those things, you're not out there as much.''
A surprise to some
The Jets are riding a three-game winning streak and tied for first in the AFC East. Though many speculated the Jets were planning on tanking this season in order to get a high draft pick, Bill Belichick said that's far from the case. "Whoever's saying that, I don't know what games they're watching,'' said the coach. "Maybe it's fantasy football or some garbage. I don't know how you can watch that team play and not think they're not one of the most competitive teams we've played.'' . . . Brady is shooting for his 187th career regular-season win, which would give him the top spot in the record book by himself. He's in a tie with Brett Favre and Peyton Manning.