Patriots
5 things we learned from Julian Edelman's new memoir 'Relentless'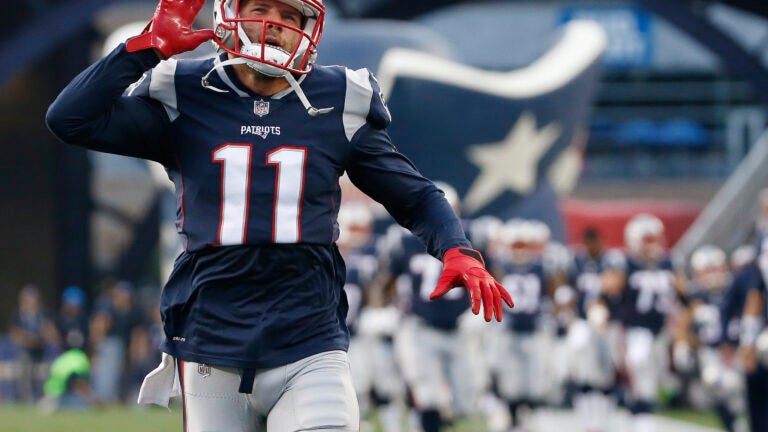 "No. We don't want you."
Julian Edelman first heard those words when he was just 14 years old, after he had been turned away by his dream high school. But it wouldn't be the last. Throughout his entire football career, from Pop Warner to the NFL, the New England Patriots wide receiver has constantly had to channel hard work, competitive energy, and mental toughness to overcome the naysayers.
In his new memoir, Relentless, Edelman chronicles his journey from a perpetual underdog to now a two-time Super Bowl champion.
Here's what we learned from the memoir:
His dad had a tough love approach to parenting and coaching.
As he was growing up, Julian remembers playing soccer, baseball, basketball, and of course, football with his father, Frank. One of his son's first coaches, Frank shared the same devotion to sports as Julian, but had an even stronger penchant for developing a resilient work ethic. The latter manifested itself in not only hours and hours of training but also in a few unconventional practices.
His mother, Angie, recalls looking out the window of their home and seeing Julian dribbling a basketball up and down the street. She'd ask him, "What are you doing?" To which her son would respond, "Dad called and and told me to dribble for a half hour."
"Everyone was terrified of my father," Julian writes.
Why? Maybe it was the yelling or the swearing, or maybe it was the time he started whipping baseballs at Julian on the diamond. The top rule in Frank's handbook was "no sniveling," meaning no feeling sorry for oneself, and he ensured Julian understood that message.
"I was pretty bad. But I was bad in a good way, if that makes sense," Frank writes. "I'm surprised I didn't wreck him. My kids didn't have a normal upbringing. It was all about work. It was all about staying productive. I figured that everything you do has to benefit you. I really wasn't into sitting around and having fun. Everything I did, you were learning or bettering yourself."
Julian jokes that if his dad were coaching him today the same way he had throughout his childhood, "the cops would probably be pulling up half the time." But the wide receiver is thankful for his dad's presence and example. And all those football drills, even the one where Frank would throw glasses on him and tape one of the eyes shut, certainly paid off.
He was, as he likes to put it, "a little punk."
Edelman was by no means a well-behaved goody two shoes. And he'd be the first one to admit that he was quite the opposite.
The young troublemaker had a BB gun when he was eight years old, and as a fourth grader, he remembers getting detention for having his shirt untucked. With his slicked hair and tough guy attitude, Edelman says he was an "outcast" at his private school, mainly because "it was real classy and [he] really wasn't."
Some of his other shenanigans include filling an empty test tube of Raven's Revenge candy with sand and selling it to a classmate, who later chugged it; walking behind a teacher on the playground and gesturing "suck it;" and naturally, scoring too many points in basketball.
From an early age, Edelman was never afraid to back down from a fight: "I would talk sh– to a big dude even if I knew I was still going to get my a– beat. I got beat up my whole life."
His feisty nature persisted beyond adolescence and became an integral part of his college persona at Kent State. He even busted his jaw just two weeks before the all-important pro day. While training for one of his only opportunities to impress NFL scouts, Edelman got into it with another receiver, who ended up popping him in the face.
"I couldn't really talk, so I sounded like I had rocks in my mouth," he recalls from the big day. "Not the best impression."
His size has always been a chip on his shoulder.
Starting with when he had to repeat the fourth grade at his new school, Edelman has always been on a mission to show his worth. While his smaller size didn't initially present much of an issue — seeing as he scored 36 touchdowns en route to a Pop Warner national championship — it slowly crept up on him as he grew older.
"I played two more years of Pop Warner and noticed how the other kids were getting bigger, and I wasn't," writes Edelman, who weighed 80 pounds at age 12. "They were hitting puberty and I still looked like I was eight years old. I wasn't the fastest kid anymore. I was getting left behind."
Frank says that he would cry to him at night, asking him when he was going to grow. His father always offered the same answer: "It'll come." Julian even remembers that a big reason he stopped playing baseball was because his summer league coach benched him on account of his height and weight.
"It's a chip on my shoulder, I guess" Julian writes.
His classmates would tease him for his stature, and his sister, Nikki, remembers how heartbreaking it was to see Julian full of desire "to show everything he had, but there was only so much his little body could do and show."
Once he got to Woodside High, things got off to a rough start. At 105 pounds and just barely five feet tall, Julian was outmatched by his heavier and taller teammates. As he remembers, "I got the sh– beaten out of me at running back, ended up hurting my knee and missed six weeks."
His sophomore and junior seasons offered a little more success — as he moved into new roles as both a quarterback and cornerback — but not much. Without a growth spurt, he still hadn't hit his stride. And the team's disdain for their head coach coupled with a series of canceled games didn't help.
The summer before his senior season, Edelman finally started to grow. At 5-foot-9, 150 pounds, he finished the undefeated year, 13-0, with a championship. His high school career stat line as a quarterback features an impressive 2,237 passing yards, 29 passing touchdowns, 964 rushing yards, and 13 rushing touchdowns.
"After all the sh– I'd listened to about being too small and all the pounding I'd taken when everyone was going and I wasn't, I felt pretty good about that," Edelman writes.
His rookie year with the Patriots was a rude awakening.
After getting selected by the New England Patriots as the 232rd pick in the seventh round of the 2009 NFL Draft, Edelman felt as though he was back at school. He made flash cards of the formations and route concepts, and stayed up late reading the three-and-a-half inch thick playbook. After all, his first impression of head coach Bill Belichick was that he liked to give quizzes.
"One day during rookie camp, we were gathered together, and [Coach Belichick] pointed to a picture," Edelman recalled. "I thought it was one of our guards, Steve Neal, but we had no freaking clue. Bill said, 'You're going to be sitting next to a guy that has been playing for seven years and you don't know his name? It would be a good thing to get to know your teammates.'"
It's safe to say Edelman added a printout of the roster to his nightly study materials. The rookie recalls morning meetings being extremely stressful, as pop quizzes were the norm in the Patriots locker room.
"I would be in my seat going over my notes like I was preparing for a test, hoping he wouldn't call on me," Edelman writes.
The now 31-year-old worked his tail off to try and make the team, while at the same time, he did his best to not disturb his veteran teammates. Julian remembers his very first rep with Tom Brady during an OTA. He dropped the pass, and before the ball even hit the ground, he heard Brady yell, "We have to catch the ball! Let's f—— go!"
The first time he saw Wes Welker — a player who he'd drawn many comparisons to — was at the salad bar in the team cafeteria. Welker was decked out in a leather coat, while Edelman was rocking his Patriots sweatshirt. The pair didn't exchange any words; in fact, Welker didn't even look at him.
"I was trying to make eye contact with him and strike up a conversation, but there was nothing doing," he remembers.
Despite their striking similarities in size and ability, Welker didn't take Edelman under his wing, but Julian did not expect him to either. However, that didn't stop him from asking a few questions every now and then. Welker would occasionally answer them, but other times he would just say, "Hey rook, just listen to the f—— coach."
"Right off the bat, first day, he sat at the desk right next to me asking questions," Welker remembered. "Almost to an annoying point. That's his personality, and you would rather have it that way, a guy who takes the bull by the horns and tries to learn, than someone being too shy or scared or prideful to ask a question."
The veteran-rookie dichotomy extended beyond Edelman's position group. During another practice when he was practicing his "stab" blocking technique during a punt return drill, Tedy Bruschi came up to him after the rep and said, 'Hey rook. Don't you ever touch me again, all right?" The next rep, Edelman opted to stab the air next to him, around him, and under him in order to continue to compete as hard as he could without pissing off Bruschi.
"It was absurd, and I looked like an idiot, but there wasn't any way around it," he writes.
Edelman says he found Randy Moss to be pretty intimidating, but he "became an awesome teammate." Moss endearingly used to call him, "Edelnut," and would also give him little pointers on things like coming out of breaks during his routes. He also formed a close bond early on with Rob Ninkovich and Matthew Slater. But Edelman did not step one foot into Boston until the season began, as he was completely dialed in on one thing and one thing only: making the team.
He's crossed paths with a number of starlets, some more famous than others.
Lucas Yancey: His name might not instantly ring a bell, but Yancey is likely more recognizable by his catchphrase: "Whaboom!" Made famous by his appearance on a recent season of The Bachelorette, Yancey was one of the contestants pining for Rachel Lindsay's heart and dropped countless "whabooms" along the way.
But Edelman had heard this tagline before; in fact, he's even said it. His whole high school football team has, as Yancey was starting quarterback at Woodside High School. When Edelman was a junior, he beat out Yancey, a senior, for the starting job.
Jaqui Rice: Julian's high school girlfriend was Jaqui, a girl who he met in eighth grade. She lived up the street from him, so he'd usually ride his bike to her house, and then they would go to Taco Bell or play driveway basketball. But Edelman was terrified of actually going inside her house because Jaqui's dad was none other than former San Francisco 49ers wide receiver Jerry Rice.
"He was a god to me," Edelman writes. "The first time I saw him, we were shooting hoops and he came out on the front steps, no shirt on, all yoked up, gold chain, six-pack abs. I was shook, and I think that might have been the point Jerry didn't really talk to me and never talked to me about football."
Even after he had made the Patriots and came back to visit Jaqui following his rookie season, Edelman says Jerry didn't acknowledge the game. They both attended the 2017 Kentucky Derby, so while at the horse race, one of Edelman's Patriots teammates couldn't help but make a comment.
"I hear Jules spent a lot of time at your house when he was a kid," quarterback Tom Brady joked.
Edelman says Jerry laughed, though he's not sure if he actually found it funny.