Patriots
Don't discount Patriots' complete effort, even against the broken Atlanta Falcons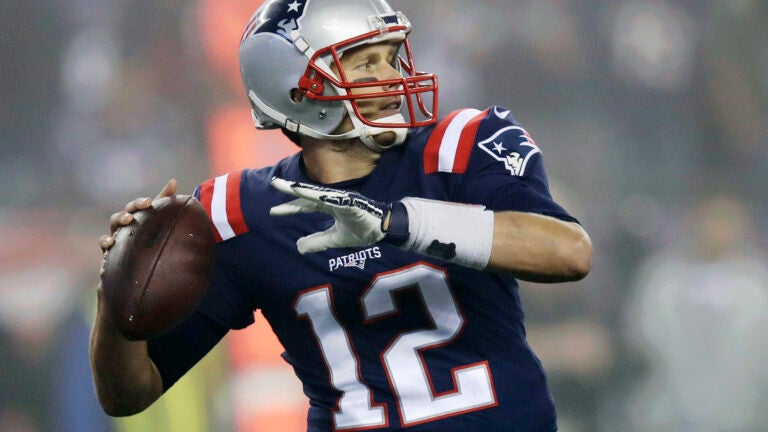 COMMENTARY
Well, there they are.
Let the record show that when we eventually summarize this season for the New England Patriots, that the team made its first true appearance on Sunday evening in Foxborough.
From the thickness that descended upon Gillette Stadium emerged an apparition of a New England defense seemingly gelling for the first time all season, the same of which can be said for special teams units, a matter which no doubt skipped a heartbeat in Bill Belichick's vicinity on the sideline. The offense chugged along via both ground and air, and the Patriots — finally — played the part of a defending champ that should be head and shoulders above the rest of the competition (for lack of a better word).
The Patriots finally looked complete against the Atlanta Falcons.
Substitute "Atlanta" for "Cincinnati," and you'll understand that we've seen this before.
Yes, the Falcons are a thoroughly broken team, carrying a Super Bowl humiliation that had just about much chance of lifting Sunday as the clouded coverage that meteorologically defined the night. Falcons head coach Dan Quinn could just as well have emerged from the visitors locker room with a "Kick Me" sign attached to his backside, an invitation in the complete understanding that he and his team have been mentally ruined by how the Patriots crushed their championship dreams back in February.
Since leading Super Bowl LI by a score of 28-3 (I looked it up), the Falcons had been outscored by the Patriots, 54-0, a streak broken only when Matt Ryan found receiver Julio Jones in the end zone for a garbage-time, fourth-quarter touchdown. The Falcons, a team that once upon a time led the NFL in scoring with 33.8 points per game last season, found themselves shut out for five consecutive quarters, dating back to last week's gag job against the Miami Dolphins, a game which they led 17-0 at halftime.
Their only hope in New England hovered around the fact that the Patriots led by the same score heading into halftime on Sunday night.
It didn't matter. The 3-3 Falcons are dead.
The 5-2 Patriots, meanwhile, may have just come to life during their 23-7 victory in the much-billed Super Bowl rematch.
We won't be seeing those calamitous Atlanta Falcons come February in Minnesota, leaving the perch open for another NFC team to take their place in Super Bowl LII. But from what emerged Sunday night, it's safe for Patriot fans to breathe a sigh of relief, rightfully asking, "What took them so long?" before realizing that, oh, wait, nothing new here.
For the first time all season, the Patriots defense, which was rolling along smoother than only perhaps the John Farrell Fan Club in these parts of late, displayed competency and communication against the Falcons, a team that, by all accounts, arrived at Gillette Stadium with its collective tails between its legs from the outset, but also one that had 53 men on its roster. Over the first six weeks, that's usually where the trouble began for Matt Patricia and company.
But for the first time all season, Malcolm Butler, Devin McCourty, and, of course, Johnson Bademosi, helped not to allow a 300-yard passer (Ryan had 233 yards on the night), ending the streak that made them the first team to go six-straight games doing so. As messed up as we discovered the Falcons are, nobody expected this defense to rebound with a performance that was all but a shutout against the team that almost raised Lombardi's trophy nearly nine months ago.
But this has been coming now, particularly for a defense that began 2017 so dreadfully, allowing 108 points over the first four games. Over the last three weeks, all wins, the unit has allowed 38 total, or four fewer than the Kansas City Chiefs alone scored in Week One.
"We're just better," defensive back Duron Harmon said. "We continue to improve each week. From the Panthers game on until now, we just continue to get better each and every week. We continue to come to work, work together, try to find the best combination of players that we can put out there and everybody that goes out there continues to do a great job and just work hard."
Maybe that Panthers game should have served as a veritable line in the sand in some way, considering the point totals that have drastically reduced since. It was only two seasons ago, of course, that the 2-2 Patriots were coming off a dreadful loss, only to have Belichick focused on the Bengals with a catchphrase that would go on to characterize the season as a whole, if not try to temper the early-season hysteria that might accompany "UnPatriot-like" performances.
The stench was so bad though that it lingered into trips to Tampa Bay and the Meadowlands.
But not at Gillette. Not any more.
"I thought everyone was really focused and everyone did a great job of really honing in on what we needed to do," Brady said. "The D kept making plays and we kept going out there and chipping away. You know, we didn't score as many touchdowns as we'd like, but we scored enough. It was a great team win."
We should have known. Making adjustments isn't only about how to survive when down 28-3, it's also about how you react when your defense shows signs of being the worst product you've presented to the league in years. This is what the Patriots coaching staff does every season, despite out squinting in doubt over the current version of defensive wunderkinds (minus $65 million man Stephon Gilmore).
"Just overall, everyone understanding game plan and play-in, play-out, 11 guys on the same page," McCourty said.
No better time than for a stretch that includes the San Diego (I don't care) Chargers, winners of three in a row, the annual nightmare journey to Denver, Colo., and five more games against AFC East drag that should come back to earth by the time they start to appear post-Thanksgiving.
Things should be back to normal by Christmas. As you expected by just past Groundhog Day.
The New England Patriots have arrived. Fully. Completely.
Finally.
Totally on schedule though.