Patriots
10 things we learned from ESPN's timely story on Tom Brady's longevity
In 2014, a Patriots coach told Brady his "body language reeks of fear."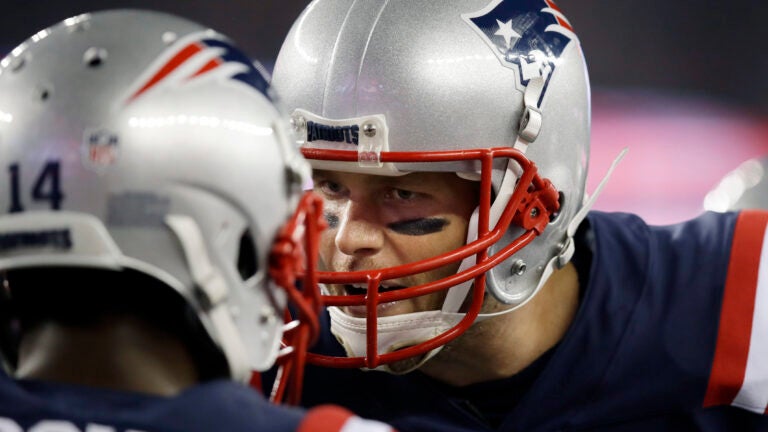 Only hours after news broke that the Patriots were trading his backup, ESPN released a lengthy story about Tom Brady and his quest for continued longevity. Brady, who at 40 is already eclipsing the career trajectory of previous legends, is still at the top of his game. If anything, the Garoppolo trade only further confirmed the Patriots' confidence in him for more than merely the short term.
ESPN authors Tom Junod and Seth Wickersham broke down Brady's career outlook – both on the field and off of it – in detail. Providing numerous anecdotes and quotes from the recently released "TB12 Method," the story attempts to explain the ongoing phenomenon of New England's ageless star (though the cover photo tries to predict the inevitable).
Here's a look at some of the interesting points from the article, titled "Tom Brady's Most Dangerous Game."
Brady is fighting "the oldest story in sports": As Junod and Wickersham define it, the so-called "oldest story in sports is an athlete getting old and playing past his prime, somehow hoping to avoid the inevitable."
In that way, Brady "has to play until he's 45, or else he's not Tom Brady, architect of the impossible." The stakes, in regards to the "TB12 Method," necessitate Brady continuing to play in the NFL at a high level for years to come, according to Junod and Wickersham.
Tom Brady, Robert Alford, and "the smiling face of fortune": Early in the article, the dichotomy of two passes toward Falcons defender Robert Alford in Super Bowl LI are highlighted as examples of Brady defying the odds (first the interception taken back for a touchdown, second the incredible Julian Edelman catch amid the comeback).
Interestingly, the most recent matchup with the Falcons also highlighted a Brady-Alford connection. During the 2017 game, Brady was again picked of by Alford. Yet the play was called back due to a penalty. Several plays later, Brady hit Brandin Cooks for a touchdown. Junod and Wickersham phrase it as "a pass thrown to Alford once again emblematic of the smiling face of fortune in Brady's career."
Brady says the debate over "sustained peak performance isn't about luck": Brady asserts in the "TB12 Method" that "sustained peak performance isn't about luck," but this is disputed based on specific football examples. Again citing Alford of the Falcons, the authors contest that had he – instead of Julian Edelman – caught the tipped pass in the fourth quarter of Super Bowl LI, the result of the game might have been different.
Additionally:
If Pete Carroll had just handed the ball to Marshawn Lynch in Super Bowl XLIX — we might be having an entirely different conversation about Tom Brady. He wouldn't be an immortal, and instead of talking about the efficacy of the TB12 Method in prolonging prime performance, we'd be shaking our heads about another NFL great reduced to chasing his own ghost. Brady didn't only get good against Seattle and Atlanta, he also got lucky.
Brady was challenged by a Patriots coach after the infamous 2014 Chiefs loss: Following the 2014 defeat to the Chiefs on Monday Night Football (in which Brady was benched in the fourth quarter), running backs coach Ivan Fears challenged Brady in front of the team:
The Chiefs drubbed the Patriots on Monday night early in the 2014 season, and Brady played so poorly — so creakily — that talk turned to whether he was, at long last, finished. A few days later, Belichick asked running backs coach Ivan Fears to speak to the team. Fears spoke about the importance of attitude, then turned to Brady and, with the entire team looking on, said, "Your body language reeks of fear."
Brady "doesn't remember" Fears saying that to him, but clearly responded with the rest of the team. New England would go on to win the Super Bowl that season, and Brady has been playing at an almost uninterrupted level of eliteness ever since.
Bill Belichick thought he could win a Super Bowl with Jimmy Garoppolo: Even though the Patriots have now traded their prized backup, it's not because Belichick doesn't believe in the 25-year-old.
"He'd told friends for the past year that he wanted to coach Garoppolo as a starter and that he was confident he could win a Super Bowl with him," the article notes.
The Patriots and Alex Guerrero are destined for a "collision": Brady's business partner, Alex Guerrero, isn't officially on the Patriots' staff. And his unofficial role has reportedly created friction with the Patriots' training staff:
Brady has found himself in the middle of a conflict between the Patriots and Guerrero, with Guerrero blaming the team's trainers for injuries some of his clients have suffered and with Belichick making it resoundingly clear that Guerrero has no actual role on his staff. "There's a collision coming," a friend of Belichick's says.
Brady knows that he might not fit into Belichick's plans for as long as he wants to keep playing: Famous for his cold-blooded analysis of football rosters, Belichick might not want to keep Brady for as long as Brady wants to remain in the NFL:
Brady is aware of the competing legacies at the heart of the Patriots' historic success. He says now that he "hopes" he doesn't play for anyone else, but "I'm also not naive to think I can't."
Concussions aren't talked about, even in regards to brain games: According to Henry Mahncke, CEO of Posit Science (a company that Brady has partnered with for brain exercises for the TB12 Method), the Patriots' quarterback doesn't talk about concussions.
"I talk to Tom a bunch, and this might surprise you, but he never talks about concussions, at all," Mahncke told ESPN.
The Broncos reportedly speculated that Brady had a concussion in the 2015 AFC Championship: Junod and Wickersham explain the speculation around Brady and concussions in the past:
Either Tom Brady is a football player who, like other football players, has suffered multiple concussions, or he is a football player who, unlike most other football players, has found a way to rise above the game's inherent assault on body and brain. It is not only his wife who says he is the former; many Broncos believe they noticed him in an all-too-recognizable daze during the 2015 AFC championship game.
The ESPN writers asserted that Julian Edelman's season-ending injury was representative of an issue with the TB12 Method: Towards the end of the article, Junod and Wickersham posit how Edelman's preseason injury showcased a flaw in Brady's methodology:
By Brady's logic, the injury could not have been a matter of luck — there is no luck. It could not have been the game — don't blame the game. It has to be a failure of pliability. "What will happen when an athlete with tight, dense, stiff muscles … runs and makes a sharp cut?" he writes. "If these functions overload a muscle, bone, tendon or ligament, he will get injured." But here's the problem: Edelman practices pliability. He "certainly gets some deep-force muscle work," Brady says. How then can Edelman have failed?
Other injuries to players practicing the TB12 Method ("Hightower with a knee issue and a pectoral tear. Amendola with a concussion. Gronk with a groin problem") also raise questions, in the writers' eyes.