Patriots
Here's a complete list of the Patriots' 2018 NFL draft picks
The Patriots drafted nine rookies in 2018.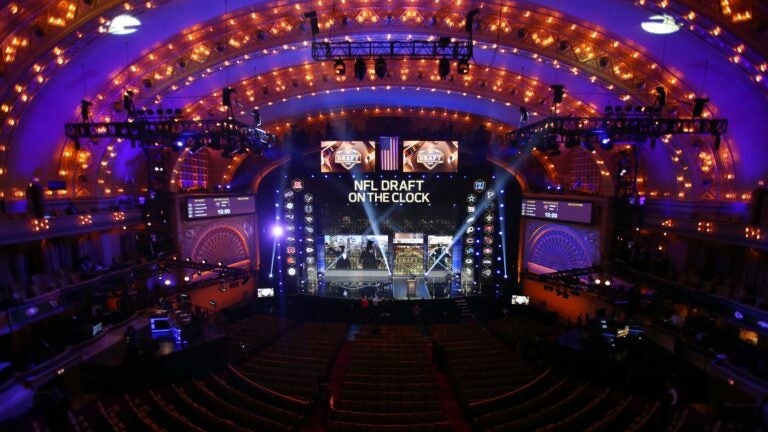 Here's a look at the list of 2018 Patriots draft picks:
1st round pick (23rd overall): Isaiah Wynn, offensive lineman, Georgia
1st round pick (31st overall): Sony Michel, running back, Georgia
2nd round pick (56th overall): Duke Dawson, cornerback, Florida
5th round pick (143rd overall): Ja'whaun Bentley, linebacker, Purdue
6th round pick (178th overall): Christian Sam, linebacker, Arizona State
6th round pick (210th overall) Braxton Berrios, wide receiver, Miami
7th round pick (219th overall): Danny Etling, quarterback, LSU
7th round pick (243rd overall) Keion Crossen, cornerback, Western Carolina
7th round pick (250th overall) Ryan Izzo, tight end, Florida State
The Patriots have made several notable moves involving 2018 draft picks over the past year. The most recent of which was sending Brandin Cooks to the Rams in exchange for a first round pick. Trading Jimmy Garoppolo to the 49ers in October – while leaving the Patriots with a conspicuous hole behind Tom Brady at the quarterback position – handed New England another promising draft pick.
This leaves the Patriots in an advantageous position regarding the first two rounds of the NFL draft. Never one to stand pat, Bill Belichick has often multiplied his draft pick options over the years. Looking ahead to the 2018 draft, that could be the Patriots' strategy once again.
The Patriots sent a fourth round pick to the Eagles because of the Eric Rowe trade from 2016. The determination was predicated on the percentage of snaps Rowe played. Since Rowe played less than 50 percent of the team's defensive snaps in 2016 and 2017 (Rowe played just 24.43 percent this past season), the pick sent to Philadelphia was not a third rounder.
Also, the Patriots traded a seventh round pick to the Bengals for linebacker Marquis Flowers in August.
Seattle owns the Patriots' 2018 fifth round pick, according to ESPN. The pick was included in the Sept. trade for Cassius Marsh. New England also traded a seventh round pick in the deal, but it was Seattle's own pick, per ESPN (which had been acquired earlier in a trade that sent cornerback Justin Coleman to the Seahawks).
On Feb. 26, 2018, the NFL announced the compensatory picks awarded to various teams for the upcoming draft. Due to the loss of several notable free agents a year ago, the Patriots were given the 36th pick in the fourth round (136th overall). However, New England traded this pick as part of the Cooks deal with the Rams.
Two additional trades in the 2018 offseason landed New England a seventh round pick, and a sixth rounder (in part of a deal that exchanged a previously acquired fifth round pick).
Have a question about the Patriots? Email us at [email protected] or tweet us @BDCPatriots.