Patriots
For Tom Brady, unending college competition set the stage for NFL greatness
"I was lucky to learn a lot of lessons at 19 and 20 and 21 that a lot of guys don't learn until they're 23 or 24 or later when it's too late."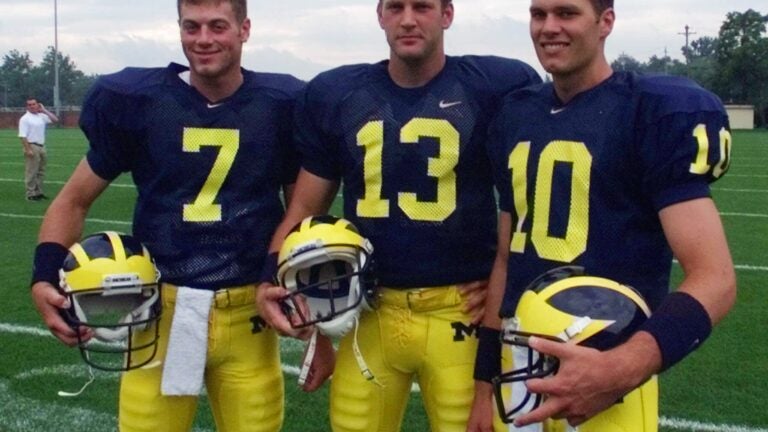 Remarkably, the Patriots are just as committed to Tom Brady at starting quarterback in 2017 as has ever been the case in the preceding 17 years. Despite being 40, Brady is New England's "past, present and future."
That fact was underlined by the recent trade of Jimmy Garoppolo to the 49ers. Brady's heir apparent was shipped to San Francisco for a second-round draft pick. It was yet another (friendly) quarterback competition that Brady emerged victorious from.
In many ways, Brady's entire football life as a quarterback has been defined by his ability to endure and outlast. It was what he did in high school, becoming a JV starter for the first time when his competition (another friend) quit the team. And Brady famously became entrenched in New England when Drew Bledsoe – still another friendly rival – went down to injury in the 2001 season.
Yet of all of Brady's quarterback competitions over the last quarter century, none was more challenging and, in a way, impactful than his five year quest to be the starter for the Michigan Wolverines. It was a critical proving ground for Brady, who emerged from the bottom of the depth chart to win and hold the starting quarterback job for two trying but successful seasons in Ann Arbor.
And it served as an important lesson for his progression to the NFL, as Brady himself noted when he thought back on his time in college.
"It was a great experience, but it had its challenges," Brady said reflectively. Pausing for a moment to ponder his experience, Brady offered a revealing explanation of his college years.
"The challenges I think toughened me up a lot," said Brady. "Growing up in California, and going to Ann Arbor and competing with those guys for as long as we did, it was a great experience. I took a lot of those things that I learned and brought them to the professional level. I was lucky to learn a lot of lessons at 19 and 20 and 21 that a lot of guys don't learn until they're 23 or 24 or later when it's too late."
Arguably the biggest lesson Brady learned at Michigan was one he clearly hasn't forgotten two decades later: The starting quarterback's job safety is always in question, even when it appears it isn't. In every season of his Michigan career – even in the two years when he was named the starter – Brady was always under threat of replacement.
Battling against a player Michigan coach Lloyd Carr described as "the most talented quarterback I've been around," Brady tested his strength and found himself equal to the task. By his own admission, it "toughened" him and elevated his game to another level. And from the pressure of Michigan's interminable quarterback competition emerged New England's diamond in the rough.
"Coming from high school you think you're the best thing in the world"
Originally, Brady was thought to be headed for Cal instead of Michigan. While the myth of Brady being a completely unheralded recruit has been essentially dispelled, his decision to attend Michigan was treated by California media with surprise.
"Cal's recruiting class was dealt a big blow last week when the top quarterback prospect in Northern California, Tom Brady of San Mateo Serra, chose Michigan over the Bears," wrote the Los Angeles Times in January, 1995.
As Brady pointed out in a chapter of his recently published book, "The TB12 Method," two of the three Michigan coaches who helped to recruit him to Ann Arbor were gone by the time he arrived that fall (assistant coach Bill Harris left for Stanford, and head coach Gary Moeller was fired). Right away, he had no one to fight his battles except himself.
"No one was actively rooting against me, " Brady wrote, "they just didn't know me."
Arriving in one of the nation's top recruiting classes of 1995, Brady was immediately thrown into competition against six other quarterbacks. The talent-laden roster was a tough place for freshmen.
Tai Streets, a wide receiver who would become one of Brady's favorite targets in Ann Arbor, recalled arriving in Michigan that year:
Coming from high school you think you're the best thing in the world. And you think that until you get your reality check when you get to college and find out everybody's just as good or better. And that class coming in, especially our class that had (Charles) Woodson and Brady and those guys, I knew we were going to be good.
Brady recalled it in a slightly different way, though it held a hint of his future.
"I remember being out there the first day of practice being like, 'Man, I'm better than these guys,' Brady explained in ESPN documentary in 2011. "And of course I wasn't, but that was always my attitude."
Brady redshirted as a freshman, but "impressed coaches" in practice toward the end of the year. Still, his route to becoming a starter seemed uncertain at best.
"The prospects of starting looked daunting, as I was mentally and physically behind Scott [Dreisbach]," Brady explained in a passage of his book. He credited team psychologist Greg Harden for helping him persevere, and become mentally stronger.
By 1997, Michigan was back on top of the football world, going 12-0 to win the National Championship. Brady was Brian Griese's backup. And with Griese's departure to the NFL, the job appeared to be Brady's for the taking in 1998.
"The hype ends today"
"I can't remember a quarterback of Drew Henson's ability ever coming out of the state of Michigan," said National Recruiting Advisor's Bobby Burton in a profile of 18-year-old Henson in 1998. The expansive piece describing the hyped recruit was featured in The Detroit News after he committed to Michigan.
In many ways, Henson was everything Brady was not. Where Brady had arrived in Ann Arbor with little fanfare, Henson had been personally recruited by Michigan legend Bo Schembechler. Henson was athletic, possessing a better arm and scrambling ability than Brady. And while Henson had been born in Southern California like Brady, he'd gone to high school in Michigan. He was a local talent who immediately drew the loyalty of local fans.
In April, what should have been Brady's first steps in the role of starter was already hampered by Henson's hype. On the first play of the Michigan spring game, Brady connected with Streets for an 85-yard touchdown. Yet afterward, Carr openly touted his incoming freshman.
"When Drew Henson gets here, there isn't any question he will add a dimension we don't have," the Michigan coach told the Detroit Free Press. "It's open competition. I expect him to compete."
On the first day of preseason in August, 1998, a hardened Brady spoke like a player who had fought every inch of the previous three years. As he overlooked a long line of Michigan fans lining up to get Henson's autograph, Brady explained the cold, hard reality that he had become acclimated to.
"The hype ends today when the doors close and everyone leaves," Brady told Bob Wojnowski of The Detroit News. "To be the best, you have to beat out the best. I've fought long and hard to be in this position, and I don't plan to give it up."
His resolve and competitiveness, more than any physical abilities, would prove decisive in the 1998 competition with Henson. And by this point, he had clearly won the respect of his teammates.
"I'm the champ right here"
An interesting portrait of Brady's leadership that year was illustrated by the team's collective obsession with mini-golf. Naturally, Brady had to be the best. And he was.
"We used to go play mini-golf at a bunch of places around Ann Arbor and he was fired up and competitive about it," recalled former teammate and current Arkansas offensive line coach Kurt Anderson. "That's just the type of guy he was."
"I'm the champ right here," Brady asserted in a 1998 story on the team's mini-golfing.  "Tai Streets likes to talk an awful lot. There are some guys on this team who are pretty good putters, but they don't match up here."
Streets, remembering it years later, noted how the seemingly trivial competitions spoke of a larger theme:
It was just really competitive. We would talk stuff to each other. I remember we had like a little British Open. We had names for all these things and I knew I was leading after one of them with all of us playing, and Tom came back and won it all. Won the whole thing. I just remember that for some reason. We competed at everything we did, which I guess is what made us good at what we did. We didn't want to lose to each other at anything. Ping-pong, mini-golf, video games, all that stuff. We just didn't want to lose.
The team's will to win was tested early in 1998, when Michigan – defending its National Championship – started 0-2. The second loss, coming against Donovan McNabb and Syracuse, highlighted a unique challenge for Brady.
Trying to rally his teammates on the sideline after a touchdown, Brady found that they were unresponsive. And part of it came down to the fact that despite outplaying Henson and winning the starting job, the freshman was still being inserted into the lineup periodically.
"Brady's credibility as their leader had been sullied," wrote Nicholas Cotsonika of the Detroit Free Press. "He had been replaced by freshman Drew Henson earlier and would be again."
Comments from Carr didn't help. On the same day that he was named the 1998 starter, Brady was undercut by lavish praise heaped upon Henson.
"Without question, he's the most talented quarterback that I've been around," said Carr. "He's going to play some this year, because he's not just another guy."
Again, Brady persevered. To his – and the general public's – surprise, Carr would eventually name Brady the sole starter. The faith was rewarded, as Michigan won eight straight, finishing the 1998 season 10-3, with a share of the Big Ten title. Brady comfortably noted that December how being the lone quarterback was a welcome relief.
"Yeah it was nice to go through a stretch there this season when people weren't saying, 'Why don't you play Drew?'" Brady said. "But the satisfaction I've taken from this season has nothing to do with Drew. It's not about beating him out as it is about trying to become the very best I can be."
"Tom had a great year last year, but at the same time, it's a new year"
One day after Brady helped orchestrate a comeback win over Arkansas in the Citrus Bowl, Carr insinuated that despite winning the competition to be the starter in 1998, Brady was no lock to continue starting in 1999. Barely 24 hours removed from the season, and another quarterback controversy was brewing.
Asked about it at that time, Brady answered in what writer Drew Sharp called an "exasperated tone."
"'I get that question every day and the answer stays the same,' Brady told Sharp. "I can only worry about the things that I can control. But I will say this: I'm confident that if I hold up my end, everything else will fall into place."
In February, while Brady continued his incessant workout regime, Henson was reporting to spring training with the Yankees. Having been not merely a high school football standout, Henson was also an exceptionally talented baseball player. He hit an astounding 70 home runs in high school (including one on the first pitch he saw), and was drafted by New York in 1998.
"When he's ready is when he'll play," said Yankees executive Mark Newman. "When he commits to the big leagues, he'll play right away. He has that kind of talent."
It was yet another in a long line of remarkable statements said about Henson. And though it was unrelated to football, it only further hyped the man competing against Brady.
Arriving in preseason with renewed confidence, Henson insinuated that he could win the starting job.
"Tom had a great year last year, but at the same time, it's a new year."
The competition of the two quarterbacks became the dominant subplot around Michigan football prior to the season.
"My wife wants to know," Carr told reporters. "And I don't think I can tell her."
While Brady was voted a team captain, Henson was "the people's choice," as an Associated Press article noted in August, 1999. He even had a website titled, "Michigan's Golden Boy" (a play on the Sports Illustrated feature written about him).
"I think Michigan Stadium erupted every time they took Tommy out of the game"
Interestingly, Brady's father, Tom Brady Sr., was the one who revealed the Michigan plan at quarterback. Brady would start the game and Henson would play the second quarter. Brady, writing in "The TB12 Method," attributes this as part of the reason why his father has been given the nickname "Loose Lips" by his family.
Unlike the previous year, Michigan started the season with a win over Notre Dame, 26-22.
Brady started the game well, but was replaced by Henson in the rotation. As former Michigan coach and current Boston College offensive coordinator Scott Loeffler recalled, it highlighted a great Brady moment:
I'll never forget it. It was in 1999 in the Notre Dame game. He started out with I think a few completions and then he was taken out of the game. Obviously the outside world, the 'noise' I call it, all wanted Drew Henson to be the starting quarterback. I think Michigan's stadium erupted every time they took Tommy out of the game. And he was always able to focus and only worry about the things that he could control. He went back into the game and led us to a come-from-behind win to beat Notre Dame.
Still, the rotation continued. By October, Michigan was the third ranked team in the nation, but lost in a tight game against Michigan State. Brady, who had been taken out, was sent back in with Michigan trailing. He rallied, leading multiple scoring drives, but the effort wasn't enough.
"I remember thinking, 'I played really well when I came back in, so maybe they won't rotate Drew and me anymore,'" Brady noted in "The TB12 Method." "Even so, a few days later, Coach Carr announced he was continuing the rotation."
A second loss proved the final straw for the rotation. Coming just a week later, Michigan fell 35-29 to Illinois despite holding a second half lead. Carr had seen enough, finally recognizing what Brady's teammates already knew.
"It's amazing that the story has been that 'Tom Brady wasn't the guy,'" said Loeffler. "Tom Brady was the guy. Forgetting the outside world, for the guys that were in that building, they knew that it was his team."
Now the starter, Brady closed out the season with five straight wins. The run included comebacks against Indiana, Penn State and – in what would be his last game for Michigan – Alabama in the Orange Bowl.
In his final college game, Brady threw for a then-Michigan record 369 yards, with four touchdowns. He guided the Wolverines back from two 14-point deficits to win in overtime, 35-34.
As a final footnote to Brady's competition with Henson, it's worth noting that despite winning both quarterback competitions, Brady was still drafted seven spots after Henson, albeit in different years. (Brady was the 199th pick in 2000, Henson the 192nd pick in 2003).
Yet for New England's legend, the unusually fierce college competition he faced – even in his own locker room – helped to mold a quarterback with unusual mental toughness. In a testament to its lasting gift, when asked about the challenges of his Michigan days, Brady just smiles before adding a telling response.
"I wouldn't change a thing."