Patriots
How 'The Onion' has covered the Patriots over the years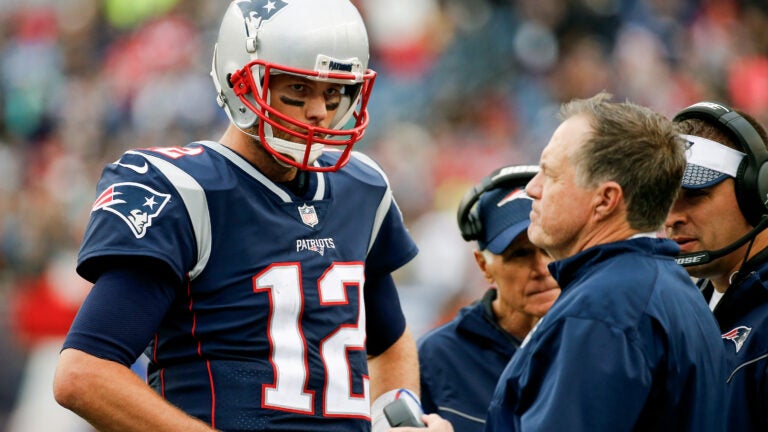 Given the Patriots' omnipresence in New England, local media outlets have certainly offered widespread coverage of the five-time Super Bowl champions. But few headlines can match those of the satirical digital news organization, the Onion.
Over the years, the Onion has published a number of "news" stories that riff off of current events. Here's a look at how the site has framed the Patriots, and their prominent figures, through the team's ups and downs:
Tom Brady
October 2017: Should the Patriots back up Tom Brady on a hard drive? "He's looking healthy now, but what if something happens to him? I just think it's risky not to have him at least backed up on to a cloud server or something. This is their franchise QB we're talking about. I mean, what if you lose him for the season? Or even forever? You're gonna wish you had him saved on a thumb drive somewhere."
March 2017: After the team traded for wide receiver Brandin Cooks… Brandin Cooks receives call from Tom Brady saying how excited he is to be Tom Brady
February 2017: After the Super Bowl LI trophy presentation... Roger Goodell dumps box with broken pieces of Lombardi Trophy in front of Tom Brady
July 2016: After sitting out the first four games of the reason as a result of Deflategate… Patriots hoping emaciated Tom Brady will end hunger strike over suspension appeal in time for training camp: "'While Tom is adamant that his self-starvation remains the best way to draw attention to his ongoing legal battle, we are all optimistic that he will agree to begin eating before full practices get underway,' said Patriots owner Robert Kraft, acknowledging that the lethargic and sore-covered Brady, who for the past 23 days has refused all sustenance beyond water, has lost over 40 pounds and is no longer capable of standing up under his own power."
May 2015: Tom Brady keeps referring to self as 'Golden Boy' while denying cheating allegations
January 2015: After Brady surprassed Joe Montana for most postseason touchdown passes in NFL history… Tom Brady: 'Joe Montana sucks and I am better than him': "And while we're on the subject: John Elway sucks; Roger Staubach sucks; Terry Bradshaw sucks; Troy Aikman sucks; Dan Marino sucks; Steve Young sucks; Bart Starr sucks; and Johnny Unitas sucks. They all suck compared to me. They're terrible quarterbacks, and I'm a great quarterback — the greatest quarterback who ever lived. Me. I'm the best."
August 2013: After his left knee suffered a mild sprain during training camp... Massachusetts evacuated to prevent any contact with Tom Brady's knee: "While these measures may pose a minor inconvenience to our citizenry, it is of utmost importance that we do everything in our power to ensure that Brady enjoys a complete, trouble-free recovery and is back at full strength by Week 1. You really can't be too careful with this sort of thing."
April 2013: Tom Brady cuts Danny Amendola's hair to look just like Wes Welker's
January 2013: Prior to the Patriots' conference championship game against the Baltimore Ravens... Jack Harbaugh admits he's pulling for Tom Brady to win fourth Super Bowl
September 2011: Tom Brady questionable for Sunday's game after waking up ugly
August 2011: After watching Tom Brady highlight, every man, woman, and child in America dreams of love: "Upon seeing a brief, intimate clip of quarterback Tom Brady completing a gorgeous pass at the Patriots' training camp, the nation drifted into intense visions of love Friday night."
January 2011: Jealous Bill Belichick throws acid in Tom Brady's face
March 2010: Area man wonders what Gisele Bündchen and Tom Brady talk about: "What do they say? 'Hi, honey, you look great.' 'Yeah, so do you, honey.' I mean, how many times can you have that conversation?" asked Ernest Wilkinson, who listed several things the two didn't have in common, including jobs, culture, background, and "taste in movies, probably."
September 2008: After his season-ending torn ACL in Week 1 of the season… Female fans out for season with Tom Brady's knee injury
Bill Belichick
Bill Belichick's Challenge Flag Transforms Into Swarm Of Snakes After Hitting Ground https://t.co/DJnV8DRTP5 pic.twitter.com/4pvehB7gpl

— The Onion (@TheOnion) October 6, 2017
October 2017: Should Belichick miss the birth of his demon spawn to coach game? 
June 2017: Bill Belichick reminds players they're expected to attend offseason team experiments: "'Participation in all of our offseason pain-tolerance testing and trauma modules is required for all players, including those on tryout contracts,' read Belichick's letter to the team informing players they are expected to arrive in peak physical condition and prepared to engage in forced aversion therapy with their respective position groups, and that rookies must arrive a day early for evaluations of their maximum crush weight."
January 2016: Exhausted Bill Belichick attempts to wake up by splashing some blood on his face
January 2016: Bill Belichick visits hospital to watch terminally ill fan die
December 2013: After Gronk torn his ACL, MCL… Bill Belichick places Rob Gronkowski in Patriots' injured reserve cage
July 2017: After Tim Tebow signed a two-year deal with the Patriots… Belichick to Tebow: 'I'm your Lord and Savior now': "At press time, Tebow told reporters that he was renouncing Jesus Christ."
January 2013: In stunning change of character, Bill Belichick adopts half-dozen dogs from human society: "'I just love these pooches,' said Belichick, smiling and chuckling as the six dogs licked at his face. 'They're so cute. I like to play with them in my backyard.' At press time, Belichick was reportedly promising each of the dogs a 'very special treat.'"
January 2013: Bill Belichick builds new tight end from mutilated dog parts:  "While tinkering around in my workshop, I started out stitching a few dog legs together, combining ribcages and whatnot, and soon I was reanimating the dead tissue with a portable generator. In almost no time at all, I had a viable red zone target."
January 2012: Prior to Super Bowl XLVI… Bill Belichick vows to murder Tom Coughlin this time
December 2011: Bill Belichick digs past knives, derringers in sock before throwing challenge flag
November 2011: Belichick attempts to inspire Patriots defense with video of deadly mass killing spree
September 2011: Bill Belichick forgets about loss by relaxing in bathtub filled with warm entrails: "Belichick, who admitted that blowing a 21-point lead over a division rival had left him feeling frustrated, angry, and extremely nervous, said his anxiety over the Patriots struggling with their fundamentals "simply melted away" the moment he eased his body into a tub brimming with freshly disemboweled internal organs."
December 2010: Bill Belichick drops off recent draft picks in middle of nowhere, tells them to find way back
Team
Patriots Win Super Bowl https://t.co/GZkAs5qbog #WhatDoYouThink? pic.twitter.com/dDdr6bS04C

— The Onion (@TheOnion) February 6, 2017
February 2017: Sixth Super Bowl win continues to elude Patriots: "As disappointed players and coaches returned to the locker room following the end of Super Bowl LI, members of the New England Patriots acknowledged to reporters Sunday that the team's sixth Super Bowl title continues to elude them."
January 2017: Prior to their divisional playoff game against Houston… Patriots not allowing football game against Texans to become distraction: "Obviously, it's something we'd rather not be dealing with right now, but we're not going to let trivial stuff like this Saturday's matchup with the Texans take away our focus from our goals as a team,"
June 2015: Patriots horrified after new Super Bowl rings cause fingers to shrivel up, turn black: "'Oh my God!' a horrified Julian Edelman screamed moments after slipping on the diamond-encrusted band, which immediately turned his ring finger into a shrunken, dried husk of charcoal flesh as spider-like tendrils of black rot rapidly spread up the wide receiver's arm."
Patriots Horrified After New Super Bowl Rings Cause Fingers To Shrivel Up, Turn Black http://t.co/JYjOFaRJjc pic.twitter.com/r7m1xdEcXM

— The Onion (@TheOnion) June 21, 2015
January 2014: After losing the AFC Championship game… 'At least we'll get a better draft pick,' reports Patriots fan rationalizing deep, pervasive sadness: "You know, we probably wouldn't have beaten the 49ers or Seahawks in the Super Bowl anyway, so it's better to go out now and then move up a few spots with our first-round pick in May," said Lowery, reportedly trying his utmost to mitigate his sweeping disappointment and heartbreak at his team coming up just short of a Super Bowl appearance.
November 2013: Patriots now using drones to take out offensive threats
Deflategate
December 2015: NFL investigating whether Patriots played game with properly inflated Vince Wilfork
February 2015: Patriots' Super Bowl win provides storybook ending to NFL credibility
January 2015: Lance Armstrong, Barry Bonds, A-Rod spring to Patriots' defense over deflated footballs: "'First and foremost, it is irresponsible for anyone to lobby accusations such as these without indisputable proof,' read the statement, which echoed the official stances of Mark McGwire, Sammy Sosa, Marion Jones, Ryan Braun, Luis Suarez, Ben Johnson, Tim Donaghy, and the entire roster of the 1972 U.S.S.R. Olympic basketball team."
January 2015: Patriots really embracing 'Us against the Rules' mentality
January 2015: Nation can't wait to hear Patriots fans' excuses this time: "Wait, let me guess: The deflated footballs were also easier to catch for the Colts defense, so the Patriots didn't have a real advantage, right? Or is it that the score was so lopsided that it didn't matter in the end? No, seriously, I'm sure you guys have something really great cooked up for this one."
Robert Kraft
Roger Goodell, Robert Kraft Attempt To Rekindle Relationship With Spa Getaway http://t.co/ojTaYSW5V6 pic.twitter.com/4fW0QVE4F1

— The Onion (@TheOnion) May 24, 2015
Rob Gronkowski
August 2017: Girlfriend surprises Rob Gronkowski with relaxing couple's CAT scan: "This is why my girlfriend's the best. We've done 'his and hers' neurological exams before, but nothing releases the tension of the workweek like getting a cross-sectional image of our torsos. It really was great being able to take time out and connect in together under a magnetic field and radio waves."
November 2012: Rob Gronkowski breaks bone in spiking arm
July 2012: More and more infants in New England area being born with Rob Gronkowski's features
February 2012: Rob Gronkowski fed to other Gronkowskis