Patriots
Linda Holliday opens up about her time in New England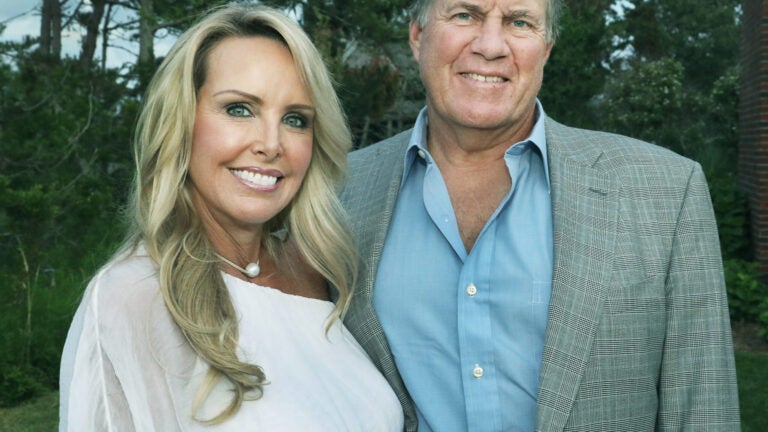 Bill Belichick doesn't have Instagram, Snapchat, or Twitter. And according to his longtime girlfriend Linda Holliday, the Patriots head coach won't be joining "InstantChat" or "SnapFace" any time soon.
Fans can still catch Belichick on social media through Holliday's accounts, however, as she frequently shares glimpses into the couple's life outside of football. Holliday spoke with Boston.com about some of her experiences in New England, including her work with the Bill Belichick Foundation and other fond Patriots memories.
Before New England
Growing up in the South, Holliday was no stranger to the sport of football before moving north.
Having been raised in Nashville, she remembers watching the Tennessee Volunteers compete every Saturday — a day that she had dedicated to SEC football. Despite living in Massachusetts for over a decade now, Holliday says she can still sing every word of their fight song, "Rocky Top."
"You can take the girl out of the South, but you can't take the South out of the girl," she said.
Her weekends slightly shifted, however, as she began following the Patriots and the NFL upon dating Belichick. When asked about the contrasts she noticed between the pro and college game, Holliday — who admits that she had not watched much professional football until she met Belichick — identified "how they move the ball" and "level of competition" as major upgrades.
While she'll still spend Saturdays watching college teams, the Patriots, of course, play on Sundays, when Holliday is often found supporting the head coach on the sidelines.
A warm welcome
One of Holliday's first memories with the Patriots has nothing to do with game play, as she says she will forever cherish meeting Myra Kraft, the late wife of team owner Robert Kraft.
"I don't have enough words to tell you what a beautiful, kindhearted woman she was," she said. "From the moment she met me, she never judged me, and she just took me under her wing."
Holliday recalls that the pair would often exchange movies, including one she still thinks about to this day: Temple Grandin.
But Myra's generosity went beyond trading DVDs. Remembered as a tremendous philanthropist, she managed the Robert and Myra Kraft Family Foundation and was also the president of the New England Patriots Charitable Foundation. Myra was dedicated to a number of causes, as she became the first woman to chair the Boys & Girls Clubs of Boston and was on the board of directors of Brigham and Women's Hospital.
Holliday says she is grateful for the opportunity to not only befriend Myra, but to also witness the impact she had on communities — a lesson that she has carried with her into her own work.
The Bill Belichick Foundation
Holliday's family still lives in Nashville, but she has made herself right at home in Patriots country. As the executive director of the Bill Belichick Foundation, she has spearheaded efforts to make a difference with the expansive platform of both Belichick and the organization. The core of the foundation reflects a few of their beloved values: a love for sports, coaching, and team building.
"For years, Bill had been donating a scholarship to one student athlete in memory of his father," Holliday explained. "But we wanted to take this a lot further."
Today, the Foundation provides not only scholarships for individual athletes but also grants for organizations in need of things like equipment, gear, or transportation funds. Recognizing Belichick's ability to make an impact, Holliday has effectively continued to channel it into meaningful charitable endeavors.
"Some of the stories are beautiful and so touching," she said. "You realize what a difference you're making by keeping a kid in school, and putting them through college while staying involved with athletics."
But the tangible effects of the Foundation's work extend beyond local community. While Belichick has certainly had an active presence in the Greater Boston area, his reach also extends internationally. One recipient of a BBF grant, Field of Growth, recently opened the Bill Belichick Field in Uganda to give students the opportunity to learn and play lacrosse.
Holliday feels that the Foundation is currently "at a good point" because it's able to still have that impact while staying "manageable and personable" — two attributes that are very important to her as BBF continues to grow. According to Holliday, they raised over $1 million this past year, which is a tremendous increase from the $300,000 during their first year. Although the bump in funds is certainly a plus, Holliday says she wants to ensure that the Foundation's mission always remains authentic.
When she's not working, Holliday is also involved with the Patriots' Women's Association, which she says lets women "play an active role during the season while their men are training." Some of their activities include serving meals to the homeless at the Women's Lunch Place and organizing children's coat drives for Crayons to Cradles.
Most recently, they hosted a "Fitness for Relief" night at Gillette Stadium, where participants could enjoy series of workout classes to help raise money for hurricane victims in Houston, Florida, and Puerto Rico. Belichick and defensive coordinator Matt Patricia also made appearances, much to the crowd's excitement.
We're live at Gillette Stadium for a fitness session as part of the Patriots' Women's Association's Fitness for Relief event. Follow along as Bill Belichick and New England's coaching staff pump up the group before Sid leads participants through a yoga class.

Posted by Boston.com on Monday, October 30, 2017
Outside of football
Besides giving back to the community, Holliday says she enjoys staying active whether that's through bicycling, running, or Pilates. In fact, part of her game day routine involves a ride on her indoor exercise bike, a Peloton, because it "takes down the anxiety from sweating."
The former Mrs. Arkansas runner-up also still treasures her pageant roots and says she often expresses that side of her through wearing outerwear with sparkles or bling. For Super Bowl LI, she even ordered a custom hoodie made from Swarovski crystals.
Linda Holliday, Bill Belichick's girlfriend, ordered this custom made Swarovski crystal hoodie for the Super Bowl from @diamond_duchess pic.twitter.com/ZORrXmoNUy

— Darren Rovell (@darrenrovell) February 3, 2017
Holliday, who once ran a women's clothing boutique, says she sees her passion for fashion continue to manifest itself through her daughters: Ashley and Katie. She mentioned that she lately has been consulting the duo, also known as the Hess twins, for fashion advice.
"The tables have turned," said Holliday, who previously worked as a Style Boston host for four years.
The 'Blitz for Six'
The Patriots' are currently wrapping up their bye week, which Belichick and Holliday spent part of at the Foundation's fourth annual "Hall of Fame Huddle" fundraiser. As the season progresses in its second half, she will be looking forward to the first snow and, if all goes, a long Patriots postseason.
Even given the team's recent successes, Holliday still remembers the defeated finishes from her first couple of seasons in New England, including the heartbreaking end to the push for 19-0.
"There is no way to get over it," she said. "You don't forget the losses."
Hoping for a better outcome this year, Holliday says one of their favorite postseason spots is Jupiter, Florida in February as a way to "thaw out" from the chilly winters.
Until then, she'll be enjoying the fall before the temperatures cool down. But no matter how cold it gets, she knows that "New England thrives in snow conditions."