Patriots
Author of ESPN story on Tom Brady responds to Bill Belichick's 'fake news' criticism
"That wasn't my reporting, and it wasn't in my story."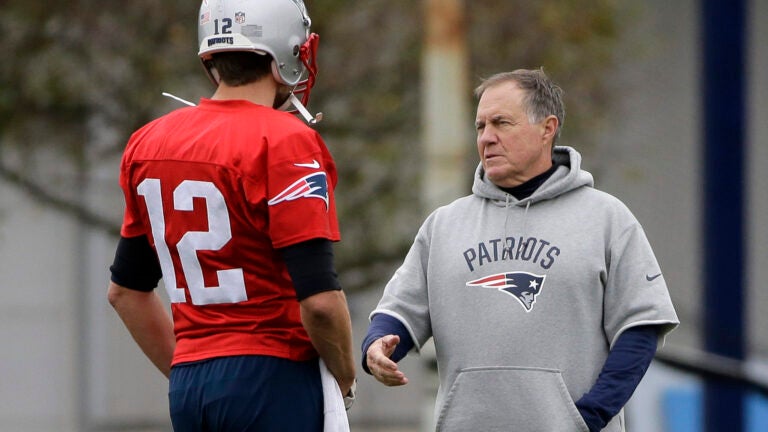 ESPN senior writer Seth Wickersham says he "absolutely" stands by his reporting after his recent feature on Tom Brady was criticized by Patriots coach Bill Belichick.
In last week's ESPN The Magazine cover story, Wickersham and fellow writer Tom Junod reported, among other things, that Belichick was confident he could win a Super Bowl with former backup quarterback Jimmy Garoppolo and that the Patriots coach wanted to coach long enough to "establish a truly dynastic succession."
What was not included in their article was a different report last week by an NBC journalist that Brady's "camp" thought the quarterback might be traded after this year and that his relationship with Belichick was "not great."
In a radio interview Monday, WEEI host Michael Holley asked Belichick about how the "lengthy ESPN story … talked about some tension at times" between Brady and the Patriots coach. Belichick responded by characterizing "a lot of comments in the article" as unattributed "random opinion" and "fake news."
However, Wickersham says Holley conflated the two reports in his question to Belichick.
"That wasn't my reporting, and it wasn't in my story," Wickersham told Boston.com over the phone Tuesday.
"And what I did write I absolutely stand by," he added.
Wickersham — who has authored a wide variety of in-depth features on the Patriots and is writing a book on NFL Commissioner Roger Goodell's "power struggles" –said he wasn't particularly sure of what parts of his most recent story Belichick specifically took issue with. But he reiterated he stood behind everything in the article.
"[Belichick] has told friends that he'll coach two or three more years and wanted to make sure his sons were secure in their future," he said.
Wickersham also said there seems to be confusion about the article's mention of Belichick establishing a "dynastic succession," which he said some have interpreted as applying to his two sons, Steve and Brian, who are Patriots assistant coaches. Wickersham said he was referring to the line of succession of Patriots quarterbacks, as the entire paragraph from the article indicates:
Belichick is seeking to secure an immortality of his own. No one knows how much longer he'll coach, but his friends give him two or three more years, enough to ensure that his two sons, Stephen and Brian, both Patriots assistants, are secure, and possibly long enough to establish a truly dynastic succession. He'd told friends for the past year that he wanted to coach Garoppolo as a starter and that he was confident he could win a Super Bowl with him.
"It wasn't intended to mean his sons would take over for him in New England," Wickersham said Tuesday.
Wickersham was also surprised about the reaction to their October 31 article, given some of the reporting about Belichick's future was included in an article he wrote last February before the Super Bowl:
Nobody knows how much longer Belichick will coach. Well, that's not totally true. People close to him know. Or have a vague notion. The end isn't this year or next, but it's coming, maybe when his two sons, Steve and Brian, who work with the Patriots as the safeties coach and as a scouting assistant, respectively, are firmly established in their NFL careers. That idea of him not coaching, an idea that even he has struggled with, brings a palpable sadness to those who spend a lot of time with him. They worry for his happiness without the weekly rhythm that has attended his entire adult life. He has been as close to a one-man operation as a coach can be in the salary-cap era, winning regardless of staff and roster.
Belichick said Monday that his relationship with Brady is "good."