Patriots
Bill Belichick denounces 'ESPN The Magazine' story as 'fake news'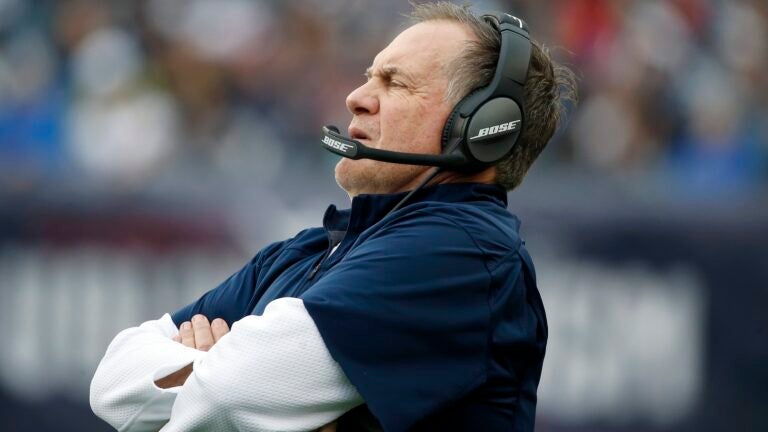 In ESPN The Magazine's recently published piece on Tom Brady's longevity, several unheard or buried story lines surrounding the Patriots organization emerged. Among the ones involving head coach Bill Belichick…
"A collision is coming" between Belichick and trainer Alex Guerrero.
Belichick was "confident he could win a Super Bowl" with New England's ex-backup quarterback Jimmy Garoppolo.
Belichick plans to coach long enough so that he can establish "a truly dynastic succession" for his sons.
During his weekly appearance on WEEI's "Dale & Holley with Keefe," Belichick addressed the claims from the article, writing the majority off as "fake news."
"As usual, I think a lot of comments that were in the article you're referring to aren't attributed to anybody — if I am not mistaken," Belichick said on the radio program. "I don't think anybody said anything. This is just a general random opinion about I'm not sure exactly what."
"If we would like to talk about somebody that has an informed opinion about something, that's one thing," he continued. "I mean, otherwise we're just talking about a lot of fake news here, just putting out a lot of things that are unattributable as usual. I'd say we get a lot of that."
While Belichick did not address the specific statements from ESPN's piece, he did clarify the contentious role of Guerrero and confirmed that he is not a member of the Patriots staff.
"Alex works with Tom and Tom's facility. And that's really about the end of it," Belichick said. "If a player goes up there for a second opinion or a treatment or whatever, then that's fine. No different than one who went to his own chiropractor or massage therapist, or whatever it happens to be."
"He's not on our staff," he explained. "Our staff, our training staff, our nutrition staff, our equipment staff, you know, those are all contained within the Patriots. Alex and his staff at TB12 and Tom's role in TB12, that's kind of a separate business."
The seven-time Super Bowl champion also stated that his relationship with Brady is "good" and "consistent," despite reports that might indicate otherwise.
Brady camp 3 days ago felt privately TB could be traded by Bill after 17. This was a Kraft decision to make it clear Brady finishes as a Pat

— Ryan Burr (@RyanBurr) October 31, 2017
Told TB relationship with BB not great and all his loyalty is too Mr Kraft. https://t.co/VWKT0CzixD

— Ryan Burr (@RyanBurr) October 31, 2017
"I've met with Tom at least twice a week for the last 16 years," Belichick said.