Patriots
Rob Gronkowski shared the secret behind a perfect Gronk spike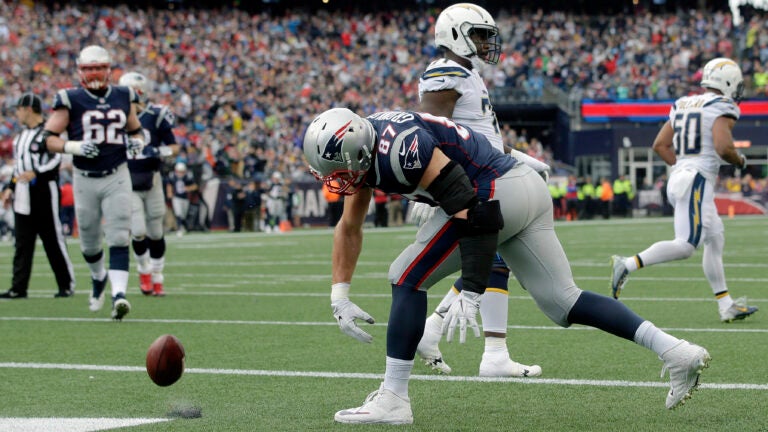 Apparently there are some physics behind the proper execution of a Gronk spike.
At a Dunkin' Donuts tailgate during bye week at Gillette Stadium, Patriots tight end Rob Gronkowski explained the correct approach to his famous touchdown celebration. It's all about how he holds the football.
"In order to do it, you take the ball in the palm of your hand and you put it so you get the best grip right here at the bottom," Gronkowski said. "Not the belly, but right at the tip of the ball where your fingers are touching the belly. So when you follow through, you can hit the belly of the ball right onto the ground, and it gives you the most power and the most explosiveness that you can get and generate."
The NFL loosened its celebration policies this season, but Gronkowski is sticking with his traditional spike — a move that he had been ruminating on as a teenager.
"I always wanted to do it in high school and college, but we weren't allowed," he told Boston.com. "It was a penalty — no lie — to spike the ball at those levels. So I got to this level, the NFL, and you were allowed to do it."
But the two-time Super Bowl champion didn't pull the trigger after his first touchdown in 2010. Blame it on the rookie nerves.
"I think it was after my second touchdown," he said. "It wasn't even after my first. But ever since, it just started catching on."
As for whether or not Gronkowski plans to upgrade his stunts now that there are new rules? It's a maybe.
"I feel like we haven't been part of the celebrations that much compared to other teams. I mean, they've been doing great," Gronk said. "But obviously first off, getting the victory is the most important part. Maybe we'll get some celebrations going down the road."