Patriots
Would Rob Ninkovich come out of retirement to play for Patriots?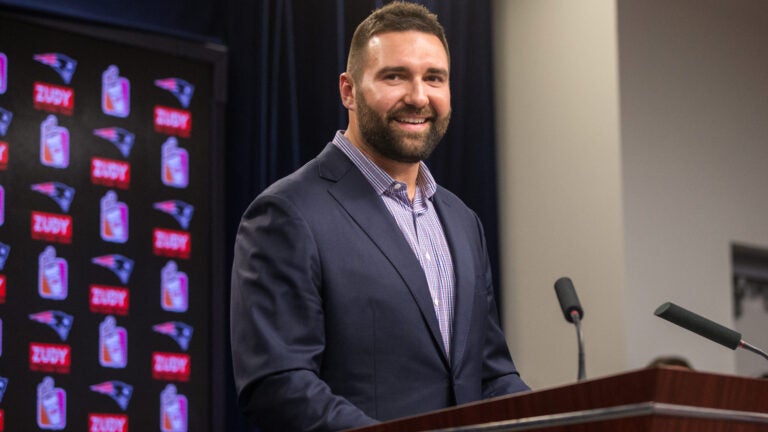 Former Patriots defensive end/linebacker Rob Ninkovich joined Chris Gasper on our Season Ticket podcast to discuss what he's been up to in retirement, if he would return to playing, what he makes of New England's defense this season, what Bill Belichick is really like, and more.
He said he is not sure he would return to football as a player, considering he ended his career on a high note with a Super Bowl victory and does not want to risk injury or long-term damage to his body.
"I've had a little contact here or there, but … people say all the time you have to weigh the risks and the rewards. And, for me, I would make $500 grand if I played half the year. People say, 'Wow, that's a ton of money!' But, at the same time, you take taxes into that, you take a few shots or you risk tearing your ACL or having an Achilles injury or having a quad or having a pec, going on IR. And, [considering] all those things, I'm like, 'Well, I don't know if that's really worth me coming back to maybe have an injury or have something happen to me that will affect me down the road.'
"I love football, I'll always have a love for the game, but it's definitely brutal and I watch these games and I'm like, 'Geez, like, how did I do that for so long and stay healthy for eight years and only miss one game due to injury?' How did I do that? I have no idea,'' he said. "It's really just luck I think.''
He said he has enjoyed retirement thus far, taking his daughter to school each morning and spending time with his family.
"I absolutely enjoy it. I'm not sore, I'm not beat up, I don't have that internal pressure and stress all the time of having to be perfect and perform at a high level with everything I do,'' he said.
"It's been different. I'm not going to say it hasn't been a different type of feeling for me because playing football for so long, first fall without football, it's definitely a different feeling, but I definitely am not getting the soreness and the complete beating in the past.''
Last week he even had time to host the grand opening of a new bowling center, Bowlero in Shrewsbury, where he was welcomed by the Patriots fandom with open arms.
"That was cool, it was a cool event,'' Ninkovich said. "I met a lot of huge fans, Patriots fans, Rob Ninkovich fans. They had previously renovated a bowling facility and changed it up, made it a little more fun. Music, lights. So you can go there and hang out with your family, have a party there. It's definitely a cool spot.''
Listen to the episode here:
[fragment number=0]
[fragment number=1]
Subscribe to Season Ticket: Apple Podcasts | Stitcher | RSS