Patriots
New NFL documentary spotlights Julian Edelman and Danny Amendola's trip to Mexico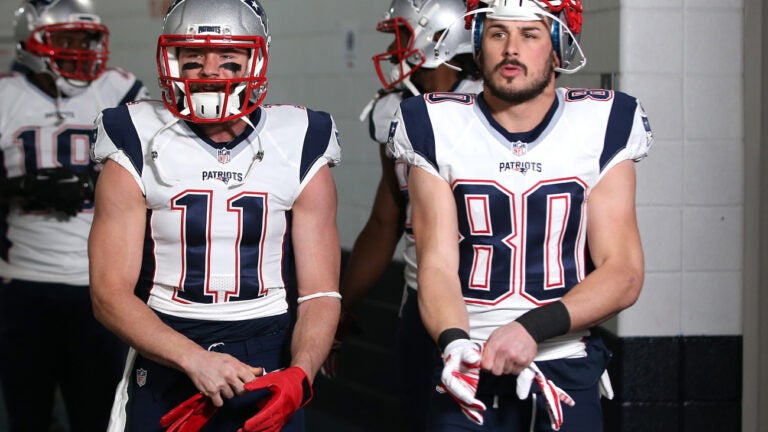 The Patriots will be soon be headed to Estadio Azteca for a Week 11 contest against the Oakland Raiders, but wide receivers Julian Edelman and Danny Amendola scoped out the scene earlier this summer.
The duo traveled to Mexico City for four days in June, as part of the league's initiative to promote the game on a global level. Michael Mandt, NFL media executive producer of original content, told Boston.com that a documentary chronicling their trip was a fitting vehicle to not only "highlight the game and the city" but also "showcase the passion that the international fans have."
"We're always looking to show the personality of our players," Mandt said. "These trips overseas can demonstrate to other players how you can have a fun time, promote the sport, and promote your own brand."
The documentary, NFL Going Global: Edelman & Amendola, will premiere on NFL Network at 10 p.m. EST on Tuesday, Nov. 14. An encore is scheduled to air Saturday, Nov. 18 at 4:30 p.m. EST.
Here's a breakdown of what's featured:
Day 1
While keeping up with their usual skateboarding shenanigans, Edelman and Amendola also stayed active with a few rounds of pickup soccer with local children.
"They didn't speak English, we didn't speak Spanish, but it was cool to communicate through competition," Edelman said. "Everybody speaks winning."
They also experienced much of what the city's cuisine has to offer, including a cricket tasting at the Mercado de San Juan …
… and their very own ceviche cook-off with a world-renowned chef, Josefina SantaCruz, at Paprika restaurant.
Day 2
The duo's second day was dedicated to none other than lucha libre.
Known for its colorful masks and high-flying acrobatics, lucha libre refers to the form of entertainment that is Mexican professional wrestling. One of the sport's prominent figures, El Hijo del Fantasma, gave the wide receivers a tutorial on how to execute "la tijera," one of the common moves.
"We've only been waiting for this our entire life," Amendola said prior to getting in the ring.
After their lesson, the pair were ready to face off in "the match of the century."
"Not going to lie, the juices got a little bubbly," Edelman said after their bout.
Day 3
Edelman and Amendola kept their adrenaline pumping with a visit to the Black Jaguar-White Tiger Foundation's animal sanctuary, which is home to approximately 300 rescued lions, leopards, jaguars, and other felines.
"My goal in life is to have enough success where you name a lion after me," Edelman told the owner and operator, Eduardo Serio.
Amendola was ostensibly more excited about the opportunity to pet the animals than his teammate.
"They definitely probably sensed all the fear in my heart that was just bleeding out of my face," Edelman said prior to entering the den. "Why can't we just go pet a little goat?"
Following their visit, the two greeted a crowd of screaming fans for an autograph session.
"It was good to know that there's people out there that love our squad like that," Amendola said. "I think we've always been focused on the work and focused on the art. It's never been about the pats on the back and the congratulations, but once you get into this atmosphere… the picture just got bigger for me."
Day 4
On their final day, Edelman and Amendola soaked in what they could with a hot-air balloon ride, despite an impromptu landing, before visiting Teotihuacan.
Reflecting on the trip, Edelman said, "This was all because of a game that I love."
https://www.instagram.com/p/BVkaUuABRUm/?hl=en&taken-by=edelman11