Patriots
The Patriots broke the Broncos and have no reason to fear them anymore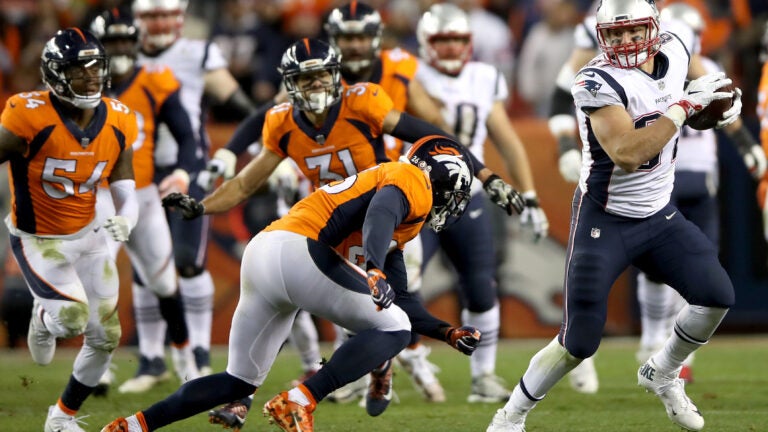 41 thoughts from the Patriots' win over the Broncos:
1. Don't know about you, but I'm done fretting about Patriots games in Denver for the foreseeable future. Sports Authority Field has been a high-altitude house of horrors historically for the Patriots, even during the Tom Brady/Bill Belichick era. The Patriots entered Sunday night's game with a 3-7 record in Denver since 2001. They ended it with no reason to fear the Broncos now or anytime soon, no matter where they play.
2. The Patriots' 41-16 throttling of the Broncos was impressive in all the usual ways. Tom Brady was typically spectacular, finishing 25 of 34 for 266 yards and three touchdowns. The special teams unit blocked a punt and belted every Denver return man who dared to look for daylight. The defense, which has allowed 17 or fewer points in each of the last five games, was in bend-but-don't-break mode, limiting the Broncos to three field goals in the first half.
3. It was a satisfying win even by their championship-driven standards. They looked like the single-team class of the AFC Sunday night. But man, did it ever reveal what a mess the Broncos are at the moment.
4. The win was the Patriots' fifth in a row. The loss was the Broncos' fifth in a row. The Patriots looked capable of running the table, as difficult as that task will be. The Broncos looked like a team that had forgotten how to win and may not again for a long time.
5. What's wrong with the Patriots' recent nemesis? Let's see: Denver has allowed 92 points over the last two weeks. They have Brock Osweiler at quarterback, which means they have no quarterback at all. The defense looks imbalanced — a couple of stars and a bunch of flawed players.
6. And they make silly mistake after silly mistake, including a too-many-men-on-the-field penalty on a Patriots punt that allowed them to keep the ball. Perhaps coach Vance Joseph has a clue. But he and his staff could not find one Sunday night. The Patriots broke the Broncos. There's no need to worry about them anymore.
7. With Chris Hogan the latest Patriots receiver to miss a game with an injury and Mike Gillislee, the closest thing the Patriots have to a short-yardage back, inactive, it seemed apparent that the Patriots would lean heavily on their running backs and tight ends in the passing game in this one. For once, what seemed apparent was what actually happened.
8. While Brandin Cooks was the Patriots' leading receiver (six catches, 74 yards), much of that came in garbage time, including when Brian Hoyer came in for Brady on mopup duty on the last possession.
9. Before the outcome had been decided, Brady relied on his tight ends (Rob Gronkowski, Martellus Bennett, and Dwayne Allen), finding them a total of eight times for 123 yards and a touchdown, mostly in the first half.
10. And running backs Rex Burkhead and James White each had three catches and a touchdown. Burkhead is exactly what he was reputed to be when the Patriots plucked him away from the Bengals in free agency. Maybe even a little better than expected. He hits the hole hard, has a nifty spin move, seems to always shake the first tackler, can catch the ball in tight spots, and apparently will even block a punt every now and then. One more excellent, unsung all-around football player to add to the collection.
11. Burkhead scored the Patriots first touchdown on a 14-yard catch on a slant pattern less than three minutes into the game, totaled 50 yards on nine touches in the first half when the game actually had some suspense, and even swatted a Riley Dixon punt in the second quarter, which eventually led to a field goal.
12. If I had to rank the Patriots running backs right now in terms of overall value, I'd still have Dion Lewis first. But Burkhead and White are awfully close, and I'm not writing off Gillislee, either. He had three touchdowns in his first game as a Patriots and just one since, but he's going to be needed when the weather gets messy. I'd be surprised if his inactive status Sunday was anything beyond matchup-related.
13. Don't think I'm selling White short, though. The way he is playing right now — and has played since the third quarter began in Super Bowl LI, honestly — is as good if not better than any third-down back for the Patriots has been in a given moment. He does Kevin Faulk things, and some things he does better than Kevin Faulk.
14. White wasn't a huge factor Sunday, but he did have a smooth 6-yard touchdown catch in the fourth quarter, putting them up 41-16. I didn't catch the name and number of the Broncos defensive back who was haplessly trying to cover him on the touchdown, but I'll ID him as soon as he gets his body untangled from the jukes White put on him.
15. Doesn't it seem like Lewis has approximately a half-dozen kick returns for touchdowns since getting his shot with the Patriots in 2015? OK, maybe, a half-dozen is an exaggeration, but I was surprised that his 103-yard return in the second quarter, putting the Patriots up 14-3, was just the second of his Patriots career.
16. The first was his crucial 98-yard return for a score in the divisional round last year against Brock Osweiler and the Texans.
17. Then again, the Patriots' all-time leader in kick returns for a touchdown is Raymond Clayborn, with three. And I was sure he had a half-dozen.
18. Haven't seen much of the Broncos this season, but I figure the first sequence of plays was a tidy synopsis of their season. The Patriots get the ball first, and the Broncos' talented defense forces Brady and the gang into an uneventful three-and-out. Signs of the usual trouble in Denver for the Patriots, right? Exactly what the Broncos wanted, right?
19. Right. And that was followed by exactly what they didn't want. Isaiah McKenzie dropped Ryan Allen's punt at the Denver 25. Jacob Hollister recovered, and two plays later the Patriots had a touchdown and a 7-0 lead.
20. Hey, if the host is going to offer a gift, it would be rude not to accept it. And McKenzie has provided a lot of gifts this season — that was his fifth fumble of the year.
21. Chris Harper must envy that kind of job security, wherever he is. If you didn't think of Harper when McKenzie delivered his blunder, I have no choice but assume your Patriots fandom won't have its second birthday for a while.
22. Should you require an explanation of the Harper Experience, here is a brief one: The Patriots began the 2015 season 10-0. In their 11th game, they led the Broncos, 21-7, in the fourth quarter. Harper fumbled a punt. The Broncos scored a few plays later, scored again to tie the game, and won in overtime. The Patriots left Denver 11-1. Harper was cut the next day, though he was later added to the practice squad.
23. Great line by Cris Collinsworth after Packers refugee Martellus Bennett's first catch since returning the Patriots midweek, a 27-yarder in the second quarter. "I don't know if he's healthier, but I know his quarterback is healthier.''
24. I don't make a habit out of believing the team doctor over the player when it comes to an athlete's ability to play. I remember the Dr. Arthur Pappas/Marty Barrett drama with the Red Sox. Heck, I've seen Any Given Sunday.
25. But I can't help but believe that Bennett would still be playing for the Packers if Aaron Rodgers rather than Brett Hundley was still taking the snaps in Green Bay.
26. The Patriots' third score — a 25-yard Stephen Gostkowski field goal to increase the lead to 17-6 — was set up by a pass interference penalty on the Broncos 1-yard line by linebacker Todd Davis on Burkhead.
27. Tell me, Patriots fans, that you didn't smile a little when you saw that the official announcing that penalty was Walt Coleman, the anti-Ben Dreith. Always good to see ol' Walt, no matter the weather. Guy really knows the rule book.
28. I'm not sure whether Coleman and his zebra squad got it right when they ruled no catch on Rob Gronkowski's diving bid near the goal line in the second quarter. There wasn't a replay clear enough to determine whether Gronk got his mitts under the ball enough to prevent it from touching the ground.
29. The play actually led to a curious couple of decisions by Belichick. He called a timeout immediately after the play, challenged the call, and then lost another timeout when the ruling on the field was upheld.
30. I'd make the requisite Andy Reid School of Clock Management joke here, but I'm not sure even ol' Andy has burned two timeouts in such a short span. That was bizarre.
31. Malcolm Butler had a strangely tough first half, allowing 114 yards to Emmanuel Sanders on five catches. His coverage wasn't terrible — though he did get duped on a double-move when he tried to jump the first move for an interception.
32. On one play, he just plain whiffed when trying to bat down a pass that found its way into Sanders's hands.
33. In other cornerback news, Stephon Gilmore returned to the lineup for the first time since Week 5 and delivered an encouraging performance. Demaryius Thomas beat him for a touchdown in the third quarter, but his coverage was fine — Osweiler just threw a dart to the right spot.
34. And Gilmore, who had been out with a concussion, did get involved right away, contributing a third-down pass breakup on the Broncos' first possession of the game, forcing them to settle for a field goal.
35. Remember, last time we saw him he was shutting down Mike Evans in the Patriots' squeaker over the Bucs. There's hope for him yet.
36. The Falcons' Adrian Clayborn had six sacks against the Cowboys Sunday. How ridiculous is that? The Patriots' team leaders in sacks coming into Sunday night's game were Trey Flowers and Kyle Van Noy . . . with 3.5 each.
37. Clayborn also had six more sacks Sunday than did Von Miller, purportedly the best pass rusher in the league. Considering that LaAdrian Waddle, who played all of one snap last season, was filling in for the injured Marcus Cannon and was often opposite of Miller, let's not forget a job well done by another Patriot who got a chance via attrition and seized it.
38. Miller was actually in coverage when Dwayne Allen caught his first pass a Patriot, an 11-yard touchdown late in the second quarter to give the visitors a 27-9 lead. The Patriots' giddy reaction to his catch — the NBC microphones caught Brady greeting a smiling Allen with some words you won't find in the TB12 Method — could be interpreted as a sign that Allen has remained a popular and dependable teammate despite his own struggles.
39. Allen now has as many touchdown receptions as a Patriot as Chad Ochocinco. But he's now passed Joey Galloway, who remains at zero. He needs just one more to tie Donald Hayes.
40. Gotta love Patrick Chung picking off Osweiler just as Collinsworth concluded a filibuster on how much the quarterback has improved his fundamentals by saying, "He looks sharp.'' Collinsworth owned it. As the Broncos will eventually attest, that's what you get for believing in Osweiler.
41. It was just sort of an offhanded comment in the third quarter, but Al Michaels succinctly summed up why the Patriots are so consistent — and so envied: "When they have problems, they don't last very long,'' said Michaels. "They last about 20 minutes. They know what they need to do.''
[fragment number=0]