Patriots
Tom Brady on Colin Kaepernick: 'He's a damn good quarterback'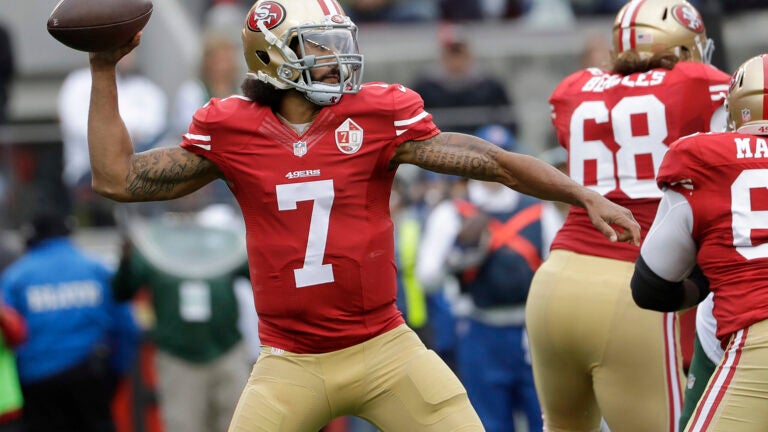 During his weekly radio appearance on WEEI's Kirk and Callahan, Tom Brady said he has "no idea" if Colin Kaepernick is being "blackballed" by NFL owners. But the 40-year-old appears to have no doubts about the free agent's talent.
"I competed against him," Brady told hosts Kirk Minihane and Gerry Callahan. "He was a damn good quarterback. He's played at a high level and brought his teams to Super Bowls. That's how I feel about him."
Though Brady acknowledged that he hasn't spoken to Kaepernick and doesn't know him "very well at all," his comments weren't the first time he's voiced support for the ex-49er. In September, Brady also told CBS's Norah O'Donnell that he hopes Kaepernick gets another chance to play in the league.
"I've always watched him and admired him, the way that he's played. He was a great young quarterback," he said. "He came to our stadium and beat us, took his team to the Super Bowl in 2012. You know, he accomplished a lot in the pros as a player. He's certainly qualified, and I hope he gets a shot."
Kaepernick, whose last NFL snap was in January 2017, has filed a grievance against the league for alleged collusion among owners to keep him unsigned. The 30-year-old made headlines last season for his protests during the national anthem and was recently named GQ's "Citizen of the Year" for his activism efforts.
"Approximately 90 men are currently employed as quarterbacks in the NFL, as either starters or reserves, and Colin Kaepernick is better — indisputably, undeniably, flat-out better—than at least 70 of them." the magazine writes. "Yet he has been locked out of the game he loves — blackballed — because of one simple gesture: He knelt during the playing of our national anthem."
"And he did it for a clear reason, one that has been lost in the yearlong storm that followed. He did it to protest systemic oppression and, more specifically, as he said repeatedly at the time, police brutality toward black people."
https://twitter.com/GQMagazine/status/930067798092648450