Patriots
Big special teams plays have led to a lot of Patriots points this season
"All three phases of the game."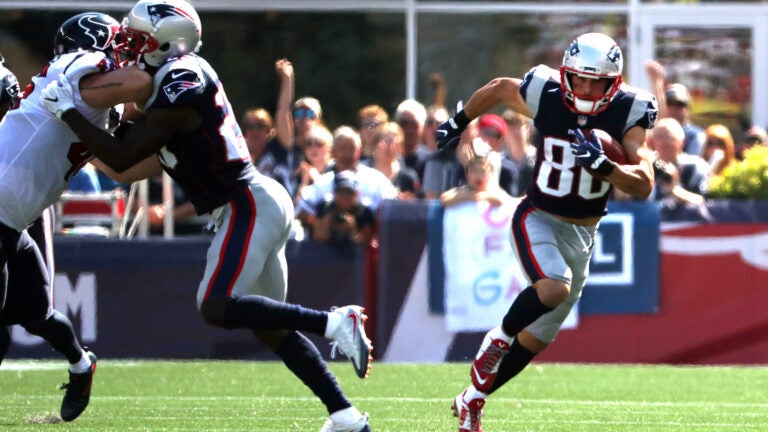 Whether the Patriots win or lose, it's always part of coach Bill Belichick's mantra. Lately, it's been after wins, where Belichick praises the team's performance in, say it with me now, "All three phases of the game.''
That's offense, defense, and, last but not least, special teams.
The Patriots have thrived on special teams this season, often putting the offense in position to put points on the scoreboard. Here's a review of instances when Patriots special teams units made a key play or went above and beyond to either put points on the board or set the Patriots up to score, adding up to 52 points. (Note: point total does not include standard-issue field goals)
Week 2 vs. New Orleans Saints — With time winding down in the first half, the Patriots faced a third down and were out of timeouts, Tom Brady was tackled short of a first down with 15 seconds left. As the clock ticked down, the field goal team scrambled onto the field and connected for a buzzer beating field goal to make the score 30-13 at halftime. The Patriots went on to defeat New Orleans, 36-20.
[fragment number=0]
"We practice it quite a bit. Had I got the first down, you can clock the ball, but you can't clock it on fourth down. I could've thrown it away if I didn't feel like I had anybody open,'' Brady said in a WEEI interview. "I thought it was good execution by the whole team to get the field goal unit on to kick the field goal just before time ran out.''
Week 3 vs. Houston Texans — In the first quarter, Texans punter Shane Lechler boomed a 65-yard kick from his own 19. Danny Amendola fielded it at his own 16 and returned it 33 yards to the 49. The Patriots went on to score on a 7-play, 51 yard drive on a 5-yard touchdown pass to Rob Gronkowski for a 7-0 lead. The Patriots win, 36-33.
Week 4 vs. Carolina Panthers – Although it came in a loss, Stephen Gostkowski, who was shaky at times last season, hit a team-record 58-yard field goal. It pulled the Patriots within one just before halftime.
Week 5 vs. Tampa Bay Buccaneers — Danny Amendola's 40-yard punt return plus a 15-yard unsportsmanlike conduct penalty gave the Patriots the ball at the Tampa Bay 27. They settled for a field goal by Gostkowski, who went 4 for 4, while Tampa Bay's Nick Folk was 0 for 3 in New England's 19-14 win.
Week 7 vs. Atlanta Falcons — Cassius Marsh blocked a 37-yard field goal attempt by Matt Bryant to keep the game scoreless late in the first quarter. The Patriots then marched 74 yards on seven plays and scored when Brandin Cooks caught an 11-yard touchdown pass from Tom Brady. The Patriots went on to win, 23-7.
[fragment number=1]
Week 8 vs. Los Angeles Chargers — Travis Benjamin muffed a punt return at the seven, and when he picked up the ball, ran backward for eight yards before he was tackled by Brandon King and Jonathan Jones for a safety, giving the Patriots a 9-7 lead. The Patriots took the ensuing kickoff and marched down the field for a field goal. New England won, 21-13.
[fragment number=2]
Week 10 vs. Denver Broncos — After forcing the Patriots to go three and out, Broncos punt returner Isaiah McKenzie muffed a return. Jacob Hollister recovered it on the Denver 24, and Rex Burkhead hauled in a 14-yard touchdown pass from Brady two plays later.
After the Broncos answered with a field goal, Dion Lewis fielded the kickoff from his own end zone and scampered 103 yards down the left sideline for a 14-3 lead.
[fragment number=3]
Burkhead was at it again in the second quarter when he blocked Riley Dixon's punt to give the Patriots the ball deep in Denver territory, setting up Gostkowski's 28-yard field goal.
Score a TD on offense AND block a punt on special teams?@RBrex2022 is doing it all for the @Patriots! #NEvsDEN #GoPats pic.twitter.com/Om8vR6fhOv

— NFL (@NFL) November 13, 2017
The Patriots weren't done capitalizing on Denver's special teams miscues. The Patriots were lined up to punt in the second half, but Broncos lineman Shelby Harris was slow to get off the field. A quick snap led to Denver being called for too many men on the field, and the Patriots were awarded a first down. The drive was extended, and the Patriots scored another touchdown. New England won, 41-16.