Patriots
Former Patriots receiver Terry Glenn dies in car crash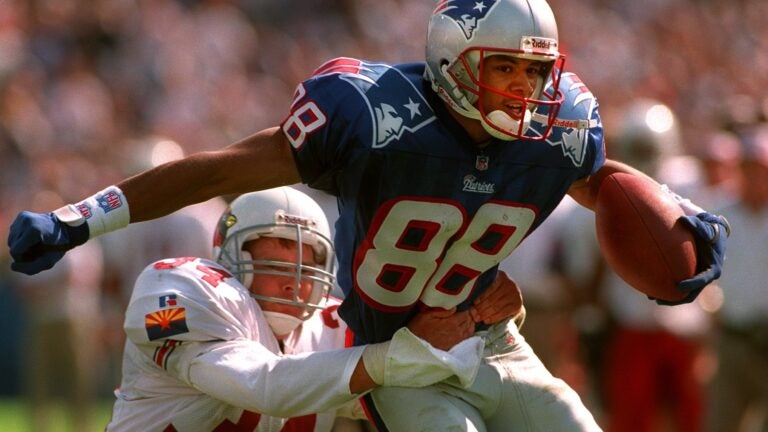 Former Patriots wide receiver Terry Glenn died early Monday in a car crash in Irving, Texas, Irving Assistant Fire Chief Jack Taylor said. Glenn was 43.
Glenn, who was drafted seventh overall by New England in 1996, played for the Patriots until they traded him just before the 2002 season to Green Bay, where he spent the year. The Packers then traded Glenn to Dallas, where he played until 2007.
He recorded four 1,000-yard seasons over his 12-year career, including his rookie campaign, the 1999 season, and in 2005 and 2006 with the Cowboys.
Irving police, fire, and EMS responded to a single car crash involving two passengers shortly after midnight Monday, Taylor said.
The vehicle was on its side when first responders arrived. It rolled over at least once during the crash, Taylor said.
Glenn, who was ejected from the vehicle, was taken to Parkland Memorial Hospital, where he was pronounced dead.
Taylor said a 38-year-old female passenger suffered critical injuries, although Taylor said he did not know her name or her connection Glenn.
"His rookie season was my first year here in '96, so I had a lot of interaction with him and other people that were involved in his life and his upbringing separate from the Patriots,'' said Patriots coach Bill Belichick, who was an assistant on the 1996 New England staff. "Terry is a very smart individual. Had a lot of, obviously, a lot of physical skill and talent. Could do a lot of things on the football field naturally. And I think was, deep down inside, a good person with good intentions and a good heart. Obviously, it's a very unfortunate passing. It's a sad day. Sad news.''
Team owner Robert Kraft called Glenn one of the most "gifted'' receivers the club has ever had.
"We were shocked and deeply saddened by today's news that Terry Glenn died in an auto accident,'' Kraft said in a statement.
"Our thoughts and prayers are with Terry's family, his former teammates and friends who mourn his loss.''
Glenn, from Columbus, Ohio, began his college career at Ohio State as a preferred walk-on and defensive back before switching to receiver and earning a scholarship. He went on to win the Fred Biletnikoff Award — given to the top receiver in college football — in 1995.
Glenn was on the receiving end of Tom Brady's first career touchdown pass, a 21-yarder against the Chargers in Week 5 of the 2001 season.
[fragment number=0]
Glenn led the Patriots in receiving yards in 1996, 1998, 1999, and 2000, with Drew Bledsoe as his primary quarterback. The duo connected for 4,308 yards and 21 touchdowns on 308 completions over their five seasons together.
In an Instagram post, Bledsoe expressed the love he had for Glenn.
"My son asked me a decade ago who my favorite receiver ever was because he wanted that jersey for Christmas,'' he wrote. "He got a Terry Glenn jersey from Santa. TG overcame horrible adversity to become a really good man. May your soul rest in peace my friend.''
[fragment number=1]
[fragment number=2]
[fragment number=3]
[fragment number=4]
Glenn's time with the Patriots was tumultuous from the get-go, as the team selected him despite objections by head coach Bill Parcells.
He landed in Parcells's doghouse that summer when he missed time during training camp. When Parcells was asked about Glenn's injury, Parcells said, "She's making progress.'' That comment earned a strong rebuke from Patriots owner Robert Kraft.
Glenn went on to set a record for most receptions by a rookie, hauling in 90 for 1,132 yards and six touchdowns.
Kraft, in his statement, recalled a fond memory involving Glenn in his rookie season. In a dividional playoff game against Pittsburgh on a foggy night at Foxboro Stadium, the Patriots' first play was a bomb from Bledsoe to Glenn.
"It will always be remembered for the fog that filled Foxboro Stadium that day. Yet, on the first play from scrimmage, Drew Bledsoe threw a deep pass that disappeared in the fog and reappeared 53 yards downfield in Terry Glenn's hands,'' Kraft's statement read.
The Patriots went on to beat the Steelers, 28-3, and eventually reached Super Bowl XXXI before losing to the Green Bay Packers, 35-21.
After one season under Parcells and three subsequent seasons under Pete Carroll, Glenn ran into some resistence in Bill Belichick's second season with the franchise in 2001. It wound up being Glenn's final year in New England.
The league suspended Glenn four games in 2001 for violating the substance abuse program. He then left Patriots training camp, and Belichick then threatened to suspended him for the season. Glenn said he left camp because the Patriots had not paid him a bonus he was owed that June.
Glenn wound up serving the four-game suspension and returned to the team, appearing in four games and catching 14 passes for 204 yards and a touchdown. After injuries and continued disagreements with the coaching staff, Belichick deactivated Glenn for the remainder of the 2001 season.
The Patriots went on to win Super Bowl XXXVI and Glenn did not get a ring.