Patriots
Rob Gronkowski briefly broke the fourth wall in discussing his touchdown celebration
"We're not allowed to talk about celebrations. But I kind of want to talk about it."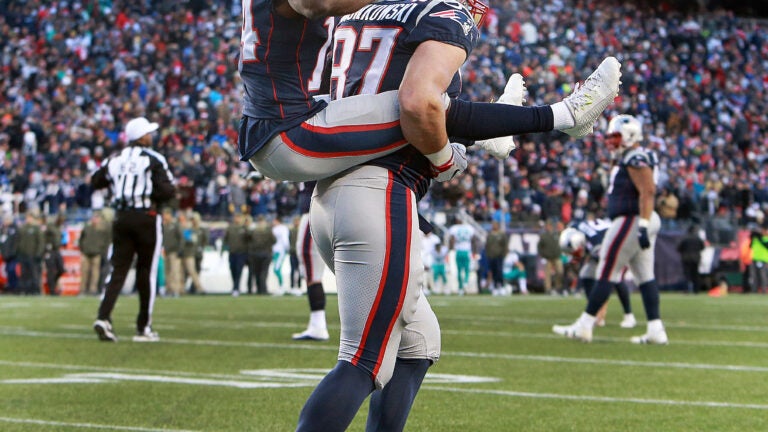 The Patriots haven't exactly led the way in touchdown celebrations in 2017, despite the NFL relaxing the rules to allow more elaborate displays.
On Sunday, Rob Gronkowski and Brandin Cooks staged a quality celebration, where the smaller Cooks rode on Gronkowski's back following one of several New England scores in a victory against the Dolphins.
All aboard the victory bus pic.twitter.com/GTp8KHoBi3

— Pete Blackburn (@PeteBlackburn) November 26, 2017
In the postgame, Gronkowski was asked for some background information about the celebration. His answer gave a rare glimpse into the restrictive team policy for players speaking with the media:
Gronk thinking aloud about his TD celebration "We got yelled at we aren't allowed to talk about celebrations. But I kind of want to talk about it, but I kinda don't because I will get in trouble. So I don't know what to do. #Patriots pic.twitter.com/SC2UpFE9V5

— Chad Amaral (@chad_amaral) November 26, 2017
"We got yelled at," Gronkowski began. "We're not allowed to talk about celebrations. That's what we got told, but I kind of want to talk about it, but I kind of don't because I'll get into trouble. So I don't know what to do. It just happened on the spot. It wasn't planned. We'll just keep it there."