Patriots
Rob Gronkowski weighed in on a contentious Buffalo wing debate
Gronk has some hot takes on hot wings.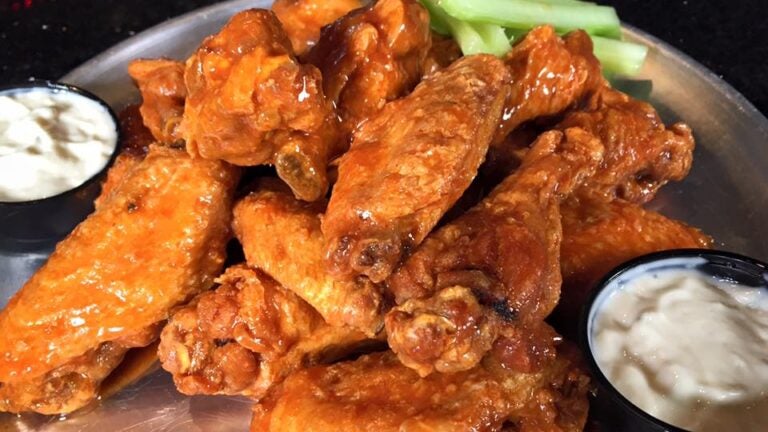 There is perhaps no higher authority on Buffalo wings in the NFL than Rob Gronkowski.
As a Buffalo-area native and a proven wing devourer, the Patriots tight end was asked to choose Thursday between the two most well-known purveyors of his home city's namesake dish: Anchor Bar or Duff's Famous Wings?
Gronkowski chose none of the above.
"That's like the touristy spots, Duffs and Anchor Bar," he said of the two restaurants.
"I've been to Anchor Bar before," Gronk continued. "I swear I've never been to Duffs, but I hear about it every day. I drive by it every day. I've just never been there. I don't know why, but I've got to definitely try it out one time, or many times, in the future."
By all accounts, the Buffalo wing originated at Anchor Bar in 1964; however, some critics argue that Duff's actually serves the better product.
Gronkowski said he prefers a local place in his hometown of Amherst, a suburb right outside of Buffalo.
"I usually go to Amherst Ale House," he said. "That's right down the street from where I grew up."
Gronkowski added that while "you can go anywhere" in Buffalo for wings, the "key" is good blue cheese for dipping.
"Buffalo blue cheese, Rootie's blue cheese – you've got to have that or else you don't have wings," he said.
According to Gronkowski, the Patriots coaches get "like 100 wings" the Saturday before the game when the team visits Buffalo.
"They don't share either," he said.
Fortunately, Gronkowski said he gets to indulge after the game.
"After the game, I dip in all the blue cheese," he said. "Rootie's blue cheese – you've got to try it."
Despite reports that the hulking tight end adopted Tom Brady's infamously strict diet over the summer, he admitted he hadn't given up wings during a conference call with the Buffalo media earlier in the week.
"I have cheat days, man," Gronkowski said.