Patriots
Willie McGinest dished on the origins of 'Do Your Job'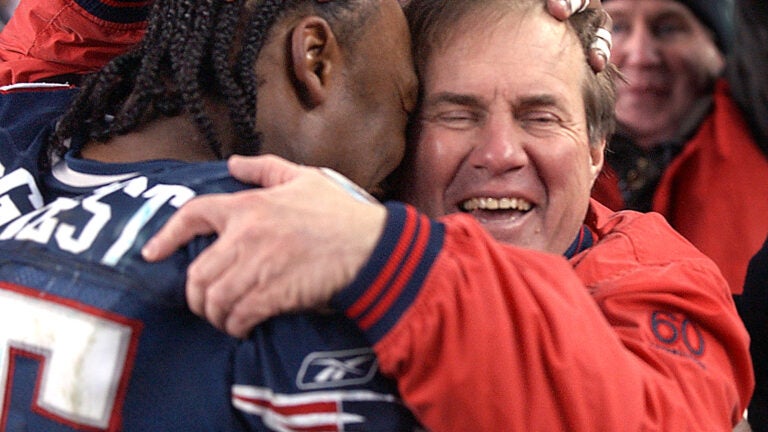 It's a simple phrase that has become ubiquitous within the Patriots organization: "Do Your Job."
Although many fans believe the three-word mantra originated as the driving force behind Bill Belichick, the slogan actually predates the arrival of New England's storied head coach in 2000.
While being honored with the football legacy award at the Sports Museum's 16th annual "The Tradition" Tuesday night, former Patriots linebacker Willie McGinest revealed that the backstory of Belichick's famous expression begins in the mid 90's when the Kraft family purchased the team.
"It was started by the Kraft family and the type of character guys they brought in," he told the crowd at the TD Garden. "We knew that there was a standard that we had to abide by. For us as players, we didn't want to let each other down. We didn't want to be the weak link. We didn't want to be the cause of something not going the way it was supposed to go."
McGinest entered the league as the fourth overall pick in the 1994 NFL Draft — the same year that Robert Kraft bought the Patriots for a then-NFL record $175 million. In the two seasons that followed McGinest's rookie year, the Patriots made a trio of selections that solidified their defense: Ty Law in 1995, and Lawyer Milloy and Tedy Bruschi in 1996. Each of the three additions proved to be critical components in bringing home New England's first Super Bowl championship in franchise history, but Kraft's son, Jonathan, believes McGinest was "the foundation."
"It started with Willie," said the Patriots president, who presented McGinest with his award Tuesday night. "In the locker room, aside from what he did on the field, he was the ultimate leader. Willie set the tone, and I think Bill really relied on him — both Bills — to set the culture for the young guys coming in. If we've been fortunate to have any success, he is the true player leader that started it all. He is a real leader."
McGinest would go on to play 12 seasons in New England, earning three Super Bowl rings and two Pro Bowl selections along the way. He also currently holds the record for most career postseason sacks with 16. While McGinest certainly remembers the celebrated milestones, the linebacker also recalls finding competition in day-to-day tasks, too.
"We wanted to compete in every facet of our game, from drinking water to working out, to who got in earlier," he said. "We used to race Belichick in in the morning to see who would get to the weight room the fastest because we felt like to create a winning culture, it wasn't really about who we were playing against, it was about us as a family, and as a team."
"If we competed against each other — and we took that to another level — it really didn't matter who we were facing that Sunday," he continued. "I think collectively, the foundation of guys that were there all understood that we needed to do a little bit more."
And they did. The words of McGinest still ring true with the team's current culture, as he, Bruschi, Law, and Milloy helped establish what has now evolved into the Patriots dynasty. Hundreds of players have filtered through the organization over the past quarter of a century, but McGinest believes his defensive group was one of the more impactful.
"We took a little more pride in the smaller things, which I think is the reason why the organization is what it is today," he said. "Holding each other accountable and making sure everybody did their part. The term you guys hear so much now, 'Do Your Job,' we made that popular and turned it into wins and success. It's still going out of control, but that started with ownership and trickled its way down to us."
At "The Tradition," McGinest also relived a number of his more memorable experiences as a Patriot with hosts Tom Caron and Jackie MacMullan. Here's what he had to say:
On the Patriots-Jaguars AFC wildcard game in January 2006: Against the Jaguars, McGinest recorded the most number of sacks (4.5) in a single game in franchise history. When asked what was the critical component to taking down Jacksonville's quarterback Byron Leftwich, he attributed his tackling success largely to quickness.
"Speed is always a factor because if you can't run anybody down or run around anybody, on defense, you're no use," the linebacker said. "So speed, I would say, is key to almost everything. And when you can't run as fast, you can still think as fast, so your mind has to move faster."
On his first encounter with former head coach Bill Parcells: The Patriots drafted McGinest with the fourth overall pick in the 1994 NFL Draft. At 6-foot-5 and 270 pounds, the linebacker out of University of Southern California had Parcells "salivating" due to his quickness and impressive abilities in spite of his size.
"Today you see guys that are that athletic and fast, but turning the clock back, Willie was very unique," Jonathan Kraft said.
"Bill Parcells salivated very rarely, but I remember him salivating," Kraft said. "I asked Willie, 'What did Parcells ever say to you when you first came up?' And he told me he said, 'You're surprised, aren't you?' Because Parcells hadn't talked to him because I think he didn't want to let anybody know about him, which is why he was salivating over him."
On his injury against the Colts in November 2003: With just over a minute remaining in a crucial regular-season game against Indianapolis, McGinest went down with a knee injury that many speculated to be fake. Up 38-34, New England had no timeouts to stop the clock, as Peyton Manning's offense powered through the red zone. McGinest, however, went down with an apparent knee sprain that awarded the Patriots an injury timeout.
Immediately after the game, he told reporters that he "would never fake an injury to come off the field and miss a couple of plays" in a game with postseason-seeding ramifications. His recent response was vaguely similar, yet it also carried implicit hints that the play might have been premeditated.
"First of all, if you've ever played the game, you never want to fake injuries because you don't want to jinx yourself to actually get hurt," McGinest said. "But this is how smart our coaching staff was. We knew there was no rule at the time — no runoff of the clock if you were injured — so there was always the thought in practice, if you have an injury, most guys try to do what? They try to run off the field, and the clock continues to go."
"Well, our coaches are a little ahead of the game, so they're like, 'Peyton Manning will try and snap the ball when you're running one guy off and one guy on," he continued. "We knew that. So if you're hurt, stay down. And if I was actually hurt, I would have came back in the very next play. I stayed out for a few plays so. My knee actually got caught in the turf, but it was OK. I stayed out a couple plays, and I was fine for the last play on fourth down."
On that fourth down on the Patriots' one-yard line, McGinest came up with a huge tackle of Edgerrin James for a loss of a yard. The play turned the play over to New England with 14 seconds in the game and secured their victory.
On the team's first Super Bowl victory: After losing Super Bowl XXXI to Brett Favre and the Green Bay Packers, the Patriots returned to the championship five years later as huge underdogs against the St. Louis Rams. McGinest says he remembers hearing that the opposing team's owners were even trying on sample rings at a dinner with the Kraft's.
"Nobody really gave us a shot to win that game. We were the biggest underdogs," he recalled. "They were saying we'll probably be losing by 30 points at the half. Charles Barkley, Floyd Mayerweather, and Chris Berman were the only ones to take the Patriots."
New England of course went on to upset the Rams, 20-17, thanks to a field goal by Adam Vinatieri as time expired. Although he would be a part of two other championship teams, McGinest credited a number of factors — the first title in franchise history, the doubt heading into the contest, and the aftermath of the Sept. 11 attacks — for making that win in the Louisiana Superdome a memorable one.
"How we came together, I think that was the most special for us as an organization."