Patriots
5 things we learned about Bill Belichick's father from 'The Belichick Legacy'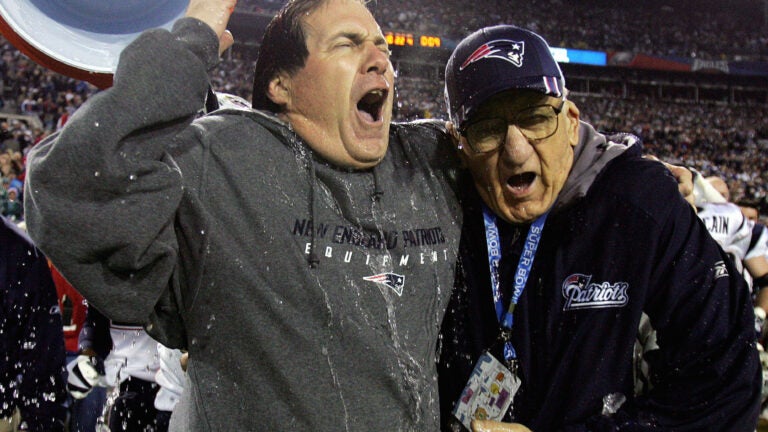 In 1897, a man named Ivan Bilicic immigrated to the United States from the Karlovac region of Croatia. His wife, Mary Barkovic, arrived one year later from Karlovac as well. Struggling to make ends meet, the couple resided in Pennsylvania with their five children.
Bilicic was none other than New England Patriots head coach Bill Belichick's grandfather. When applying for American citizenship, immigration officials suggested he change his last name to White. But Bilicic refused. It since, of course, has been adapted to Belichick.
Produced by CBS Sports Network, The Belichick Legacy details the life of Belichick's father, Steve, and the lasting impact he had on his son. Here's what we learned from the 30-minute program:
Steve survived the Great Depression.
Born in 1919, Steve grew up in Struthers, Pennsylvania as the youngest of five children. The Great Depression hit when he was teenager, causing his dad to lose his job. Two of his brothers dropped out of school in order to find work during the family's, and country's, "tough time."
"He talked a lot about the Depression," Bill said of his father. "I think he was always, to a certain degree, concerned that it would come again."
As most did at the time, the Belichicks stood in the soup and unemployment lines — ready to work, eager to work, but there were just no jobs.
"They were literally scrapping, saving everything, and trying to make the most out of every ounce of food or resource that they had," Bill said.
'Without football, he's a steel worker.'
Steve ended up working at a steel mill during school, an outcome that he thought was inevitable. While Steve was prepared to resign the rest of his life to working on the mill, a teacher at Struthers High encouraged him to get a college football scholarship.
"Without football, he's a steel worker," Bill said. "He would've done that for his life."
The mill Steve worked on ultimately went defunct, however, which eliminated his job as well as countless others. The closure essentially forced him to pursue an alternative career option.
"Football was really his ticket out of that tough situation," Bill said.
Thanks to the football team's head coach Bill Edwards, Steve received a scholarship to Western Reserve University. To pay for his education, he worked odd jobs throughout his four years and even lived in "a closet above the gymnasium."
Steve holds an NFL record.
In 1941, Edwards accepted a job as head coach of the Detroit Lions. He enlisted Steve as his equipment manager, but little did he know his former fullback would end up making a difference on the field, too.
With the team struggling, Edwards signed Steve as a player. The 22-year-old starred in six games, recording two touchdowns and 118 yards on 28 carries. There's one particular play, however, that still brings smile to his son's face.
"He returned one punt in his career, against the New York Giants, for 67 yards," said Bill, grinning from ear to ear. "67-yard average, highest in NFL history on that one return."
The crux of the Belichick coaching style spans at least three generations.
Shortly after his brief stint in the NFL, Steve joined the U.S. Navy following the attack on Pearl Harbor. He served both in Europe and the Pacific during the war. Upon returning home, he pursued a career as a college football coach.
Steve worked at Hiram, Vanderbilt, and the University North Carolina before becoming a scout for the United States Naval Academy. Former midshipmen Roger Staubach and Phil McConkey spoke very highly of Steve's presence, calling it wildly effective albeit sometimes "brutal."
"It was tough love," Bill explained. "It wasn't always what you wanted to hear; in fact, it wasn't what you wanted to hear, but it was the truth. It was honest, it was fair. Once you thought about it, got past the feeling sorry for yourself, and actually heard the words that he saying, you knew he was right."
Although Bill was characterizing his late father, his words also ring true regarding his own coaching style. McConkey highlighted further how Bill has modeled his current perspective off of his dad.
"You learn how to overcome, you learn you've got more to give," he said. "Steve Belichick taught us that it's going to take every iota of energy in your being to overcome those obstacles to win. If you're spending this much energy on yesterday, you're going to lose. And his son uses it today."
Bill's son, Stephen, has also picked up on the lessons passed down from his grandfather. As the Patriots safeties coach, Stephen said he's realized the takeaways through his daily interactions with his father.
"One thing that my grandfather passed to my father that I've been truly able to appreciate — maybe started to understand when he died, but now working for my dad and being with him on a day-to-day basis — is to have a short-term focus to achieve your long-term goals. I knew that about my grandfather, but I'd say that was definitely passed through my dad."
The Naval Academy is a 'very special place' for their family.
Steve accepted his job at the Naval Academy in 1956, when Bill was just four years old, which meant nearly all of Bill's childhood was spent in Annapolis. He remembered this time fondly:
When I was a kid, we would go to Hospital Point, which was the field right below the cemetery, and my dad and I would hit golf balls. We hit 100 golf balls, go down there pick them up, turn around, and hit them the other way, turn around, pick 'em up. We'd go Saturday afternoon and go hit golf balls together.
The Belichick Legacy.

Tonight at 9pm ET on @CBSSportsNet. pic.twitter.com/cERjaT8HDL

— New England Patriots (@Patriots) December 7, 2017
The pair also enjoyed crabbing along the seawall on the Severn River. As Bill remembers, they would "take the river basket, take the chicken necks, roll them down in the Severn, crab for a couple hours on the wall, come back and have that for dinner."
"It's a great place for me," said Bill, as tears welled up in his eyes. "It's a great place for my dad and I. We spent a lot of time together there."