Patriots
Steelers-Patriots: Does it pass the rivalry test?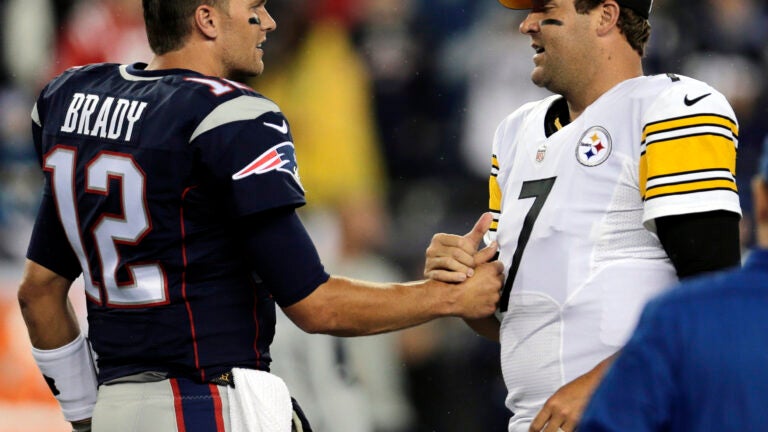 Welcome to Season 6, Episode 14, of the Unconventional Preview, a serious-but-lighthearted, often nostalgia-tinted look at the Patriots' weekly matchup that runs right here every weekend.
Is Steelers versus Patriots a genuine rivalry?
I've been pondering this off-and-on this week now that the game we've been anticipating since the Patriots got rolling in late September has finally arrived, and I still don't know the answer.
Sure, they've met several times in the last decade or so when they've both had excellent won-lost records. And they've met in AFC playoff games when the stakes couldn't be much higher. They've had plenty of moments that were both memorable and meaningful.
But the Patriots have won the last four matchups. And Tom Brady is 10-2 in his career against the Steelers. How can it be a rivalry when Pittsburgh has never beaten the Brady/Belichick Patriots in a playoff game? Don't make me break out the hammer/nail cliché. I'll do it if I must.
Maybe it is a rivalry in every way but the outcomes. It certainly is relevant from a continuity standpoint. The maximum stability that Brady and Belichick have given the Patriots is unprecedented in NFL history.
The Steelers have an impressive quality of continuity in their own right. Mike Tomlin is just the third Steelers head coach since 1969. He's been around 11 seasons now, and the Steelers have never finished below .500 on his watch.
Part of that is due to the caliber of talent at his disposal — Ben Roethlisberger predates him as the Pittsburgh quarterback. But there's little doubt that Tomlin's achievements would earn greater recognition if the Patriots weren't around to be just a little bit better in most years.
The Patriots have often had to go through the Steelers to achieve their greatest goals. The Steelers have been unable to do that. But with a win Sunday, Tomlin's team would move to 12-2 with its ninth straight win, and the Patriots would fall to 10-4 with a second straight loss, thus giving Pittsburgh a clear path to the top-seed in the playoffs.
This is a game that has been anticipated for weeks. And no matter how it plays out, it's likely to foreshadow another matchup to come a few weeks down the road, when the stakes are highest. I'm not sure this is a rivalry. But these Patriots-Steelers matchups through the years sure have been entertaining. Sunday's should be no different.
Kick it off, Gostkowski, and let's get this one started . . .
Three players I'll be watching not named Tom Brady
Antonio Brown: Usually in this spot I try to find a less-than-obvious choice to discuss, someone who is not a superstar but could have a significant impact on a game. Brown is a superstar. He's also someone we must talk about, since he is a genuine Most Valuable Player candidate, which very rarely can be said for a wide receiver. (No receiver has ever won the Associated Press MVP award; Jerry Rice in 1987 is the only one to win the Football Writers' award.)
His achievements are staggering. Brown has 99 catches for 1,509 yards and 9 touchdowns this season. He has an outside shot at Calvin Johnson's single-season receiving yards record (1,964) set in 2012. He is the second-leading receiver in Steelers history (9,886 yards), trailing only Hines Ward (12,083). He has more receiving yards as a Steeler than Lynn Swann (5,462) and Plaxico Burress (4,206) combined.
The strength of the Patriots' defense is its defensive backfield. But Brown cannot be covered by one player, and often he cannot be covered by two. The question that has been asked about Tom Brady so often through the years also must be asked about Brown. How in the world did this guy last to the sixth round of the NFL Draft?
Joe Thuney: Pretty much any spot on the offensive line could be the focus here given how often Brady has been hit over the last three weeks by the Dolphins (twice) and the Bills. Right tackle is an obvious spot to watch with Marcus Cannon, so dependable last year, heading to injured reserve this week and the Cam Fleming/LaAdrian Waddle tandem now trying to hold down the position and keep Brady upright.
But Thuney, the second-year left guard, could end up with the spotlight on him for the wrong reasons this week. He and center David Andrews have too often been overwhelmed in recent weeks by larger, more powerful opponents. Thuney has especially struggled in pass blocking. He doesn't have to deal with the massive likes of Miami's Ndamukong Suh this week, but his assignment is not an easy one.
Javon Hargrave isn't one of the Steelers' big names, but he is a player who has taken on more responsibility in recent weeks and has handled it well. The 3-2-6 alignment the Steelers utilized against the Ravens is designed in part to keep the second-year defensive tackle on the field more often. Hargrave has four sacks this year, and he steamrolled Thuney for a sack in last year's AFC Championship Game. It's close to imperative that Thuney wins the battle this time around. He's lost more than a player charged with the obligation to protect Brady should in recent weeks.
Jesse James: The third-year tight end has been a minor nuisance against the Patriots in the past, catching five passes for 48 yards in the AFC Championship Game in January. But he's coming off arguably the best game of his career, a 10-catch, 97-yard performance in the Steelers' 39-38 win over the Ravens Sunday, and given the serious questions about the depth and coverage ability of the Patriots' linebackers, the 6-foot-7-inch James should be a favorable matchup for Roethlisberger to exploit.
Grievance of the week
I should just make last week's grievance — Roger Goodell's ridiculous contract terms, which pay him roughly $39,999,999.95 more than he's worth per year — the permanent grievance and be done with it. It is a first-ballot grievance Hall of Famer at the least.
But I've got a real gripe this week. An advance gripe, really, one based on the look-at-us nonsense from the men in stripes that we're almost assured to have to suffer through in Sunday's game.
[fragment number=0]
Great. We've got the potential Game of the Year, one anticipated for weeks from Bangor to Beaver Falls and beyond, and we're going to spend three-plus hours Sunday watching these whistle-blowing nitwits throw more yellow flags than Tom Brady throws passes.
They're going to constantly interrupt the game's flow and it's already infuriating. Our best hope for this game to live up to its entertainment potential is for one of the lunatic Steelers – here's to you, James Harrison – is to get fed up with a penalty and chuck a flag into the stands. Or an official.
Where's Walt Coleman when you need him? Now that guy knows how to run a game.
Prediction, or Louis Lipps was definitely an alias, right?
Tell me who's out there on the Patriots' defense come 4:25 p.m. Sunday afternoon, and I'll tell you how much I like their chances. Until the hiccup Monday night against the Dolphins, the defense, rightfully maligned early in the season, was on a two-month roll, allowing 17 or fewer points in eight straight games. But then they got picked apart by Jay Cutler on Monday, and when you get picked apart by Jay Cutler, it's time for some introspection.
And that introspection yields this concern: Has the attrition on the Patriots defense brought them to a point where they're not going to be able to stop competent offenses going forward, let alone offenses featuring Antonio Brown and Le'Veon Bell?
Monday, they were without Kyle Van Noy and Trey Flowers, their most versatile linebacker and their best pass rusher. Alan Branch and Deatrich Wise are also dealing with injuries. It got to the point Monday that Eric Lee, who was on the Bills' practice squad three weeks ago, played all 73 defensive snaps, and safety Jordan Richards lined up as a pass rushing end for at least one play.
The inventiveness is admirable, but it's hard to see how it works against such a talented Pittsburgh opponent. It's going to be a shootout, and when you have Tom Brady (not to mention Rob Gronkowski) you always have more than a chance. I'm reluctant to pick against them, but ultimately I can't shake the sense that this one goes to Pittsburgh. Then the Patriots, provided they're in better health in January, will get their revenge in the rematch. And after losing this one, you bet it will feel like a rivalry then.
Steelers 37, Patriots 35.