Patriots
Patriots defenders say they had prepared for Ben Roethlisberger's fake spike
"I was like 'Oh, they're running the play.'"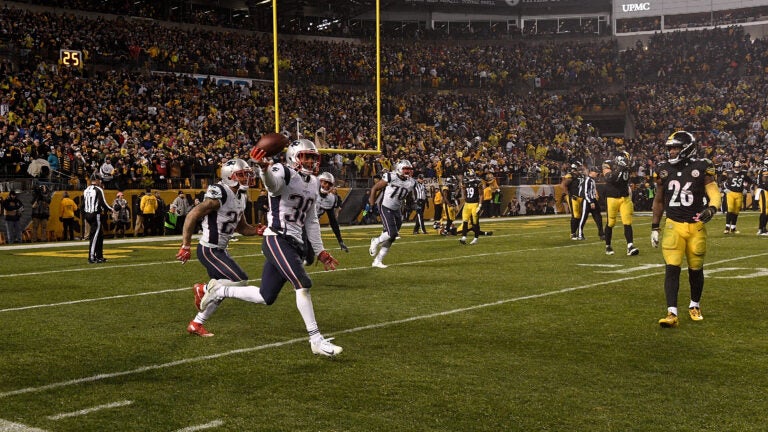 Ben Roethlisberger tried to pull off his best Dan Marino imitation to win Sunday's game. After all, the Steelers quarterback successfully executed the play last year.
But the Patriots defense was ready for it Sunday.
What a WILD ending. pic.twitter.com/SAS8ZpJicS

— CBS Sports (@CBSSports) December 18, 2017
In the game's dying seconds, Roethlisberger tried to catch the Patriots off guard by fake-spiking the ball and squeezing in a game-winning touchdown pass to Steelers receiver Eli Rogers. However, after being tipped into the air by Patriots cornerback Eric Rowe, the pass ultimately landed in the hands of safety Duron Harmon for a game-sealing interception.
It turns out that the Patriots defense had prepared for Roethlisberger's trickery.
"The fake spike is something we see (in practice) all the time," safety and defensive captain Devin McCourty said after the game.
"I think all the great quarterbacks do that," McCourty said. "If they can catch you sleeping and get an easy play, they're going to try to do it. … We knew there was a chance."
The two players immediately involved in the interception concurred.
"Everybody was in panic mode trying to get lined up and I just see Big Ben fake it — I was like 'Oh, they're running the play,"' said Rowe.
Eric Rowe, who deflected the pass that Duron Harmon intercepted, explains what happened on that crazy final play. pic.twitter.com/JtbYAZekIg

— Zack Cox (@ZackCoxNESN) December 18, 2017
Harmon also noted that the Patriots had prepared for the fake spike in practice and film study.
"We've seen it on film," he said. "We was ready for it. And literally Eric Rowe made a great play and I was there to clean it up."
Duron Harmon on the INT. pic.twitter.com/p9coKxJMLg

— Kevin Duffy (@KevinRDuffy) December 18, 2017
Harmon says the offense tries to pull off a fake spike every week in practice pic.twitter.com/Gd5AeQsaiS

— Mark Daniels (@MarkDanielsPJ) December 18, 2017
For what it's worth, Roethlisberger told reporters after the game that the spike wasn't planned. Rather, it was last-second call.
Ben Roethlisberger says there was a difference of opinion on #Steelers final play. "It wasn't a fake spike. I was yelling 'clock it' b/c I felt that was the thing to do, to clock it and get yourself one play. And it came from the sideline: 'Don't clock it, don't clock it.'"

— Aditi Kinkhabwala (@AKinkhabwala) December 18, 2017
https://twitter.com/BenVolin/status/942556032471101441