Patriots
'It was easily the best tight end performance I've ever seen live'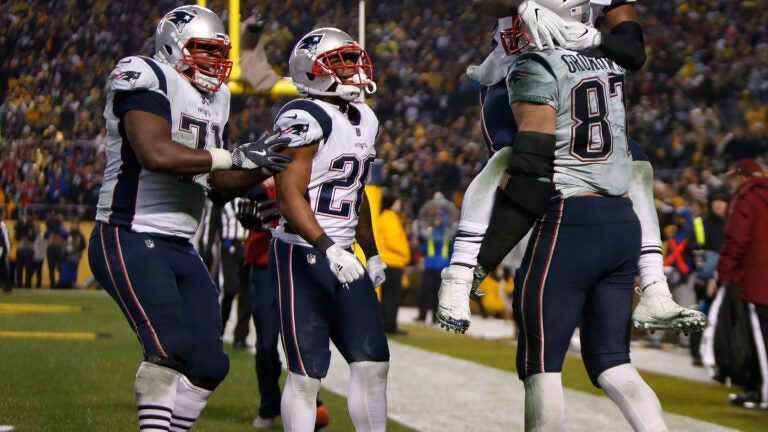 Rob Gronkowski was feeling it against the Steelers Sunday evening.
The tight end had nine receptions for a career-high 168 yards in his monstrous return after a one-game suspension. Broken down by catch, Gronkowski's receptions were for 2, 31, 22, 10, 17, 17, 26, 26 and 17 yards — demonstrating his ability to move the chains, something New England struggled with in his absence.
Gronk signaled for a first down while on his back and I can't stop laughing pic.twitter.com/oVH6iz32B5

— Pete Blackburn (@PeteBlackburn) December 17, 2017
"He's a beast, baby," running back Dion Lewis said after the game. "He was probably feeling good out there. Knowing Gronk, I knew he was going to come out good. He got a whole week off. Got to eat."
On the Patriots' final scoring drive of the game, Tom Brady targeted Gronkowski on each of his four passing plays. The pair's series of connections moved the ball 69 yards, from New England's own 23-yard line to Pittsburgh's 8-yard line, to set up Dion Lewis' game-winning rushing touchdown.
"It's hard to describe special players in this league," Matthew Slater said of his teammates' performances after the game. "There are certain guys when the moment's big, they just become bigger. The moment wasn't too big for those guys. They've worked at it for years now, that connection. It was clicking tonight."
Newly acquired wide receiver Kenny Britt, who made his Patriots debut against the Steelers, had one word to describe the Brady-Gronk duo: "Legendary."
But Gronkowski wasn't only making the highlight reel for his impressive catches. A few of his celebratory antics, including a major flex after his diving fourth-quarter grab to set up first-and-goal for the Patriots, garnered some attention, too.
"I love getting in that zone," he said of the Hulk-esque move. "I wish I could be like that 24/7 — every week and every day."
.@RobGronkowski is really, really good. #GoPats pic.twitter.com/bxtga9a6fZ

— New England Patriots (@Patriots) December 18, 2017
After notching New England's two-point conversion, he opted to go full-robot mode, which featured a point-and-laugh at Steelers safety Sean Davis in addition to the classic Gronk spike.
Another view of Gronk laughing at Davis ???? pic.twitter.com/KkFJhWpwC2

— '03 Kliff Kingsbury (@fearthe_beard11) December 18, 2017
The conversion gave the Patriots a three-point lead with 56 seconds left in regulation. As Gronkowski made his way back to New England's sideline, he started swinging his arms in an exaggerated swagger. But Brady quickly put that to an end, shouting: "Hey! Hey! It ain't over!"
.@RobGronkowski is really, really, really good. #GoPats pic.twitter.com/cvt9j7FQyR

— New England Patriots (@Patriots) December 18, 2017
The 40-year-old may have cut Gronkowski's celebration short, but the impact of the tight end's performance was by no means lost on the quarterback.
"He was doing it himself," Brady said of Gronk. "I think they were trying to challenge us, and he made a lot of good plays. Other guys make a lot of good plays, too, but when he's open, he gets it. It was just a great game by him. He played so, so great."
As head coach Bill Belichick put it, "Even when Rob's covered, he's open."
Sunday marked Gronkowski's 26th game of his career with over 100 yards. Only retired tight end Tony Gonzalez has more 100-yard games (31) for their position group. Gronk also surpassed 1,000 receiving yards for the fourth time in his career. He, Gonzalez, and Cowboys' Jason Witten are the only tight ends in NFL history with four 1,000-yard seasons.
"It was easily the best tight end performance I've ever seen live," teammate Dwayne Allen said. "6-foot-7 guys aren't supposed to do stuff like that. But of course, Rob Gronkowski did."