Patriots
There's no cliff, but something strange is happening with Tom Brady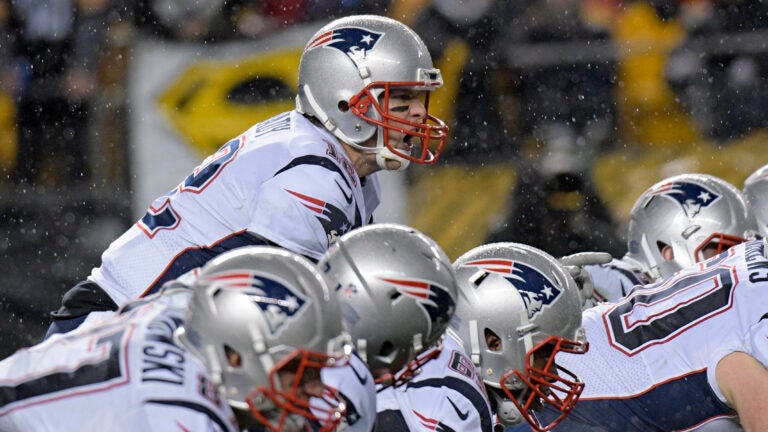 COMMENTARY
So, how are you feeling about your quarterback?
Fewer than three weeks remain until the beginning of the NFL playoffs, four until the New England Patriots likely host whatever wild card entry escapes from a pile of fragmentary franchises in the divisional round. In the wake of Sunday's pulsating, 27-24 escape from Pittsburgh, the prospects of watching the Patriots invite the Buffalo Bills and New York Jets to Foxborough over the next two holiday eves is a football purgatory that can't make January come soon enough.
Except for, maybe, Tom Brady.
We've long since abandoned the litmus test when it comes to the five-time Super Bowl champion, if only because he seems to re-write the procedural manual with every enthralling response he manages at every opportune time. But before he engineered a game-winning, 77-yard drive in the final four minutes against the Steelers (Hint to Mike Tomlin: Cover Gronk), Brady was going to end up being the goat. Not the GOAT.
His ill-advised decision to force a pass into Rob Gronkowski's hands caught up to him in the third quarter, when Pittsburgh's Vince Williams picked off the ball and set the Steelers up for an easy score beginning at the New England 22-yard-line. It was a Brett Favre-esque decision for a player most notable for shying away from the gunslinger mentality. And it very nearly left the Patriots left with fighting off the Jacksonville Jaguars for the No. 2 seed in the AFC instead of jockeying with the Steelers for home-field advantage throughout.
But Brady was great when it mattered. Again.
It's also something he hasn't been much of lately at all.
Only five times this season has Brady had a quarterback rating below 90; the first week against Kansas City, in the October squeaker against the Jets, and each of the last three weeks against Buffalo, Miami, and Pittsburgh. As badly as Brady played last Monday night against the Dolphins (24 of 43, 233 yards, a touchdown and two interceptions), he wasn't all that much better Sunday prior to the game-winning drive (22 of 35, 298 yards). The interception was the third he's thrown in the last two weeks, the fifth over the last four games. With seven on the season, he's already matched the number he had two seasons ago.
It's not like the "cliff" is anywhere on the horizon, but Brady's performance over the last month hasn't kept pace with what he might expect.
The reasons for such a concern are multi-layered. Without Julian Edelman (or Malcolm Mitchell) to depend on, Brady was going to need to find a suitable replacement in the final months of the season, something his wide receivers have failed to accomplish. Danny Amendola is a nice, but not nails, player, Brandin Cooks can be a maddening shooting star from play-to-play, Chris Hogan is Just a Guy, and Brady treats Philip Dorsett's presence as if he's the last kid picked for playground dodgeball. There's the recent Achilles injury to start worrying about, with images of Brady donning a pre-Super Bowl boot coming back to memory. There's this little matter gone widely underreported that the man recently had a 40th birthday.
Still, take the Tim Couch performance that Brady had in Miami and compare it to the mostly-pretty-OK Brady we saw in Pittsburgh and the difference of Gronkowski's presence doesn't exactly go unnoticed.
"He just kept getting free," Brady said about the Patriots tight end who caught nine passes for a career-high 168 yards. "He's a tough matchup with his size and speed. He's a big part of our offense."
No kidding.
But there's also another strand unraveling here when it comes to Brady's recent performance, a controversy that had seemingly been generated by talking heads over the last fortnight, yet one that Brady refused to put to rest on Monday morning.
Brady's TB12 body guru, Alex Guerrero, hasn't been traveling with the team in recent weeks, creating the appearance of a rift between Tom Brady's Life-Altering Corporation and Patriots head coach Bill Belichick. When asked about such a situation during his weekly spot on WEEI's "Kirk and Callahan," Brady did little to make it sound as if he was in his coach's corner.
"I don't have any comment on that," Brady said. "Other than to say that, it's been well-documented, Alex has been a huge part of what I do and I'm so fortunate to have him not only as a friend, but everything that we've been able to do together. It certainly takes a lot of people I think for an NFL player to achieve in your career — your teammates, coaches, family, and support friends — and Alex has been a huge, huge reason why I'm still playing."
Then is his absence reason for Brady's downtick over the last few weeks?
Belichick would probably find more joy in finding a drafting how-to manual authored by Ryan Grigson under his Christmas tree than he might the TB12 Method best-seller. Even in the midst of a dynasty, it has to irk him to no end that his quarterback is doubling up his reasons for playing at this age both for team and legacy. But where does Brady's legacy in NFL annals pale in comparison to what he hopes it does for his brand post-retirement? When is the next Super Bowl not so much about the New England Patriots than it is for the long-standing health of pal Guerrero and TB12?
"I haven't heard anything from either the coaching staff or Alex about either one being upset with each other," Jonathan Kraft said in his weekly pre-game radio interview Sunday on 98.5 The Sports Hub. "I've seen Alex in the building, and he always seems like he's in a really good mood. Alex is a great guy, and neither one has said anything to me."
Swell.
But without Belichick at the helm, one wonders when Brady would allow TB12 to overtake other important factors. If it comes down to Guerrero or Belichick in a perceivable pick 'em, who do you think loses out; the one who drafted him and helped him to seven Super Bowls, or the guy who has convinced him pliability and drinking water are the keys to life?
How are you feeling about your quarterback? You should feel just fine.
Just keep an eye out.