Patriots
Another touchdown was controversially overturned in favor of the Patriots
Kelvin Benjamin's apparent TD was ultimately ruled incomplete by referees.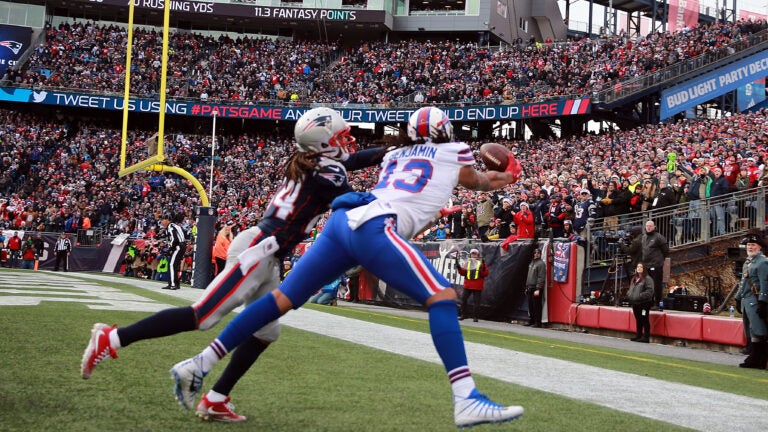 "Oh my goodness, are we in Pittsburgh again?"
There was surely a sense of déjà vu during the final seconds of the first half of the Patriots' game Sunday.
With New England leading Buffalo, 13-10, the Bills earned themselves first-and-goal on the Patriots' four-yard line with 13 seconds remaining. After two incomplete passes to Charles Clay — one of which was dropped in the end zone after the wide-open tight end seemingly couldn't "survive the ground" — Tyrod Taylor appeared to connect with Kelvin Benjamin for a touchdown.
Is this a touchdown? ??‍♂️ pic.twitter.com/5HHyBoGz32

— Pete Blackburn (@PeteBlackburn) December 24, 2017
The wide receiver had to reach his arms out to make the grab in tight coverage, but Benjamin appeared to drag his left foot in the back corner of the end zone for the score. Officials initially ruled the catch a touchdown.
After review, however, the call was overturned. The play was deemed an incomplete pass, prompting the Bills to kick a 23-yard field goal on fourth down. According to the league's football operations Twitter account, the decision was based on Benjamin's control of the football. The referees believed the 26-year-old gained control of the football with only one foot in bounds, meaning he did not have control while he was dragging his left foot.
Video explanation from @NFL SVP of Officiating Al Riveron on the reversal in 2nd quarter of #BUFvsNE pic.twitter.com/2XzCLEINlE

— NFL Football Operations (@NFLFootballOps) December 24, 2017
Bills head coach Sean McDermott told CBS correspondent Tracy Wolfson at halftime that he would have thrown his red challenge flag if the call occurred before the two-minute warning. All scoring plays are reviewed by officials, but ones within the final two minutes cannot be challenged by coaches.
Buffalo's team Twitter account expressed their confusion in response to the call.
?

— Buffalo Bills (@buffalobills) December 24, 2017
"Well, Al Riveron, every week, you're going to have one fanbase happy and one really upset," Tony Romo said on the CBS broadcast.
Riveron is the senior vice president of officiating for the NFL. Just last week, he had to explain why Steelers tight end Jesse James' potentially game-winning touchdown was also overturned against the Patriots.