Patriots
James Harrison isn't really the Patriot we should be talking about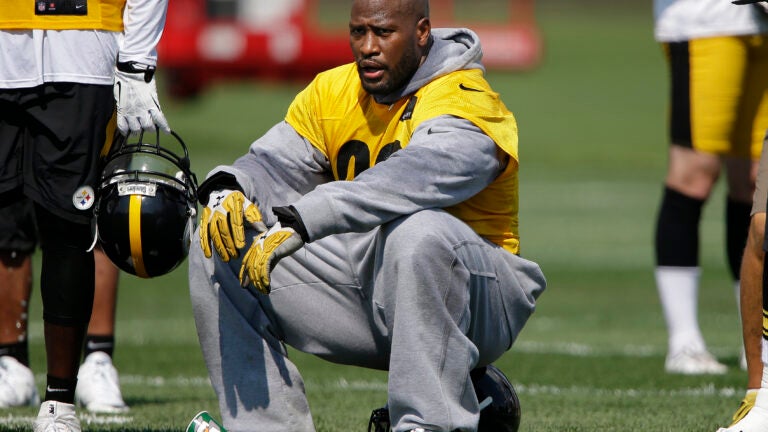 The top trending topic concerning the Patriots Tuesday isn't going to be about a certain familiar golden-boy quarterback who is putting his name on the marquee and stealing every scene he's in as a San Francisco 49er.
Nor will it involve sports-radio chatter speculating how close Alex Guerrero — Tom Brady's guru — can get to the Patriots sideline before Bill Belichick orders Berj Najarian to taser him. Though come to think of it, I might enjoy listening to that conversation.
No, James Harrison, who for 14 of his 15 NFL seasons has been a Pittsburgh Steeler and for several of those seasons has ranked high on the list of most annoying Patriots opponents, finally did New England a solid. Released by the Steelers last week, he signed on with New England Tuesday, joining Pittsburgh's occasional rival and frequent conqueror.
Harrison, the most obnoxious opponent of the last 20 years who does not go by the name Ray Lewis, is now a Patriot, and everyone seems cool with it. Life comes at you fast, and from unexpected angles.
Count me among those skeptical that Harrison plays much, though I suppose he might give the defense some occasional juice as a situational pass rusher. Common sense suggests that the Steelers, who know better than anyone what he has left,
figure he's finished, since they knew there was a chance he would end up with a potential playoff opponent and cut him anyway.
He is ancient by football standards. How ancient? His first year with the Steelers was 2002. The Steelers opened the season at Gillette Stadium. You know what else opened that night? Gillette Stadium. How ancient? When Harrison was a rookie, ex-teammate and current Pittsburgh rookie JuJu Smith-Schuster was 5 years old.
Harrison bears a resemblance to the actor John Amos, who played doomed dad James (hmmm) on the 1970s television show "Good Times.'' If you told me they were the same age, I might believe you.
Harrison has barely played more snaps this year (40) than he has had birthdays in his life (39). He's the seventh-oldest player in the league. But taking kickers (play forever, Vinatieri), punters, and long snappers out of the equation, he's the second-oldest. Only Brady can call Harrison "young fella.''
But I am appreciative that Harrison has come here to give us something intriguing and relevant to the current Patriots roster to talk about. Though, naturally, the person responsible for bringing him to Foxborough wants nothing to do with our curiosity. Here are a few of Bill Belichick's responses to questions about Harrison.
On Harrison's visit Wednesday: "It's always good to meet somebody.''
On Harrison's career: "Good.''
On Harrison's potential role: "We'll see how it goes.''
On his familiarity with Harrison: "Every player is different.''
On whether Harrison will provide intel on the Steelers: "We're playing the Jets this week.''
On whether he ever looks ahead: "We're playing the Jets this week.''
Thanks, Coach. Say, who are you playing this week?
We've seen Belichick's minimalist performance art during his press conferences often enough to understand why he does it. He doesn't want one player — especially a new arrival, and in this case one with a personality as big as his biceps — to get an inordinate amount of attention. I'm sure he was understated when the Patriots made high-profile acquisitions such as trading for Randy Moss before the 2007 season or signing Rodney Harrison in '03, though perhaps not to this degree.
Besides, there have been players who have been here all year and contributed in meaningful ways who haven't gained as much notice as Harrison did in the hours after his signing. I was glad to see someone ask defensive coordinator Matt Patricia during his conference call Tuesday about two in particular: Patrick Chung and Malcom Brown.
Chung, a nine-year veteran, has been a versatile mainstay of the defense since returning from a year with the Eagles following the 2013 season. He's steady in coverage, but his real value is his ability to essentially move to linebacker and defend against the run, a remarkable skill given that he is listed at 215 pounds.
"He's a guy that has some tough assignments week in and week out, he really does,'' said Patricia. "I think he does a good job of understanding the multiple positions he's going to play, getting lined up in some different positions.''
Chung is a player who deserves more credit for what he has done. Yet third safety Duron Harmon, also a good player, probably gets more attention. Part of that is probably due to the perception that Chung was erratic during his first four-year stay with the Patriots after being a second-round pick in 2009. He has become what he was supposed to be all along.
After Brown's performance against the Bills Sunday, I wonder if we're witnessing another relatively high draft choice (first round, 32d overall, 2015) finally mastering his role. Brown has been a dependable defensive tackle during his three seasons, but he rarely made the kind of play that made you recognize his dominance, the kind of play Vince Wilfork often made when he was establishing himself as the fulcrum of the Patriots defense.
But Brown was Wilfork-like against the Bills Sunday, with 6 tackles and a sack. On one third-quarter series, he ran down speedy quarterback Tyrod Taylor for a 15-yard sack, then swallowed up LeSean McCoy to set up a third-and-25. It was as dominant a sequence as he's had as an NFL player.
"He studies hard, works hard, tries to understand the opponent,'' said Patricia. "A guy that has really improved throughout the course of the season.''
It makes sense that the Patriots coaches would prefer to talk about players who have expanded their skill sets and production over their years here more than a player who established himself elsewhere — and with a frequent opponent — who is just now beginning what might be nothing more than a cameo with the Patriots.
James Harrison is the new kid in town — or the new old guy, really. He's fun to talk about. But so are the unsung mainstays, who will have a far bigger impact in Sunday's game than Harrison will. That's against the Jets, by the way. Imagine you've heard that somewhere already.