Patriots
Morning sports update: Tom Brady reacted to possibility of Josh McDaniels' departure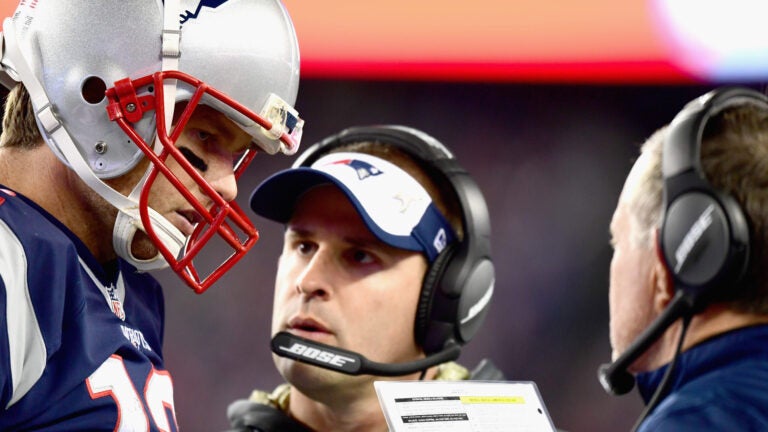 The Bruins defeated the Islanders 5-1 on Tuesday night, while USA hockey scored a win over Russia in the world hockey junior championship.
Here's a look at a few other stories from around the world in sports:
Tom Brady called Josh McDaniels 'an incredible coach and a great friend': With the beginning of a new year come the annual rumors about Patriots coordinators getting head coaching offers. Offensive coordinator Josh McDaniels is reportedly connected to several NFL vacancies, though Tom Brady kept it in perspective when asked about the subject on Kirk & Callahan:
I haven't spoken to Josh about that, but I can understand obviously why people would have those guys at the top of their list. Josh has done an incredible job. He's an incredible coach and a great friend. This is that time of year where coaches get an opportunity. A lot of coaches got fired and that means other guys will get hired. You want to take the good ones. We have some great coaches and Josh has been such a great coach for me. All those things sort themselves out. I am sure he will be focused on our team and what he needs to do to help us win just like everyone else will when the time comes.
25 NBA players weigh in on whether Kyrie Irving plays differently in Boston than in Cleveland: With the return of Isaiah Thomas to the basketball court, NBA fans finally have a complete look at the results of the offseason's highest profile trade.
In Boston, this has meant Kyrie Irving embracing a new role. When trying to discern exactly what the differences are between Irving in Cleveland and Boston, who better to ask than fellow NBA players? (Boston.com)
Is the Red Sox' offer enough to get J.D. Martinez? The Red Sox have reportedly offered free agent slugger J.D. Martinez a five-year contract. The 30-year-old is represented by Scott Boras, who has been seeking a seven-year deal. While the Red Sox are in need of a middle-of-the-lineup hitter, Martinez might still sign elsewhere. (Boston Globe)
When Jae Crowder was traded, he had something else on his mind: Along with Isaiah Thomas and Ante Zizic, the Celtics also traded Jae Crowder as part of the package to land Kyrie Irving last August.
Sadly for Crowder, he was dealing with personal tragedy at the time. As a result, he had a delayed reaction. Prior to his Boston return, Crowder reflected on a difficult period. (Boston Globe)
Daily highlight: Suns forward Marquese Chriss made a game-saving block to help preserve a win against the Hawks:
https://twitter.com/BleacherReport/status/948412515473547265