Patriots
The Patriots took 'No Days Off' to a new level during Thursday's snowstorm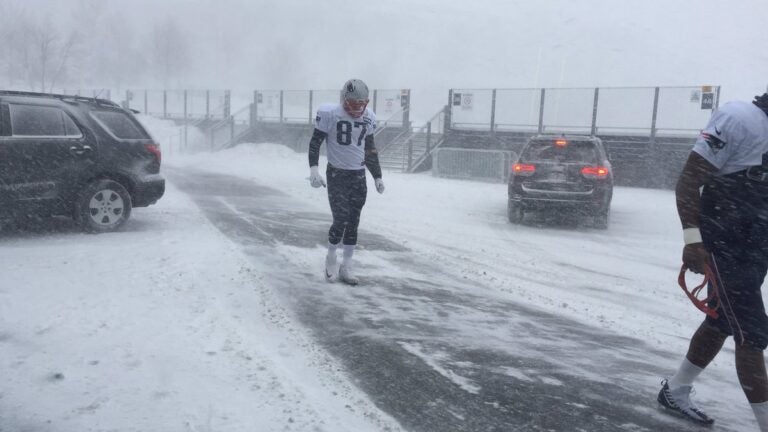 Chilly temperatures, strong wind gusts, and heavy snowfall didn't stop the Patriots from hitting the practice field Thursday morning. The defending Super Bowl champions were up and at 'em, despite the wintry conditions at Gillette Stadium.
Just a normal day at Patriots practice pic.twitter.com/gfJlfNeqPD

— Mark Daniels (@MarkDanielsPJ) January 4, 2018
While the list of closed Boston establishments continued to grow, it was just a regular day for Patriots head coach Bill Belichick. When asked if player attendance on a day with inclement weather demonstrates a high level of accountability, he said, "I don't know. Every day is a work day."
Belichick couldn't completely ignore the elements, however, as the team opted to hold its session inside its practice bubble. Freezing temperatures haven't stopped the Patriots in the past, but visibility may have presented a slight issue Thursday. As flurries continued to fall, the field markings were already completely hidden by a layer of snow.
Here's the Patriots practice field pic.twitter.com/fFMY8BZm9P

— Mark Daniels (@MarkDanielsPJ) January 4, 2018
Belichick didn't elaborate on the specifics behind his decision to move the practice indoors, saying he chose to make the call "when [he] felt like that was the best thing for [the team] to do today."
"I like to prepare our team for the game the best that we can," he said. "So, there are a lot of things that go into consideration on that. We take them all in and make the decision that's the best for our football team. That's what I try to do."
Always upbeat, rookie DE Deatrich Wise Jr., (91) says "Hey guys!" as he makes the walk in blizzard-like conditions to the Empower Fieldhouse, while practice squad CB Ryan Lewis (27) says, "It's a beautiful day out here!" pic.twitter.com/Zaebz30dmI

— Mike Reiss (@MikeReiss) January 4, 2018
Defensive end Trey Flowers said after practice that the walk to the field house was expectedly treacherous, but the Patriots' staff shoveled a path to help guide the players through the storm.
"We fortunately didn't have to walk through the snow and get your feet all cold," Flowers told reporters in the locker room. "But it was definitely windy and cold. A lot of snowballs thrown in between the walk and things."