Patriots
No matter how wild, speculation swirls following ESPN report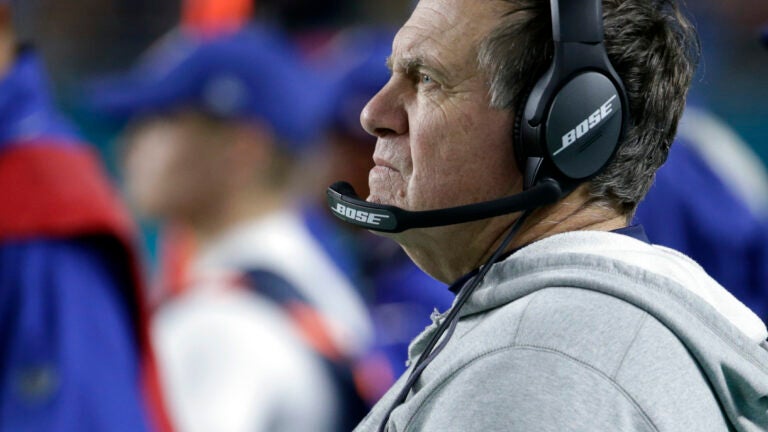 ESPN's report that there is turmoil among Tom Brady, Bill Belichick, and Robert Kraft is being met with delight by some NFL observers. With six head coach openings around the league, speculation is already starting to surface about whether Belichick would leave the Patriots.
The Giants were reportedly already interviewing defensive coordinator Matt Patricia and offensive coordinator Josh McDaniels in Foxborough on Friday, but Tom Rock of Newsday wonders if Belichick will soon be available.
Belichick, seeing his two top lieutenants likely heading for head coaching jobs elsewhere, becoming disenchanted with his 40-year-old quarterback, and frustrated by ownership's decision-making regarding the trade of Jimmy Garoppolo, may decide it's time to leave New England.
There always has been a sense among observers that there is only one NFL job for which Belichick would even consider parting ways with the Patriots. And that job is now open.
Rock points to the 2009 NFL Films "A Football Life'' documentary on Belichick, when he was got emotional when talking about the Giants as he prepared to play at Giants Stadium for the last time.
Rock goes on to write about what the hiring of Belichick would mean for the Giants organization, and how it could all work out with general manager Dave Gettleman and assistant GM Kevin Abrams retaining their jobs.
Alas, Rock concludes that it most likely won't happen, but he's hardly the only one dreaming of Belichick heading back to the Giants.
James Kratch of NJ.com wonders if the Giants would delay their coaching search to see if they can find out if there's a chance Belichick would leave the Patriots. Kratch paints a picture of Belichick being the odd man out in New England.
"If someone is going to lose the power struggle in New England, the ESPN report paints the assumption it will be Belichick. Kraft owns the team, so he's not going anywhere, and the fact Brady appears to have influenced the trade of quarterback Jimmy Garoppolo to the 49ers for a below-market return of a second-round pick – either directly or simply with his presence – indicates Kraft considers Brady untouchable and plans to have him play for him until he hangs it up, whenever that may be.''
Yet Kratch also surmises that Belichick will not end up with the Giants.
"So yes, the Giants can wait. And yes, Belichick may be interested in coaching the Giants. But chances are they won't wait, and he won't coach here, no matter how things end with the Patriots. Some things are too good to be true for a reason.''
Jason McIntyre of The Big Lead writes that there is no way Belichick would do it, but the best option for him would be to coach the Indianapolis Colts. McIntyre also wonders if Jerry Jones would fire Jason Garrett if he thought he could land Belichick. The conclusion? Yes.
Manish Mehta of the New York Daily News always likes to have some fun with Patriots' fans and he wasted no time, comparing Brady to Helen of Troy.
"The Patriots dynasty is careening toward doom thanks to pretty-boy quarterback Tom Brady's ego and selfishness.''
Mehta goes on to write that Brady is responsible for the "bone-headed decision'' to trade Garoppolo by manipulating Kraft. Brady is the Patriots' past and present but he does not care about the organization or their fans, Mehta writes.
"Brady saw the future. And he needed to get rid of it.''
There was plenty of reaction on Twitter as well.
[fragment number=0]
[fragment number=1]
[fragment number=2]
[fragment number=3]
[fragment number=4]
[fragment number=5]