Patriots
Robert Kraft says he did not order Bill Belichick to trade Jimmy Garoppolo
"I am telling you, it's fiction."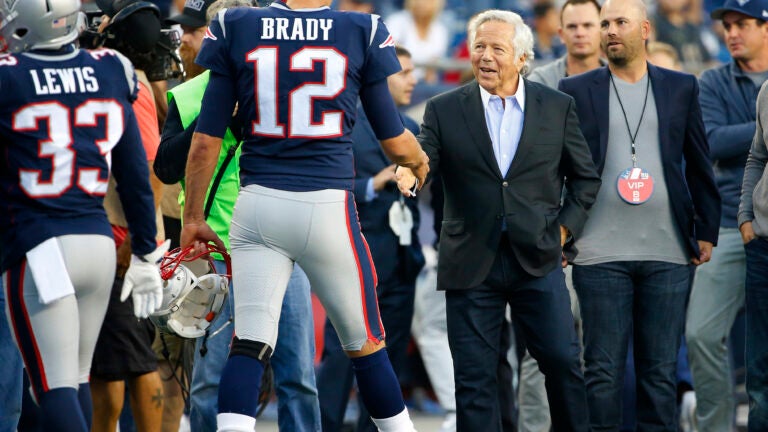 Patriots owner Robert Kraft has doubled down on his efforts to rebuff the ESPN report that detailed alleged turmoil within his organization.
In a recent interview with Sports Illustrated, the 76-year-old businessman told Peter King that he did not order coach Bill Belichick to trade New England's former backup quarterback, Jimmy Garoppolo, as ESPN's Seth Wickersham had reported. Calling Wickersham's retelling of the trade "a total fabrication and fiction," Kraft rebuked the reporter's claims with his own version of what happened.
According to Wickersham, Kraft and Belichick met for nearly half a day in mid-October to discuss the team's quarterback situation. Wickersham reported that Belichick left with a "clear mandate" following the conversation. He was to trade Garoppolo because the 26-year-old "would not be in the team's long-term plans."
"Belichick was furious and demoralized, according to friends," Wickersham writes.
According to Kraft, however, it was actually Belichick who initiated talks of trading Garoppolo this season.
The Monday before the NFL trade deadline, Kraft said Belichick called him to share that he had reached a deal with the San Francisco 49ers: Garoppolo for a second-round draft pick.
"Bill asked me if I was OK with this," Kraft told SI. "I was really taken aback a little bit. I wanted to think about it. I talked to Jonathan [Kraft], who was okay with it, and I called Bill back and said, 'OK.'"
Prior to that conversation, Kraft said he and Belichick had not discussed the possibility of trading Garoppolo since June.
Kraft told King: "Until Monday at the trade deadline — I believe that was Oct. 30 — the last time I talked to Bill about Jimmy's situation was in a group with Bill, Jonathan, [director of player personnel] Nick Caserio … a small group of us, I think in June. That is the last time I talked to Bill about it."
Kraft, Belichick, and quarterback Tom Brady issued a joint statement on Friday that claimed stories about their team's dynamic "have speculated theories that are unsubstantiated, highly exaggerated or flat-out inaccurate."
Joint statement from Patriots Chairman and CEO Robert Kraft, Head Coach Bill Belichick and quarterback Tom Brady: pic.twitter.com/i555gWZIi6

— New England Patriots (@Patriots) January 5, 2018
Brady's agent, Don Yee, who is also Garoppolo's agent, also released a statement, writing "don't believe everything you read."
https://twitter.com/TomPelissero/status/949277214817865728