Patriots
How much money does Bill Belichick make per year?
Belichick's coaching salary is reportedly over $10 million.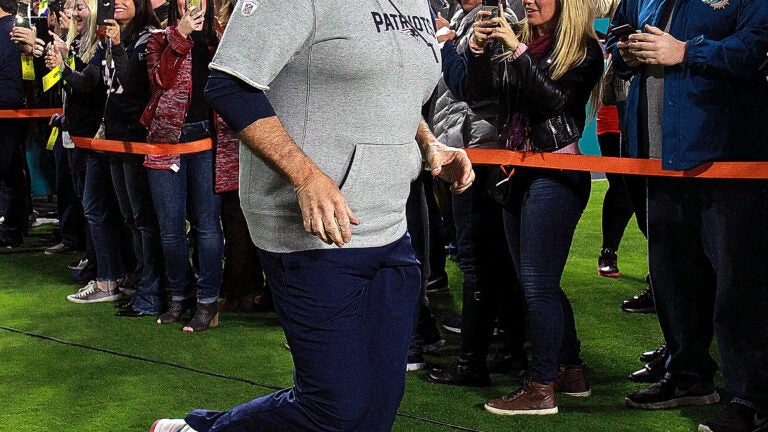 Coach Bill Belichick and the Patriots have managed to keep the terms of Belichick's contract relatively under wraps throughout his tenure in New England.
But recent speculation that the 65-year-old could be on the hunt for a new coaching gig — coupled with Jon Gruden's reported 10-year, $100 million deal with the Oakland Raiders — has generated heightened interest surrounding just how much Belichick earns per year.
According to ESPN's Chris Mortensen, Belichick brings home more than $10 million annually. Pro Football Talk corroborated Mortensen's sources, specifying that Belichick is thought to make $12.5 million per year.
Unsurprisingly, both reported figures are considerably higher than Belichick's estimated payout from his initial contract with the Patriots in 2000.
According to the Hartford Courant, Belichick's first deal in New England was scheduled to average more than $2 million annually over five years. Owner Robert Kraft, however, announced a two-year extension in 2003 that not only secured his position through the end of the 2006 season, but also likely restructured the remaining two years of his contract. The pair declined to discuss details at the time.
Belichick returned as head coach to start the 2007 season, which meant he must have, at some point, agreed to another extension. ESPN reported in September of that year the latest terms would keep Belichick on the sidelines through the 2013 season. Kraft once again declined to comment on the decision at the time, but Belichick's salary was reported to be "in the $4.2 million range," or possibly higher.
"I don't talk about contracts, but I would say I like working here," Belichick told reporters in 2007. "I like the organization — ownership, coaches, scouts, players, and the guys I work with. I appreciate the opportunity to work here and it's a good situation. I don't see that changing anytime soon."
Forbes revealed in 2010 that Belichick's yearly salary was $7.5 million, which made him the highest paid coach in the NFL until New Orleans Saints head coach Sean Payton took over the top spot with a reported salary of $8 million in 2013. Forbes continued to use the $7.5 million figure as Belichick's salary for the 2011, 2012, and 2013 editions of its annual list of the highest paid coaches — despite not being completely certain of its exactness.
"The Patriots have never publicly confirmed Belichick's contract details, but industry pundits have little doubt that the long-term extension he signed in 2007 is north of the roughly $7 million annually that Mike Holmgren was getting from the Seattle Seahawks," Forbes wrote in 2011.
Belichick once again returned as head coach in September 2013, meaning agreement for yet another contract extension had been reached. While it was unclear how long the latest deal will last — and when it was signed — NFL Network's Ian Rapoport reported then that Belichick will be in New England for "a long time."
"I don't talk about my personal contract situation, sorry," Belichick told reporters following the announcement in 2013.
Whether or not the Patriots' current season will be Belichick's last is still to be determined, but Kraft recently told Sports Illustrated's Peter King that he "absolutely" expects the coach to return in fall of 2018.