Patriots
Tom Brady calls his reported reaction to the Jimmy Garoppolo trade a 'poor characterization'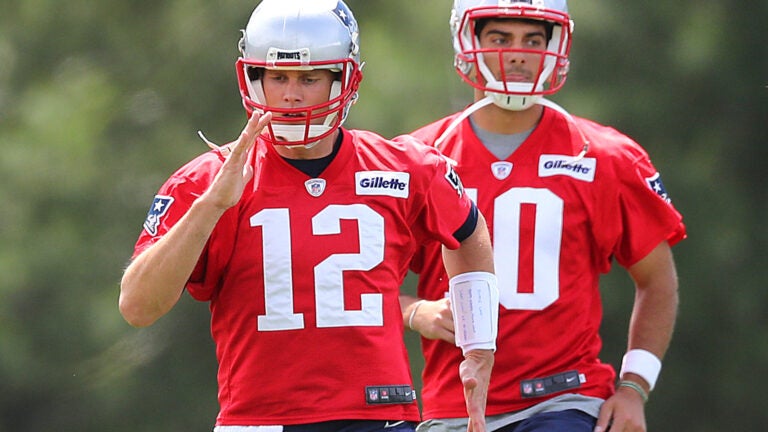 Throughout his 18 years with the Patriots, quarterback Tom Brady says he has "never celebrated when a player was traded or cut."
The five-time Super Bowl champion told WEEI's Kirk and Callahan Tuesday morning that ESPN's use of the word "liberated" to describe his feelings following the Jimmy Garoppolo trade was "a poor characterization" of how he felt at the time.
"That's disappointing to hear that a writer would express that because it's so far from what my beliefs are about my teammates," Brady said on the local radio program. "I think I'm very empathetic toward other people's experiences. I know those situations aren't easy. I've never been traded or released, but I can imagine how that might feel."
According to ESPN's Seth Wickersham, Brady was visibly juiced by the news that his former backup had been dealt to San Francisco. After the move had been announced, Wickersham reports Brady hugged owner Robert Kraft later that week, "in full view of teammates."
"A few days later during practice, some players and staffers noticed that Brady seemed especially excited, hollering and cajoling," Wickersham wrote. "Brady was once again the team's present and future. His new backup, Brian Hoyer, was a longtime friend and not a threat. The owner was in Brady's corner. 'He won,' a Patriots staffer says."
Brady told WEEI that he "loved" working with Garoppolo and the duo "had a great time together" in New England. The 40-year-old said he wishes his ex-teammate nothing, adding that they've stayed in contact.
"I've kept in touch will all those guys," he said, specifically mentioning Garoppolo, Jacoby Brissett, and Matt Cassel. "All the quarterbacks that I've worked with, I've kept in touch will basically everybody."
Brady said he doesn't put too much thought into media reports about the team and is confident in his relationships with other players and the coaching staff. He told Westwood One's Jim Gray earlier in the week that he finds it "very interesting" to read about himself in the press.
"People can write whatever they want to write," he said. "It's a free country. You can say what you want to say … I think you just have to take the good with the bad."
"I try to do what I've always done for a long time — be a good teammate, work as hard as I can to help the team win— then somebody could write something that contradicts that and I think it's up to everybody to believe whatever they want to believe."